News, Vision & Voice for the Advisory Community
Pricing, user experience and value look good, but still no integration with portfolio management systems
October 12, 2011 — 4:34 AM UTC by Nevin Freeman
It's 2011 and advisors are willing to open the playbook on investing to avoid getting steamrollered.
Instead of diversifying across sectors of the economy, more registered investment advisors are diversifying across possible future states of the economy as a whole, and using statistics and newfangled software to do it.
Some advisors are turning to MacroRisk Analytics and this review takes a look at the pioneering effort.
The web application, released to RIAs in 2009, is run by a team of academics from California State University, Northridge, north of Los Angeles, and is founded on a massive amount of research and modeling. It predicts how economic movement will influence the intrinsic value of client assets.
G. Michael Phillips, chief executive and chief scientist at MacroRisk Analytics is betting that RIAs are a ready market for his heavy data crunching.
"These solutions, while known at the higher end of fund management, had not made their way to the day-to-day practitioner – RIA, financial planner, registered rep."
Hungry for data
Phillips has been doing research related to how the economy influences the value of stocks and other securities since he got his Ph.D. in the 1970s. His company, c4cast.com, has offered research reports and consulting services in the past, but didn't release the web application aimed toward the advisory business until conversations with his students and clients led him to realize there was a part of the financial advice business that was hungry for this type of tool.
The only other macroeconomics-driven modeling software focused on RIAs that I am aware of is HiddenLevers. For more of a comparison of how the two differ, see: Macroeconomic analysis comes to the everyday RIA, and is welcomed post-2008.
The Eta factor
The MacroRisk Analytics model works by focusing on a few specific macroeconomic indicators that the company has found to be more significant predictors.
"There are hundreds of thousands of economic variables floating around out there, but we have identified that there are 18 which wind up being consistently explanatory for a broad range of assets," Phillips says.
The model is only accurate when it has three years of historical data to find the 18 indicators, so the software doesn't cover initial public offerings, for instance.
The 18 factors (called Eta factors within the software) are simultaneously fit to the data in order to avoid duplicating the influence of variables that happen to be correlated during a particular time period. They are: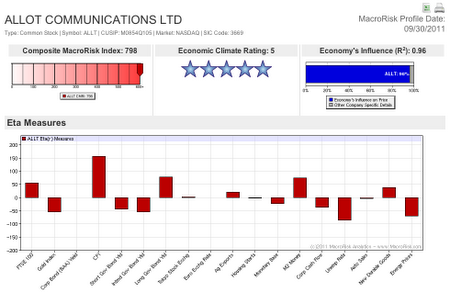 An example MacroRisk Profile
FTSE 100
Gold Index
Corporate bond (BAA) yield
CPI
Short gov't bond yield
Intmd gov't bond yield
Long gov't bond yield
Tokyo Stock Exchange
Euro exchange rate
Agricultural exports
Housing starts
Monetary base
M2 money
Corporate cash flow
Unemployment rate
Auto sales
New durable goods
Energy prices
According to Phil Hahn, MacroRisk Analytics' director of marketing and sales, they explain on average 95% of any given asset's price.
No guard against an Enron
The model is meant to predict influence on the intrinsic value of assets, rather than on the returns one will get. This is better, because in essence the economy affects what an asset should cost more directly than what it does cost, and the market always tends to catch up, Phillips says.
Because of this, Phillips says, the software is not able to predict absolute declines, only relative performance, since the economy seems not to be the cause of precipitous declines in price.
The most basic unit of functionality is the MacroRisk Profile (see screenshot above), which includes a graph of the influence of all 18 economic indicators, a composite risk index, an R2 value for the correlation of economic indicators and an "economic climate rating" of one to five stars. A high economic climate rating means there is a good economic climate to push the price up in the next six months. A low rating indicates that the asset is having to work against current economic conditions.
But Phillips stresses that this rating is not a perfect indicator of how the price of an asset will move, pointing out that Enron Corp. had a five-star rating just before it crashed, since it was in a great economic climate and it the crash was due to internal problems that are impossible to model.
The second main functionality of the application is a screener, where you can search for mutual funds, common stocks, ADR sponsored assets, preferred stocks, ETFs and closed-end funds on the basis of economic climate rating, composite macro risk index, R2 value of economy's influence and beta.
Stick to your roots
On top of these building blocks, basic users have access to some more detailed reports. Higher-level accounts have many additional advanced tools, including a rebalancing-like portfolio optimizer, a more advanced screener, a portfolio asset-by-asset correlation matrix, and portfolio-specific reporting.
The company has stayed true to its academic roots with five Ph.D.s doing various types of research and development, one Ph.D. in computer science, four other programmers, plus a variety of additional staff members, for a total of about 20 full-time employees.
c4cast.com has 11 patents, and three others are pending. Phillips publishes his methods frequently in academic journals once they have been patented.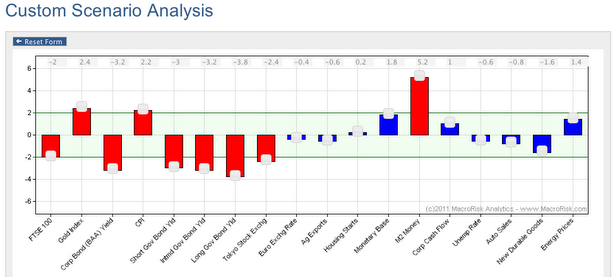 The custom scenario analysis interface
User experience
The web interface for MacroRisk Analytics excels in some areas and lags in others. When running a scenario analysis, the user can easily click and drag each of the 18 economic indicators on the scenario's graphical depiction (see above), which makes it easy to explore the consequences of different possible turnouts. The steps needed to generate reports are straightforward – I played around with the software for a while on my own after the demo and found it easy to figure out despite being a relative novice in my understanding of economics and statistics.
The weaker part of the user experience involves the need to manually type in buy lists and portfolios. At this point, the product has no plug-and-play integrations with portfolio management applications, so importing portfolios means either typing holdings in manually or uploading a CSV file, and users have to re-enter client portfolios any time they change. Phillips says he recognizes this as a weakness, and wants to simplify the process.
"We realize that greater integration is the way that this is going and we want to be there," he says.
Currently, the product of the portfolio optimization tool is also just a web report that can be exported as a Microsoft Excel spreadsheet, but not a format meant to import directly into trading software or upload to a custodian.
---
Mentioned in this article:
---
---
Share your thoughts and opinions with the author or other readers.
Elmer Rich III said:
October 12, 2011 — 3:33 PM UTC
This topic is a good one. The study and understanding of the scientific method and seeking an evidence/data-basis for RIA, and financial services, claims, beliefs, communications and behaviors would be a real improvement for all. It will take time.
It is important to remember that most financial services research and economics is largely post hoc analysis and descriptive not predictive. Economics, as a science, has a long way to go in adopting real evidence-based theories and experimental proof for explanations and predictions — as history proves.
Here is one of the challenges: "Asset management is another domain where skill is generally believed to be important, as evidenced by consumers paying billions of dollars annually in fees to money managers. Academic analysis, however, has generally found little evidence for skill in this domain as demonstrated by low rates of persistence in mutual fund returns (Carhart 1997, Bollen and Busse 2004) and evidence of inferior or superior performance only in the extreme tails of the mutual fund distribution (Fama and French 2010)." Steve Leavitt (Freakonomics author)
"The first principle is that you must not fool yourself—and you are the easiest person to fool. So you have to be very careful about that." Feynman (physicist)
---
---