News, Vision & Voice for the Advisory Community
Still not the kind of power an RIA would need to run a hedge-fund like operation, say analysts
October 12, 2011 — 4:39 AM UTC by Nevin Freeman
Nevin's note: Two companies, HiddenLevers and MacroRisk Analytics, have begun marketing to registered investment advisers who are hungry for a macroeconomics-driven edge on the markets. We've written tech reviews of both products now:
and this article is a look through the eyes of advisors on why this kind of product may be worth as much to independents as to the wirehouses and hedge funds that have had it for a long time. It also takes a look at some important differences between the two applications.
"I can't afford long term any longer," says Al Gebhart, who runs a small RIA out of Fallbrook, Calif., with his wife, Donna. "I used to think of three to five years. I think of long term today in 90-day cycles."
Since last year, Gebhart has been using MacroRisk Analytics, a web-based software for evaluating the impact of parts of the economy on investment assets, and says it's been a powerful tool for steering through ups and downs in the market.
"I found it very informative for me in May of this year," he says. "[I saw] a down-cycle coming … We slowly got out of the market; about 80% of our money was out of equities by the middle of July, and stayed out, slowly coming back now. You might say I missed the upside, but I missed a huge downside, and I couldn't have seen that if I hadn't been playing with this program and trying different things. It opened a big door for me."
"I've been through 2008, I've been through the tech bubble. I couldn't see those things coming; this software helped me see it."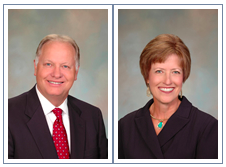 Al and Donna Gebhart – Al
says: You might say I missed
the upside, but I missed a
huge downside, and I couldn't have
seen that if I hadn't been
playing with this program and trying
different things.
Gebhart has been in the business since 1980, going fee-only in 1990.
He realized that employing lots of people caused him headaches, so over the last decade he has transitioned his practice to rely heavily on technology and be as automated as possible.
He tried using third-party money managers for a while but ultimately decided his clients' portfolios were more nimble in his hands. "I'm finding that you have to move quicker today."
Very timely
Ted Theodore of Avatar Associates Inc., a money manager in New York with $1 billion under management, is also sampling software for macro risk. He started using HiddenLevers earlier this year to supplement his firm's already heavily quantitative approach.
"We have been doing similar things on our own, measured slightly differently," he says. "What we liked about HiddenLevers was how neat their interface was, and how quickly they have been able to service their client base with very interesting extensions of different economic scenarios as they roll out – they were very timely in keeping track of the various stages when we went through the debt ceiling circus."
HiddenLevers is a startup run by two young entrepreneurs, Raj Udeshi and Praveen Ghanta, out of the Bloomberg incubator, also in New York. Theodore says the company's early success – it just launched the product in February and already has more than 150 advisors on its platform – was no surprise to him after meeting the pair.
"These guys are way ahead of most people in terms of entrepreneurial capability and smarts."
Core/satellite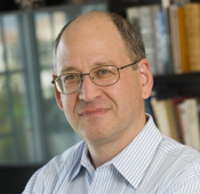 Joel Bruckenstein: Macro tools can help
identify opportunities.
Though he thinks there is real substance to what these two companies are offering, Joel Bruckenstein, one of the most prominent reviewers of advisor technology, says they aren't all-in-one suites that will transform any RIA into a quant.
"I also don't think that this is exactly the same as what hedge funds are getting," he says. "Personally, I see this more as an investment overlay. It can serve a number of purposes. One at the top of my list is to look at your current portfolios to see what they are most vulnerable to.
"Secondly, many advisors now use some form of the core/satellite approach. The core does not change much, but on the margin they try to be opportunistic. Macro tools can help identify opportunities. If the advisor is bullish, they can use the macro tools to spot opportunities. If they are bearish, the tools can help them spot hedges."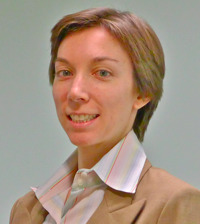 Sophie Schmitt: These tools help the
RIA get at metrics that they
probably are already computing manually much
more quickly.
"Hedge funds also require more sophisticated trading processes and clients that are willing to take the extra risk," adds Sophie Schmitt, senior analyst for Boston-based Aite Group. "These tools help the RIA get at metrics that they probably are already computing manually much more quickly."
The integration problem
Both applications are young, and until last week neither had any integrations set up with portfolio management software, which means manually entering client holdings in order to run any analysis. HiddenLevers announced that it has struck a deal with Private Client Resources LLC so that the latter's users can embed a macro risk sensitivity section directly in their reports, as well as going into more detail and actually playing with the levers.
See: Private Client Resources is a software darling of private banks but can it conquer RIAs?.
"[We try to bring] transparency and clarity to what can be complex investment reporting. They really have taken the same approach from a risk perspective." says Robin Williams, chief technology officer at PCR. "[They turn] quant-style analysis output into a readable format."
Udeshi has also been in talks with executives at Pershing Advisor Solutions on the possibility of integrating directly with NetX360, and says the companies are in the late stages of vetting before they will be sure the integration will happen.
Just didn't have the tools
After taking each of these applications for a test drive, I began to wonder: Why are they cropping up now and not five years ago? How should an advisor decide between the two if they want to augment their practice with these kinds of data?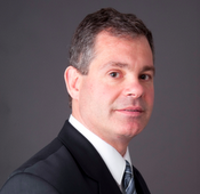 Rob Fiore: There's a lot of
volatility in the marketplace, and that's
driving fears, and to offset those
fears you need information and insight.

"There's a lot of volatility in the marketplace, and that's driving fears, and to offset those fears you need information and insight," says Rob Fiore, chief executive officer at PCR.
But as far as I can tell, there is no specific reason for advisors to depend more on this kind of analysis today than before; markets are volatile, but this isn't new. Instead, it looks like the two companies coincidentally stumbled upon a similar methodology after a long time thinking on their own about how the influence of the economy on the stock market is less-than-understood by most advisors.
"It wasn't out there – let's face it, every money manager, every economist is going to tell you that economics affects the market," says Dominick Paoloni, a certified investment management analyst at Investment Portfolio Solutions. "The problem is that … we just didn't have the tools."
"I think every money manager secretly does want to become a hedge fund, at least if they can break the code," he adds.
Paoloni thinks these new tools are a start, but isn't sure how far they will go. "I think [MacroRisk Analytics] lets me be more efficient – I don't know if it's going to help me discover alpha," he says.
Tit for tat
Since both products are relatively unheard of in the RIA world, no advisors interviewed for this article had even heard of both applications. My understanding after the demo of each is that they work toward a similar end, but get there in very different ways.
HiddenLevers takes the approach of pre-defining many possible macroeconomic scenarios, such as "Greece Defaults In Isolation" and "Euro Zone Collapse." Users can select these scenarios and see what HiddenLevers predicts will happen to their portfolios if these eventualities come to pass. Additionally, users can tweak the variables in each scenario, and create their own from scratch using the 100 or so economic indicators available in the system.
The simplicity and ease of use of the application, which users appreciate, probably comes from the fact that it was built to be a consumer-level application and then redesigned to fit advisors once the company realized RIAs would be interested in using it.
MacroRisk Analytics also provides scenario analysis, but instead of offering pre-defined scenarios, it lets the user manually adjust each of the 18 economic indicators within the application to wherever they think each would be given a set of events.
The results of the analysis differ as well – while HiddenLevers offers actual projected dollar-value returns, MacroRisk Analytics calculates how favorable the economic climate would be to a portfolio in the user-defined scenario.
Intrinsic values
The correlation data that HiddenLevers uses come from regression analysis of its 100 indicators to returns on U.S. stocks, exchange-traded funds, U.S. mutual funds, and 15 currencies on a two- and 10-year time scale. Additionally, HiddenLevers has a manual process of weeding out coincidental correlations described in their white paper on methodology.
A distinction that G. Michael Phillips, chief scientist and CEO of MacroRisk Analytics, makes between his company and HiddenLevers is that his model searches for correlations between economic indicators and the "intrinsic values" of securities, instead of correlating with returns earned on them. His philosophy is that these correlations are more meaningful, and that although they may be less useful on a short time-horizon, in the long run they are better predictors.
Both platforms also offer a screener for stocks, mutual funds, ETFs and currencies, but they work in somewhat different ways. MacroRisk Analytics offers the ability to screen on:
Positive, negative, or no correlation with any combination of their 18 economic indicators.
The company's proprietary ratings: composite macro risk index, economic climate rating, and R2 of economy's influence.
Up-market, down-market, and normal beta and alpha.
and HiddenLevers has the option to screen on:
Positive or negative correlation with one out of its many economic levers on a two- or 10-year time scale.
Sector of the economy and region of the world
12 standard screener options, such as price-earnings ratio and 52-week change in stock price.
New York to LA
I got as much of a feeling for how the two offerings varied by learning about the people behind them as I did poking around the websites themselves. Phillips let his emotion show when I first reached him on his cell during the FPA conference a few weeks ago – he was all but appalled that I would even compare the two companies.
Udeshi had the same reaction over e-mail – both have a lot of faith in their own model. But the more I've looked at each one, the more similarities I've found.
Udeshi spent time on the trading floor and decided to take his ideas about macroeconomic trends driving the stock market, along with Ghanta's, to the web startup world. After not finding success on the consumer investor level, the pair realized RIAs and even wirehouse advisors might be hungry for their product.
MacroRisk Analytics is run by a team of academics from California State University, Northridge, north of Los Angeles, and is founded on a decade of research and modeling. Phillips is still an active professor. The application has about 2,000 registered users, but the company couldn't say how many were with RIAs.
"We are in this business for the long haul … I fully expect that 10 years from now you'll have most of us [still here]," says Phillips. "We're not just trying to build this and flip it."
Pricing
HiddenLevers is aiming at $250 per month once the beta period is over ($3,600 for a year), but signing up with this link before the beta ends will give RIABiz readers a 20% discount. MacroRisk Analytics has a tiered pricing structure that ranges from $1,500 to more than $25,000 annually, depending on the level of detail needed. Click here for a PDF that explains all of the details of the pricing structure (accurate as of the time of publishing this article).
HiddenLevers has started offering weekly "war-room webinars" that advisors can sit in on for high-level analysis of the current climate, and they can count for CE credits.
Phillips says his clients don't often express interest in the credits, but that he does teach courses that count for it from time to time.
"We also regularly publish our research in professional and academic publications to allow our methodology to be scrutinized by other scientists," he adds.
---
Mentioned in this article:
---
---
Share your thoughts and opinions with the author or other readers.
---