News, Vision & Voice for the Advisory Community
Wirehouse broker demand and the TAMP's critical mass help usher in the changes
January 5, 2011 — 2:47 PM UTC by Brooke Southall
Long the dominant separate account platform for IBD reps, Envestnet Asset Management is taking a page out of the wirehouse playbook of manager platforms as it makes more marquee brands available.
The Chicago-based outsourcer of technology and managed investments has made 140 new investing strategies available during the past year from providers of managed accounts, including BlackRock, Franklin Templeton, Janus and PIMCO. Envestnet now has a total of 900 strategies available.
Wirehouse breakaways prefer to maintain a continuity with familiar brands and strategies on behalf of customers, according to Mike Henkel, managing director of Envestnet-PMC. Among the household names that Envestnet has added to its roster of strategies are Eaton Vance, J.P. Morgan, Lord Abbett and Neuberger Berman. See: Why PIMCO's brand is most sterling and Powershares, Vanguard and ProShares are fast-gaining
Hertz factor
When brokers leave the safe confines of Merrill Lynch, Morgan Stanley Smith Barney and UBS, they want to have as few difficult conversations with clients as possible. Having the equivalent of a Hertz-commercial 'not exactly' speech about why they are no longer using PIMCO, BlackRock or Franklin Templeton in favor of some lesser known product is not helpful and may discourage a move to independence. Envestnet is working to create a safe landing place at IBDs for these advisors.
"There's a recognition of the breakaway movement and we're selling to them," he says.
The impetus for this change comes at a time that Envestnet executives say they are finding that they have the critical mass that gives them the clout to get approved as a platform with these big players on the separate account side of the business. See: 10 reasons why the Envestnet IPO filing is for real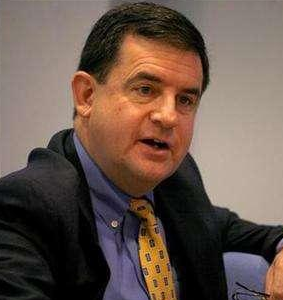 Envestnet nabbed Bob Doll for a
conference with its investors today on
the strength of distributing more BlackRock
product
Henkel says that Envestnet has long had some strategies from big names – especially in mutual funds. Lately, his company's growth has given it the critical mass to ask for more access on behalf of advisors. See: Morgan Stanley report: Big deals will propel Envestnet's growth much faster than investors realize
No flip of the switch
"Managed accounts require different agreements and mechanics (of inter-company connection) that requires a deeper relationship," he says. "It's not a flip of the switch; it can take literally a year" to consummate. "It's why you why you want to [contract with separate account managers] proactively rather than reactively."
But Henkel says the process is far more efficinet at Envestnet than it was in years past.
"Advisors want as many managers as they can get their hands on. Compliance wants due diligence. Asset managers want to be approved on the platform. In an effort to answer all those constituencies, we created a streamlined, transparent approval process and expanded the list of approved managers."
Envestnet now provides advisors with access to 90% of the Cerulli Top 100 Separate Account Managers.
Sanjeev Sardana, a financial advisor from BluePointe Capital Management in San Mateo, California said in a release that the wider array of managers matters to him.
"As an advisor, having a broad range of offerings at my fingertips enhances my ability to customize portfolios for clients. It puts me on a level playing field with larger advisory firms."
Perks
There are perks to having bigger relationships with the giants of the fund industry – including the pull it gives Envestnet to provide its advisory clients access to industry luminaries, according to Henkel.
Today, for instance, Envestnet will hold an Outlook Call at 4:30 p.m. EST featuring Bob Doll, BlackRock's Chief Equity Strategist, and Peter Langerman, President and CEO of Franklin Templeton's Franklin Mutual Advisers, to discuss their views about the coming year and answer advisor questions. Brandon Thomas, PMC Chief Investment Officer, will moderate the call. Registration can be achieved by emailing mediarelations@envestnet.com.
---
Mentioned in this article:
---
---
Share your thoughts and opinions with the author or other readers.
---