Brian Stimpfl: There's an attraction and a curiosity to a different way of doing business.
Long a corporate fixture in the metro New York RIA business, Brian Stimpfl is shifting to the entrepreneurial world by joining ActiFi, Inc., a technology up-and-comer in the Upper Midwest.
Stimpfl worked at Jersey City-based TD Ameritrade for 17 years before leaving the company last year to catch his breath and then seek a new venture. See: Why Brian Stimpfl left TD Ameritrade and where he is headed
Actifi, founded in 2003, is making him a partner at the company, where he is already busy working on business development. He'll be selling the Plymouth, Minn.-based company's research, consulting services and software — mostly to broker-dealers. all the services and products center around practice management
Stimpfl, 42, officially started his new job in December. His new title is vice president of relationship management for supplier of practice management software and services.
He will work initially from his home in Huntington, N.Y., which is on Long Island, though he hopes to build a small staff over time and inhabit an office in New York.
No Minnesota
Moving to Minnesota is not on the radar. I reached him for this interview yesterday (Thursday) between meetings in Newport Beach, Calif.
"In New York it sure feels like Minnesota (today) but I'm not moving there. I think it's a real strategic opportunity for Actifi" to have a physical presence near New York City." Actifi has 24 employees.
Before his career move, he was quietly doing consulting work for the company. He has known Actifi's CEO, Spenser Segal, for five years from his days at TD Ameritrade.
Segal says that Stimpfl has qualities that gave him confidence in bringing him aboard as a partner. But Segal's decision to hire him came down to whether Stimpfl could convince Segal that he really wanted the job – and wouldn't bolt for another opportunity based on pay or a corporate title.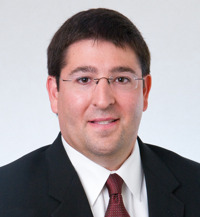 Spenser Segal: What we're doing isn't
super-easy.
"You want someone you can trust and who has a commitment to the vision. What we're doing isn't super-easy. You have to have someone who wants to do that. You can't compete on other fronts (like big salaries or corporate prestige) but you (as an entrepreneur) can make the work meaningful."
Segal says that Stimpfl clearly has a passion for bringing practice management to financial advisors.
TD legacy
Stimpfl helped found TD's practice management program 11 years ago and he was one of six executives reporting directly to TD Ameritrade Institutional's president, Tom Bradley, when he left. See: TD Ameritrade takes on Schwab with big consulting push
Stimpfl's new position was created for him as part of Actifi's growth. Actifi is best known for supplying TD Ameritrade's Roadmap technology – an attempt to automate practice management across RIAs who use the company's custody platform. Actifi is also known for writing the practice management research reports put out by the Financial Planning Association.
The company keeps the rest of its enterprise relationships confidential but there are a number of broker-dealers using it on a private-label basis, Segal says.
Stimpfl believes he can deliver what clients are looking for in developing long-term relations.
White gloves
"Supplying the white glove service is really critical," he says.
Though Stimpfl was with a large corporation in his last job, he says that he was drawn to trying his hand in a more entrepreneurial role.
"I think there's an attraction and a curiosity," he says.
Also, like these executives, Stimpfl found it was necessary to decompress for several months — after initially looking to jump in to a new venture in short order.
Identity factor
"Seventeen years is a long time; it becomes part of your identity. I said as a Type A person: I'm going to get right back to the game. But when you step away personally and professionally, it takes a little time. I took a more contemplative approach."
Stimpfl has three young children and he spent considerable time coaching their soccer teams.
When I joked with him about contemplation of an Eastern variety, he paused and said wryly: "Ironically I did take a few yoga classes."
---
---
Mentioned in this article:
---
---
---
Don Cody
September 4, 2014 — 10:18 PM
That's odd, I thought I had created "AdvisorDirect" the branch referral program to RIAs.