Joe Stallings: Many offices around the metro area struggled to continue with business as usual.
Winters in Atlanta are typically fairly mild with average highs in the 50s and relatively little snowfall. Snowfall is so rare, in fact, that when snow is forecast grocery store shelves are immediately emptied and adults and children alike wait anxiously by televisions and phones for news of school and business closings.
The lightest dusting of snow guarantees school closures and supermarket brawls for the last available bread and milk. In the winter weather game, we are amateurs.
Snowpocalpyse
But just a week ago, we were introduced to a whole new level of winter wonder. While we certainly haven't experienced the snowfall seen in the Northeast, our city — with eight snowplows and drivers unaccustomed to navigating through snow and ice — was brought to a standstill by 4.4 inches of snow. On January 10th, we awoke to a winter weather event seldom seen in Atlanta – a veritable Snowpocalpyse.
While most Atlantans spent the week ensconced at home, Balentine employees continued with business as usual. We're an independent wealth management firm with over $800 million of assets under management, and business can't just stop because of a little weather. When we opened our doors just over a year ago, I decided (as director of communications), along with other partners at Balentine, to build our infrastructure around mobile technologies and online platforms.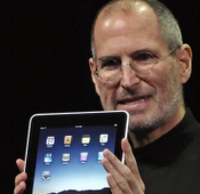 Business continuity may be another reason
to consider buying what Steve Jobs
is selling.
When Snowpocalypse 2011 hit, Balentine was ready. On the Friday preceding the storm, due to weather forecasts Balentine employees were urged to take laptops and any necessary documents home for the weekend.
Three-mile snow walk
When snow moved into the area rapidly on Sunday night, Balentine's chief operating officer, Jeff Adams, sent an email to all employees urging them to use prudent judgment when deciding if it was possible to venture into the office. With the exception of one relationship manager who walked three miles to the office in the snow, most employees erred on the side of caution, remaining at home to work.
Our use of mobile technologies and online platforms meant that we never missed a beat. Despite the fact that Atlanta looked like the setting of a disaster movie with its deserted streets, abandoned cars and abundant tales of woe, Balentine clients continued to receive service and support from employee homes around the metro area. Using our CRM and NetX360, our client relationship team checked daily activity on client accounts, sent wires and then logged transactions.
By forwarding all Balentine office phone numbers to team member's cell phones and monitoring email by iPhone and iPad, team members were readily available when clients had questions or needs. And as we were gearing up to meet with clients for annual reviews, our operations associates used Fortigent's online platform to review and prepare reports from home – all while sneaking in a bit of sledding with family and friends. All in all, Balentine experienced one of its most productive weeks to date.
While many offices around the metro area struggled to continue with business as usual, our adoption of online platforms and mobile technologies allowed us to operate with agility and speed. And in today's business climate, that's essential.
---
---
Mentioned in this article:
---
---
---