Chuck Bean: When I was a little fish, I relied heavily on the broker-dealer.
IBD reps are becoming RIAs in greater numbers than ever before, opening up another vein of recruiting opportunity for custodians after years in which the wirehouse channel was the only notable pool of eager recruits, according to executives at custodians and two top recruiting firms.
More representatives of independent broker-dealers are hitting the $100 million AUM mark, a threshold at which they are more prone to become registered investment advisors, say executives. Some advisors who had reached this critical mass and may have considered the move held off until the dust from 2008 cleared.
"The IBD channel is really heating up – especially larger reps. They're less dependent on the home office," says Tom Nally, manager of institutional sales at TD Ameritrade. "We're seeing larger teams make strategic business decisions."
55 teams
Schwab Advisor Services said it recorded a 45% jump from 38 IBD-affiliated teams in 2009 to 55 teams in 2010. TD Ameritrade declined to disclose how many IBD reps it is recruiting, though industry sources say the firm is on the verge of signing some very large teams from the national IBDs.
Nally, Bernie Clark of Schwab Advisor Services and Bob Oros, a former Schwab Advisor Services sales star who now heads up the sales effort for RIA custodian, Trust Company of America, all say they have seen an increase in interest and signings from IBD reps.
But not all the custodians agree that the rate of IBD-to-RIA conversion is accelerating. Mike Durbin, president of Fidelity Institutional Wealth Services, and Sanjiv Mirchandani, president of National Financial Services, which does clearing for hundreds of IBDs and thousands of their reps, say they have a vantage point to speak with authority about the flow between the two channels.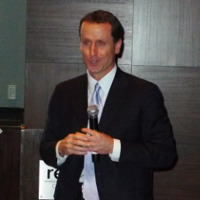 Mike Durbin: We don't see a
material shift.
"There has been movement between these two businesses for a long time but we don't see a material shift," says Durbin. "We continue to see high rates of rep loyalty." He declined to specify these rates.
Stubbornly out of reach
Long considered a big, tempting and natural pool of candidates for total independence, IBD reps have – from the perspective of recruiters – stayed stubbornly out of reach and pleased with their circumstances. After all, they enjoyed the lion's share of the benefits of operating independently but with the benefits of technology, research and compliance provided by broker-dealeres.
The hope of RIA custodians was that once brokers leaving wirehouses got a taste of fuller freedoms working in affliation with companies like Commonwealth Financial Network, LPL Financial and Royal Alliance that they'd take it a step further and cut those ties. It hasn't happened much – until maybe now. See: New RIA with a Royal touch.
Those who do see a shift in the industry say some of the increase in interest can be attributed to a settling out of advisors in the wake of the 2008 meltdown. Some wirehouse teams at the time that might have chosen the RIA route didn't feel like they could afford to undergo the more deliberate process of independence. They used IBDs as a stopgap measure. Now they're charting longer-term plans.
"They were going to the IBDs just to escape the carnage," says Bernie Clark, executive vice president and head of Schwab Advisor Services.
Better technology choices
Nally says some IBD reps want better technology, including better CRM and portfolio management systems. By becoming RIAs they can choose any software or combinations of software applications to meet the needs of their practice.
IBD reps are also aware that they can get a higher payout and market more effectively. By becoming RIAs, advisors can do more print media and radio advertising without hazarding compliance breaches and more easily preach a message of providing fiduciary service versus the brokerage model, he adds.
Mindy Diamond, CEO of Diamond Consultants of Chester, N.J., says she has noticed in an increase in the number of outliers – IBD reps moving to the RIA channel.
"There are more of these restless outliers because of an increase in fee business for all advisors (so the more fee-based, the more they can consider the RIA space), and because the hyper-vigilant compliance cultures at the IBDs make it harder and harder for advisors to grow their businesses."
Bob Oros, a former Schwab Advisor Services sales star who now heads up the sales effort for RIA custodian, Trust Company of America, has a slightly different take on the motivations of defectors.

Bob Oros: I have seen this
trend accelerating over the last three
months.
Accelerating trend
"I have seen this trend accelerating over the last three months," he says. "The trigger has been the broker-dealers they work with. That's been the tipping point. They say: do I want to stay around and risk something going wrong with my IBD that taints my business."
There are moves on the part of companies to capitalize on the needs of reps to offer more sophisticated services to capture and retain high net worth clients. Fidelity, for instance, is conferring more of the benefits of being an RIA on IBD reps. Indeed, RIABiz recently wrote articles about how Fidelity has unified its service efforts between Fidelity Institutional Wealth Services and NFS under Maggie Serravalli. See:Fidelity unveils latest effort to make its advisor-servicing silos work as a single unit for hybrids
The company has also bestowed more of the capabilities of its RIA technology platform, WealthCentral on IBD reps. BDs and their representatives using use clearing firm National Financial's Streetscape will have access to the block trading, reporting and rebalancing technology that is core to WealthCentral. Brokers clearing through National Financial will get access to the new technology..
Pershing also has an overarching strategy of creating unity and parity between its 100,000 advisors using its clearing technology and the 500-plus RIAs using Pershing Advisor Solutions, its custody platform. The program is called RIA Complete and it is designed to build reps' practices, attract wirehouse brokers to IBDs and to retain brokers who might consider setting up an RIA and moving to a new platform. (Pershing has thus far declined to comment but I will add their comment here if they choose to do so today.)Pershing puts RIA custody on desktop of thousands of IBD reps
The internal deliberations of large IBD reps have been smoldering for a while, according to Danny Sarch, president of Leitner Sarch Consultants of White Plains, N.Y..
FINRA

oversight
"I have that conversation with advisors of all ilks all the time. I say: why would you like to have that FINRA oversight. Most don't have an answer. I think it's mostly inertia. Most like the idea [of becoming an RIA] if they can overcome the inertia." See:Why advisors see FINRA as the devil
One big IBD rep, Chuck Bean, president of Heritage Financial Services, who left one of the major independent broker-dealers last year, says that the decision had many components but that it boiled down to economics. Heritage manages more than $600 million of assets from Massachusetts.
See:Advisor Spotlight: How a big-time IBD rep ended up as a Schwab RIA
"It was an economy-of-scale issue," he says. Heritage now holds its assets at Schwab.
Bean added staffing for compliance, research, technology and planning that made many of the services of his broker-dealer redundant. "We were doing everything in-house; when I was a little fish, I relied heavily on the broker-dealer."
He adds that he knows other advisors from the independent world that are fast following his lead. And the executives interviewed for this article believe that the factors contributing to the IBD-to-RIA trend — namely a maturing of IBD reps and the needs of high net worth investors for more sophisticated services — will only accelerate.
Brooke's Note: It is important to mention that virtually all the parties interviewed for this article mentioned the elephant of the IBD world — LPL Financial. The recruiters and executives — including Mike Durbin and Sanjiv Mirchandani of Fidelity — say they have seen an uptick in interest in becoming RIAs from LPL reps since it had its initial public offering. LPL Financial spokesman, Michael Herley, says that his company's reps actually prefer being part of a publicly traded firm. "We believe there is no question that LPL advisors appreciate the advantages of our being a public company, something that we have in common with virtually every other major custodian," he says. (This is true of BNY [Pershing], State Street, Schwab and TD Ameritrade. Fidelity Investments is privately held.) We have more extensive comments from LPL and from RIA custodians and recruiters about what is happening with LPL reps. For now, we decided that there wasn't enough information to constructively clarify what is happening with the big Boston and San Diego-based company. We will continue to try to better understand LPL's place in the RIA world in the weeks and months (and years) ahead.
---
Related Moves
December 10, 2019 – 2:05 AM
---
January 23, 2021 – 2:02 AM
---
March 13, 2020 – 10:36 PM
---
---
Mentioned in this article:
---
---
---