News, Vision & Voice for the Advisory Community
A disappointment to those advocating for a financial planning profession, the study details the hodgepodge of regulation without recommending major changes
January 19, 2011 — 3:51 PM UTC by Elizabeth MacBride
This is the first of three studies expected this week. An SEC study on an SRO for advisors is expected today (Advisory factions steel for end game as SEC's verdict on FINRA SRO comes down an SEC study on the fiduciary standard for brokers is scheduled for Friday. Watch RIABiz for updates.
My nanny came into my home office not long ago with a question: A friend-of-a-friend, she said, was trying to sell her life insurance. Should she buy it?
My first response? A cringe. I had no idea of the details of the policy, and I didn't have the expertise to figure out if it was a good one. One thing I was sure of, however: the friend-of-a-friend was under no obligation to sell my nanny the least expensive policy, or even a good one.
That's because the people who sell insurance operate under the least stringent standards of the big trio in the financial services world: RIAs, broker-dealers and insurance agents. The fact that insurance agents operate under a mishmash of state suitability standards is a commonly known fact among policymakers, but one that's been conveniently ignored in recent debate about what standards ought to apply to investment advisors and broker-dealers.
A study released yesterday by the GAO may change that by giving people in the advisory world an opening to expand the debate about the fiduciary standard to include insurance agents and brokers. It also may be a shot across the bow for more attempts to regulate insurance products.
The study:
• Rebuked the National Association of Insurance Commissioners for not looking into the extent to which consumers understand the standard of care under which insurance agents operate.
• Highlighted annuities as a problem area, saying: " Some insuranceproducts, such as annuities, are complex and can be difficult to understand, and annuity sales practices have drawn complaints from consumers and various regulatory actions from state regulators as well as SEC and FINRA for many years."
• Pointed out that although insurance agents, like brokers and advisors, engage in financial planning, they are not part of the SEC's study on the standard of care that will best protect consumers.
"I was very pleased to see the GAO's comments about abuse in insurance sales," said Ron Rhoades, RIABiz's "One-Man Think Tank:"http://www.riabiz.com/a/867006 columnist. He was speaking on behalf of the Financial Planning Coalition, which comprises the National Association of Personal Financial Advisors, the Financial Planning Association and the Certified Financial Planner Board of Standards. "Hopefully that will increase the attention on that area."
Overall the GAO study was a disappointment to financial planner advocates who hope to elevate the practice of financial planning to a profession. It also disappointed consumer advocates who believe that uniform regulation of financial planning would protect consumers. The GAO gave its report a marshmellow-type title: Regulatory Coverage Generally Exists for Financial Planners, but Consumer Protection Issues Remain.
"Of course there's some disappointment," said Chuck Moran, chairman of the CFB Board of Standards board of directors. "We were looking for a more definitive recognition of financial planning."
Barb Roper, director of investor protection, Consumer Federation of America, said , "I thought the study was disappointingly shallow in its analysis. it doesn't seem that GAO looked past the resistance to the idea among regulators and some industry members to determine whether the idea (of a financial planning oversight board) has merit."
Others embraced the main finding of the report.
"We think we did some solid analysis," said Neil Simon of the Investment Adviser Association, which has resisted the idea of another regulatory body, saying it would be expensive and duplicative for investment advisors.
Where the study seemed to break new ground was its discussion of the way insurance agents operate, versus broker-dealers and investment advisors. I've posted the graphic that illustrates this.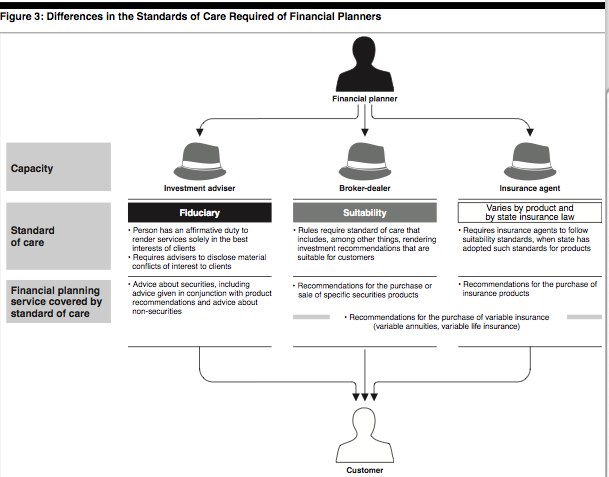 Source: GAO
The study also challenges the National Association of Insurance Commissioners, which like the "big I" which represents agents and brokers, did not respond to request for comment for this story, to study the question of what consumers understand about their relationships with insurance agents. The American Insurance Association said it did not have a position.
"One of the best points the study makes is that one component of a typical financial plan — insurance planning — isn't subject to the same standards that apply to investment advice. We certainly support their recommendation to the NAIC," Roper said. She added: "That offers further proof that a more comprehensive, seamless regulatory approach could be beneficial to investors."
Will there be action on the issue? The GAO pointed out that the SEC is not looking into the question as part of its look at broker-dealer/investment advisor regulation. It's hard to imagine that the overburdened, budget-constrained agency would take on another big topic.
Advocates, however, might use the GAO study as a wedge for legislative action.
"That's a significant finding that we will want to follow up on," said Marilyn Mohrman-Gillis, managing director of public policy for the Certified Financial Planner Board of Standards Inc.
One could imagine that some of the legislators who championed extending the fiduciary standard to insurance agents last year might take up the issue again. Sen. Herb Kohl, who last year proposed such a measure (Proposal would sweep RIAs, planners, brokers into one huge regulatory pool), wasn't available for comment.
The CFP Board is launching an education campaign for consumers this year, but when I asked Moran if it might highlight the lower standard of care that insurance agents operate under, he said the CFP Board would stay positive, and focus on what makes a CFP different and worthwhile. (Some CFP mark holders are insurance agents, of course).
End of the story
I can understand why nobody wants to bash insurance agents. Moran pointed out that there are plenty of people of good conscience operating in all sectors of financial services. Yet, clarity has its merits, especially when we're talking about protecting the wide swathe of Americans.
I couldn't refer my nanny to a CFP; aside from the occasional Financial Planning days, I don't know of a resource to find a planner who will work with a lower-income person.
What I could do is give my nanny two simple messages: First, that there are different kinds of life insurance products, and that they have different prices and terms.
Second, that the man she was talking to probably gets paid differently based on which products he sells, and that there is no law saying that he has to sell her the policy that's best for her.
Both of those pieces of information were news to her – as I'm convinced they would be for most people. I hope they were enough to throw up a Beware sign in her path.
An earlier version of this story mistakenly said that the AIA did not respond to a call for comment.
---
Mentioned in this article:
---
---
Share your thoughts and opinions with the author or other readers.
---