Catherine Golladay: People are more likely to engage in professional help if it is provided in a personalized one-on-one setting
Brooke's Note: For RIAs who want to get into the 401(k) business, there's good news. People very badly want to be advised by a competent professional, according to a new Schwab study. I'm sure if the airlines develop cut-rate fares for planes flown by computers, some people will fly them if they're shown safe in test flights. Many others won't. The people who won't might also prefer not to be consumers of 'automated' 401(k) advice.
Individual 401(k) investors want, need and benefit from financial advice — especially if there is a human touch, according to a Schwab study that sheds new light on a market many advisors are eyeing.
"It is clear from our study findings and our personal experience with clients that people are more likely to engage in professional help if it is provided in a personalized one-on-one setting," said Catherine Golladay, Charles Schwab vice president of 401(k) education and advice in a release.
Procrastination and confusion
Many 401(k) participants don't receive any advice on these retirement balances because of procrastination, distraction or confusion, she adds. RIAs have been largely on the sidelines in this business because they perceived it to be too complicated, unprofitable or because of concerns they could run afoul of regulations.
The Department of Labor is in the midst of developing regulations to clarify how advisors to plan participants can be paid, and who can serve as advisors.
According to the Charles Schwab New Rules of Engagement Study, based on responses of 1,005 U.S. consumers who are employed full or part-time and participated in their company's 401(k) retirement plan from June 9 to June 17, many plan participants want more personal advice than they are getting. The Koski-run study also shows that those who receive advice are more confident investors than those who don't.
For now, most plan sponsors provide participants, especially those with lower balances, automated or semi-automated services provided by companies such as GuidedChoice, Fidelity and Financial Engines.
Automated emails
'Automated' services can include rebalancing of portfolios and financial advice delivered from call centers and online. Additional service could include keeping the participant engaged in the process by emailing them an exhortation to enroll, to tell the maximize their employer match or to react to a life event like a marriage.
"The days of receiving a large enrollment brochure and being told to call a number and pick the funds you want are over," says Beth McHugh, vice president of market insight for Fidelity Investments.
More advanced advice methods are allowing participants to realize better returns, according to the study. See the chart provided in a Nov. 2007 Schwab press release:


Schwab chart published in 2007 shows
a little advice goes a long
way for 401k participants
These findings indicate that RIAs could play a bigger role in the 401(k) business, but the regulatory framework is still not clear enough, says Craig Watanabe, principal with Penniall & Associates, Inc., an RIA in Pasadena, Calif. Penniall & Associates has about $600 million in 401(k) assets under management and $400 million in non-retirement assets. Its largest plan is $65 million, but the bulk of its accounts are $5 million to $25 million.
Growing admission
"Automated advice is not on par with one-on-one advice delivered by a competent professional," he says. "The Pension Protection Act of 2006 did create provisions to allow participant advice under an Eligible Investment Advice Arrangement (EIAA) where fiduciary advisers get paid. The DOL has not finalized the regulations but there is a growing admission for needed change within the 401(k) arena."
See: Why the DOL's proposed 401(k) rules could ding brokers and leave the spoils to RIAs
Still, McHugh of Fidelity says that her company is experiencing rising success with automated 401(k) advice.
"We've just seen an incredible uptick. Between January of 2008 and July of 2010, participants had 1.8 million guidance sessions using our planning tools; it's crossing all age groups and participant demographics. It's a misperception that it's only for the wealthy."
Some advisors believe that there is room to play a limited role to 401(k) participants. See: Why gathering big-time 401(k) assets — and charging regular fees — is well within reach for most experienced RIAs
One 401(k) expert vehemently disagrees: Phil Chiricotti speaks out on broker-sold commissions, RIA fees and heresy
Opinions aside, the need for professional advice on 401(k) is coming into sharper focus, however it is delivered.
Watanabe traces a continuum, from the era when defined benefit pension plans were ubiquitous, to the introduction of defined contribution plans, and now to a regulatory-framework-in-the-making to allow more personalized advice.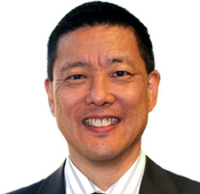 Craig Watanabe: PPA opened up a
new solution – professional advice.
Much of this has yet to
be implemented but there will clearly
be opportunities for RIAs to help
participants of 401k plans.
Not always the case
"Employers were not adequate stewards for their employee's retirement plans, so ERISA brought about the participant-directed defined contribution plans of which the 401(k) is the most popular. The reasoning was the participants have a vested interest and will do a better job of taking care of their own retirement needs. However, as pointed out in the Schwab study, this has not necessarily been the case.
Schwab's study reinforces the point that a human financial advisor could make a big difference:
Fifty-one percent of 401(k) investors surveyed say they prefer a personalized touch over online tools (23%) or brochures (4%).
Sixty-five percent of survey respondents need some kind of motivation – such as from a one-on-one advisor — to use advice, and more than one third (34%) say they would like some kind of proof that advice would improve their investment returns.
Trust for personal advisors
Seventy-four percent of people trust personal financial advisors, compared with 59% who trust financial institutions as a source for savings and investing information and guidance.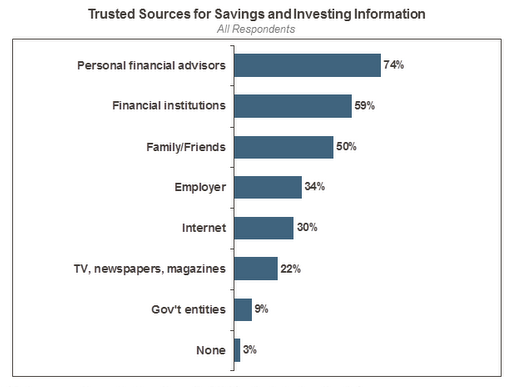 Chart from Schwab Engagement Study 2010

It's clear from Schwab's study that plan sponsors are open to making professional advice available to participants. Some 74% of Schwab's plan sponsor clients offer 401(k) participants access to professional third-party investment advice — That amount has grown considerably since 2005, when it stood at 42%.
But it's also clear from the study that just offering a participant personalized advice doesn't mean that he or she will seize the opportunity.
They'll get around to it
Though a majority (55%) of participant survey respondents say they would use free personalized advice if their employer made it available, less than 10% of people with access to advice actively use it, according to the Schwab study.
Survey respondents cite these reasons for why they don't engage in 401(k) advice — automated or otherwise — even if it is available as part of their plan:
— 27% say they are getting financial advice outside of the workplace.
— 26% say they have more immediate concerns, such as day-to-day financial matters.
— 23% don't think they have saved enough money to warrant spending time to get help.
— 49% want to have more than $100,000 saved before taking the time to get advice.
Advice has had a favorable impact on the 401(k) participants who receive it, according to Steve Anderson, head of Charles Schwab Retirement Plan Services.
Confidence booster
Among 401(k) investors surveyed who have received advice in the last two years, 52% are confident in making investment decisions compared with 35% who want advice but have not received any. In addition, 69% of advice users believe they are good at saving in their 401(k) versus just 44% who want advice but have not received any.
"401(k)s are the gateway to investing and retirement savings for millions of Americans, and employers and plan providers like Schwab have an opportunity to make a significant difference in people's lives," Anderson said in a release. "Getting more 401(k) investors engaged in professional advice needs to become a bigger priority for the industry, because we know that it has a positive impact."
---
---
---
Jim
September 29, 2010 — 6:07 PM
i'll take professional, personal advice if it doesn't come with only proprietary products, high expense fees and loads. does schwab offer such? if not, i would want a plan for a fee and find an alternative online route for investing my retirement dollars.
Kyle Hewlett
September 29, 2010 — 7:33 PM
My direct experience with delivery of 401k advice to participants over the last 6 years bears out the conclusions of the Schwab Study (bold face text is from Schwab Study).
"We've just seen an incredible uptick between January of 2008 and July of 2010… It's a misperception that it's only for the wealthy." In 2006 www.401kfocusadvisor.com was delivering advice to 15 participants in 10 plans, and as of today we have 436 participants in 40 plans. We think that's a pretty good uptick. The participant average 401k balance is $164, 024 according to our eZ-Adviser delivery system.
"The days of receiving a large enrollment brochure and being told to call a number and pick the funds you want are over," We do "one-on-one" online reviews on a scheduled basis with our subscribing participants and in the last 6 months have averaged close to 1 referral for every 15 minute review we do. We augment this direct client contact with an average of 15-20 automatic electronic contacts annually. We have NO brochures.
"Sixty-five percent of survey respondents need some kind of motivation – such as from a one-on-one advisor — to use advice" Between our one-on-one reviews and our electronic email touches, our eZ-Adviser delivery system tells us that in half of the plans we advise our subscribers have logged in within 5 days of receiving our automatic alert over 70% of the time to see our asset allocation advice.
Yes, it's a niche market and requires a different set of skills and an efficient delivery system but we're gleaning .8 referrals per review, a client retention rate of 97% (436 clients), over $51 million in retirement assets, and $4 million a year in rollovers
Kyle Hewlett
September 29, 2010 — 8:01 PM
I forgot this added info. A plan in our area (1,500 participants) conducted a study in August 2008 to all participants (even the 11% not participating) and one of their findings seems to corroborate the Schwab Study. They found the following about participants:
"One in five uses a personal financial adviser; of these, about 2/3 of financial advisors provide advice on 401k plans. The plan participant who has a financial advisor is more likely than the advisor to initiate contact related to the member's 401k plan. Less than half say their financial advisor routinely contacts them more than once a year."
That appears to be 13% (20% times 2/3) are provided advice from their financial adviser and less than half of those get routine contacts more than once a year. It also appears that 87% get no advice.
If you have questions about our delivery system you can get more info at: www.ez-adviser.com