Dick Smith: SEI's gone through a lot of iterations and they made special considerations for us. Yet, still, you're constrained by the standardization they employ.
Brooke's Note: Dick Smith has always been the public face of big advisors who prospered under and praised SEI. When I heard he was moving from SEI to Schwab, I suspected there was an interesting story behind it.
Dick Smith takes no particular pleasure in the fact that he's moving a major chunk of assets from SEI.
The principal of Capital Advisory Group Inc. in Richmond, Va., has always sought out partners for his $1 billion AUM firm, and SEI, the Oaks, Pa.-based turnkey asset management program, served him well. His firm blossomed over the last 10 years.
But Capital Advisory also reached a size and sophistication that demanded more customization. Smith found a platform that suited those changing needs in Adhesion Wealth Advisor Solutions, a Charlotte, N.C.-based technology company that is beginning to gain some traction with big RIAs in the industry. [Look for a profile of the company in tomorrow's RIABiz that include the experiences of other recent converts to its services.]
The move requires a new asset custodian; Smith is in the process of moving about $250 million of assets to Schwab Advisor Services to join the $120 million that were already parked with the largest RIA custodian. The firm has about $600 million of institutional assets, which will remain with custodians that include Bank of New York, State Street and SunTrust.
Reporting on $1 billion
Adhesion will become the TAMP and UMA for the assets held at Schwab [all for high net worth individuals], and it is already providing the performance reporting for all $1 billion of the assets, according to Michael Stier, CEO of Adhesion.
"We wanted a system that would allow us to customize our platform," Smith says. "SEI's gone through a lot of iterations and they made special considerations for us. Yet, still, you're constrained by the standardization they employ in their reporting; it couldn't be customized to suit us."
He had similar reservations about the maker of his portfolio management system for his 17-employee RIA. "We were using [Schwab] PortfolioCenter, which is not very robust," he says.
Both Schwab Advisor Services and SEI declined to comment for this article.
Smith says he would have stayed with SEI if its new technology platform slated for 2012 were available now. That in-the-works technology and SEI's recent success in attracting advisors is detailed in this article: SEI turns a big corner but Genworth is still the big asset gatherer.
The way Smith is piecing together of aspects of technology providers – meaning combining Schwab and Adhesion instead of SEI and PortfolioCenter is an example of how the market is offering new possibilities for establishing a platform for clients, according to Spenser Segal, CEO of Minneapolis-based ActiFi Inc., a company with software that helps financial advisors to implement practice management.
New frame of reference
"The traditional frame of reference is all or nothing – bringing together all the technology myself or [handing it all over] to a Genworth-like TAMP," he says. "[Now] the flexibility of options provides a much greater range at essentially no cost to the advisor."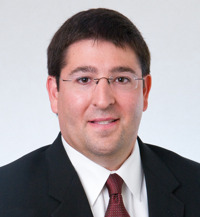 Spenser Segal: The flexibility of options
provides a much greater range at
essentially no cost to the advisor.

Switching to Adhesion solved three problems for Smith. Its technology automated processes that had required putting information on spreadsheets manually. "That was just a monster," he says.
There were two other pluses for Capital Advisory in migrating away from SEI. It now gets the full value of its relationship with Callan – a high-grade research boutique of investment managers in San Francisco. It generally only serves institutional managers of mega-billions, and advises on $3 trillion of assets, according to its website.
"It allows us to use Callan more efficiently. Callan is as good as it gets," he says. Previously, Capital Advisory executed Callan's research findings by using SEI's bundled solutions. Now it can pick and choose the managers it wants to more precisely implement what the research suggests.
Another reason that Capital Advisory needed a customized solution was that it had honed a core-and-explore approach to investing. The exploring portion of its strategy involves investing assets in 1940-Act mutual funds that act like hedge funds. The problem was that the strategy was original enough that it didn't fit neatly into any reporting category.
Build your own UMA
"We were constantly telling clients: ignore this, this and this," he says. "We found out we could do it a lot cheaper for our clients in the Adhesion world. Adhesion is more of a build-your-own [unified managed account]. The UMA is perfect because the portfolio stay in balance continuously." Capital Advisory formerly used Parametric for its UMA. For more advisor with views on Adhesion, see: Little-known Adhesion's big RIA wins less surprising when underlying pedigree is considered
Smith has always been one to press the envelope in making the most of partnerships. His firm joined Focus Financial partners in 2006 and it is part of an elite cadre of about 30 RIAs that make heavy use of the research provided by Callan.
As Smith's RIA grew, he began seeking a system that would give clients better self-directed access to their account data, and a better ability to make queries, and would offer his firm more risk controls on investments and better tax management – all capabilities that clients increasingly expect from advisors.
Adhesion is an 11-year old company founded by the private equity arm of First Union, a big southeast regional bank, before it was folded into Wachovia in 2001. Since 2003, Wachovia [now Wells Fargo] has only continued to hold a very small stake, according to Stier. Sciens Capital Partners is the majority owner of the company and Stier and other executives own a portion of the firm.
Adhesion is winning the business of more RIAs because of its framework for allowing the firm to configure systems of investment management and reporting, according to several RIAs interviewed for this article and the one scheduled for tomorrow.
This combination is winning it referrals from larger companies like Schwab, TD Ameritrade and Focus Financial, Stier says.
Focus Financial factor
"Focus has become very comfortable with Adhesion as a strategic outsourcing partner, with successful relationships at several other member firms," said Richard Gill, vice president at New York City-based Focus Financial Partners in a prepared statement. "Adhesion has achieved a strong market position in working with independent wealth management firms, and has distinguished their investment management services as highly tuned to the flexibility required by fiduciary advisors, in contrast to more traditional broker and TAMP based UMA platforms."
For an advisor also using Adhesion for investment management and UMAs, Adhesion's overlay portfolio management fee averages .15% to .18%, according to Stier, which administer $13 billion of assets. These fees include reporting services for clients accounts enrolled in UMAs.
Smith adds that because he is part of Focus Financial, he was able to get highly favorable pricing from Schwab for its custody services.
"Focus has impressive buying power. We could go to Schwab with a bunch of business and say: how low can you go?"
Schwab actually benefits indirectly from Adhesion's win in portfolio management technology because PortfolioCenter is the underlying engine. "[Adhesion] work on a souped-up version of PortfolioCenter," Smith says.
---
Related Moves
August 13, 2022 – 12:39 AM
---
December 17, 2020 – 3:02 AM
---
---
Mentioned in this article:
---
---
---