Peter Hess: With 3300 users, Axys is here to stay...that said, the Axys clients I've spoken with at the Conference are really excited about APX.
Brooke's Note: I wrote this story with major reporting help from Tim Welsh, who was attending the conference on behalf of his client, LaserFiche. Welsh, principal of Nexus Strategy LLC of Larkspur, Calif. provides public relations and marketing help for companies in the industry. He is also a keen observer and a meticulous note-taker. There are too many conferences in the industry for our writers to attend. If you plan to go, drop us a line if you are willing to send us some thoughts or reporting about the events at the conference. I was also aided in this case by a recording of Stephanie DiMarco's speech that was posted on the company's Facebook page.
Since Advent Software threw its last national users conference in September 2008 (last year's conference was canceled after Wall Street's collapse) the market for portfolio accounting software has become much more complex.
It's no longer Advent and everyone else. It's Advent, Orion, Morningstar, PortfolioCenter, Black Diamond, Tamarac, Adhesion, AssetBook and a handful of other solid players.
So when Advent Chairman and founder Stephanie DiMarco took the stage in front of 1,150 attendees at the Bellagio Hotel and Casino in Las Vegas on Monday, she kept her message simple: Stick with us because we've proven that we'll stick around.
Greatest ROI
"We are your technology provider forever….to the extent that you don't have to make changes and you can rely on a provider [to continually upgrade the system] that's what produces the greatest ROI for your firm. It's changing out systems that's so disruptive. You shouldn't have to do that."
DiMarco said her 27-year-old company now has grown about $300 million of revenues. She stressed that reliability and accuracy remain paramount and that 17%-20% of the company's revenue gets invested back into research and development each year.
"We walk the walk when it comes to [stability and continuity]," she says. "We're an independent company and we're focused on being an independent company."
Advent holds its conference for users of all its various software products, but many RIAs attended looking for insight about facing a potential disruption – migrating from Advent's legacy portfolio accounting system, Axys, to its hot new online product, APX.
Peter Hess, CEO of Advent, acknowledged that Axys users are both pleased with their software and intrigued by moving to Advent's next-generation software — APX.
Axis of Axys
"With 3300 users, Axys is here to stay; in fact, we are working on a new release of Axys that will have additional reports, which we're highlighting at the Conference," said Hess. "That said, the Axys clients I've spoken with at the Conference are really excited about APX – its SQL database, its integrated CRM and fixed income capabilities, its automated reporting package – and there's a lot of momentum here around how and when to make the move, whether it's a traditional migration or through our Advent OnDemand service."
In a 4 p.m. breakout session dedicated to the issue, Maximilien Nivaud, senior manager, IMG professional services, addressed questions for about 70 advisors. Some of these advisors asked why the transitions from Axys to APX are such challenging experiences.
He explained that it requires a big commitment both on the part of the advisor and his company to make sure it goes smoothly. The downturn complicated matters in some cases because firms were short-staffed or tried to avoid having Advent fully play its role.
On the radar
One energy booster at the conference: Advent handed each of the conference attendees a "SpotMe" device. The belt-attached computer [looks like jumbo cell phone with a pull-out keyboard] allows a user to – in bar decoding fashion – identify someone is who is standing 10 feet away. It can also be set to "radar." When the searched-for individual comes within 60 feet, it buzzes.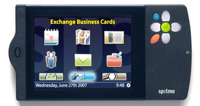 This attendee radar device was a
big hit with Advent attendees in
Las Vegas
"At first it was like Big Brother but it was really cool," says Timothy Welsh, president of Nexus Strategy LLC of Larkspur, Calif. an independent consultant who attended the conference on behalf of Laserfiche and provided much of the reporting for this article. "As far as conference innovation, this is one of the coolest things I've seen. It breaks down barriers."
The device come in handy for a conference with about 1,150 attendees that included 273 Advent employees, about 200 exhibitors and another approximately 600 people who are advisors or work for advisory firms. Many of the advisory firms that sent representatives were large, some with more than $1 billion in AUM.
Cylindrical poles
There were 42 exhibitors though they weren't arranged with booths; instead each had a cylindrical pole and each space was about the same.
At the conference, Advent recognized three firms who have been clients for more than 25 years: Kempner Capital Management, Albion Financial Group and Systematic Financial Management.
---
Related Moves
---
September 10, 2019 – 10:52 PM
---
---
Mentioned in this article:
SS&C Advent
Portfolio Management System
Top Executive: Robert Roley
---
---
---