Jason Jennings: LPL stood out for its hands-off approach and technology platform similar to that at Merrill Lynch
Elizabeth's note: Over the past two years, I've heard over and over again in my reporting that the financial crisis caused a real sea change in the mood of American consumers. Consumption is out; saving is in; Wall Street is out; Main Street is in. Trends are a dime-a-dozen in the news business, it's true, but I've seen enough evidence of this one to believe that there is a somewhat lasting shift under way. I rarely hear advisors talk about how to capitalize on these shifts, however. Though I spoke to a few people about it for this story, I sense there's much more to say.
Frederick, Md., feels familiar, even to someone who has never been there before, as the model of a certain kind of Middle Atlantic city. Some of the brick buildings on the downtown streets date from its beginning as a Colonial market town. Historic markers show where the Northern and Southern armies marched through 100 years later.
Today, the downtown of the state's second-largest city is enjoying the mini-renaissance of new urbanism, and its location as a suburb of the megalopolis has given it a definite prosperity. Lively cafes, high-priced boutiques and Zagat-rated restaurants sprinkle the urban core. Buy local, from food to financial services, has a strong foothold in Frederick.
It's this sense of community that Key Financial Group, an 18-month-old breakaway from Merrill hopes to capitalize on, from the small brick building that Jason Jennings and David Morders moved into downtown.
They – and other independent advisors – are walking right into a window of opportunity created by the new emphasis on local sourcing, say experts and the statistics. A new book, Consumed: Rethinking Business in an Era of Mindful Spending, details how the moods of consumers are shifting in ways that benefit small, locally owned businesses.
The book, which details a survey of 5,700 adults worldwide, says that 80% of U.S. consumers are spending money more mindfully than they used to; 86%, meanwhile, say saving money makes them feel good about themselves; a large percentage also says businesses need to show a more human face to succeed.
Classic small-city brokers
For a decade, in this classic Middle American city, Jennings and Morders had classic careers as small city brokers for a big Wall Street firm: Merrill Lynch, which also has an office downtown.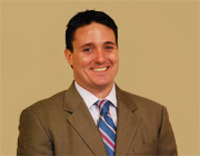 David Morders
The sheen of all that started to come off in early 2007. The two men remember having a conversation around then with a friend who worked at Smith Barney. Merrill had pumped up its brokers by telling them that the thundering herd was acquiring assets faster than any of its competitors.
"Smith Barney had been telling its brokers the exact same thing," Morders says, with a wry laugh.
The sense that they weren't getting a realistic picture of the competition began coming to the fore.
"Merrill shelters their advisors pretty good," Jennings says. "Everything was exclusively Merrill."
Jennings and Morders, however, knew of at least one breakaway success story, in XML, a Rockville, Md., breakaway that had left Merrill in 2004.
In 2008, when the world was collapsing around them, those seeds began to germinate.
Jennings was on a trip to Disney World with his family. As he spent the day on the phone with his clients after the demise of Bear Stearns, his wife told him, "what if this were Merrill?" and "You really need to figure this out."
Along with Morders, that's what he began doing, over the next four or five months.
What the number told them
The numbers looked great. While the payout at Merrill had been 40-42%, the independent world promised much greater numbers. They looked at LPL and Raymond James. The former seemed to promise a more hands-off approach. They considered full independence with Schwab as custodian, but thought that the slight increase in payout wouldn't be worth the extra work.
They still haven't ruled it out, but "we're having a tough time figuring out whether it makes sense," Jennings said. "We haven't really seen what the value-add is."
After a day-and-a-half visit to the LPL headquarters in Boston, the duo made their mind up. At some point during the round of visits with people from each department of LPL, they'd posed the biggest question on their minds: "If this is so good, why doesn't everyone do it?"
The answer – that entrepreneurialism wasn't for everyone – satisfied them.
It still rings true now, more than a year after their breakaway. They have an understanding of cash flow, now, they say. Their payout of 90% comes to about 75% after overhead comes out; still much more than they were getting at Merrill.
They're already had one employee who didn't work out (they currently have an advisor and an assistant).
They are learning to turn their entrepreneurialism to advantage. There are 6,000 small business owners in Frederick, they say, to whom they can sell both advisor services and 401(k) plan services. Entrepreneurs are one of their prime markets. They aim to serve clients with anywhere from $500,000 to $5 million in assets.
"After departure, your prospecting window opens dramatically," Morders says, noting that when they were Merrill brokers, they had to be careful not to step on the toes of their office mates. "Now with Bank of America, that spider web is even larger."
The men have an outstanding marketing opportunity, says Marie Swift, CEO of Impact Communications, a Leawood, Kansas-based marketing communications and public relations firm that works with independent advisors and institutions that serve them.
"If people are not openly disgruntled (with the big brands), they're quietly disgruntled," she says.
She says it's important to emphasize being a local business, but also to emphasize the support and connection with a larger broker or custodian. "You want to show you have the bench strength to show you can serve the more sophisticated investor."
Frederick Post-Gazette
Key Financial Group has been finding ways to get itself into the Frederick Post-Gazette. Local publicity is invaluable, Swift says.
On the firm's one-year anniversary, it donated school supplies, which garnered a grip-and-grin in the very local paper (a sample headline from last weekend was about the horseshoe pitching pro tour coming to town).
Morders and Jennings are out and about in the community, dropping in for lunch at the Tasting Room and Volt, where they're apt to run into some of those aforementioned 6,000 entrepreneurs. Jennings works as a volunteer on boards at the local hospital – again, a winning move, Swift says.
"You want to be seen where your clients are," she says. "Sponsor events … buy tables … be seen as a good guy with a white hat."
The two men have so far been finding their marketing moves somewhat frustrating. "You just can't tell if they're working," Morders says.
But something probably is. The team that left the wirehouse with $60-65 AUM is aiming to be at $100 million in a year.
"The advisors I work with are telling their independent stories loud and proud," Swift says. "The more they feel it with a passion and articulate it ... the more the clients get that authenticity. It's almost like spreading the gospel."
---
---
Marie Swift
September 26, 2010 — 9:35 PM
Elizabeth – Thanks for including some of my comments from our telephone interview the other day in this story. There's so much more advice I'd be happy to share. Let's do a marketing tips piece together soon!
Mr. Morders and Mr. Jennings – Hang in there. You said it's difficult to tell if your marketing efforts are working, but I can assure you that if you keep at it, telling your fiduciary story with a passion and building your visibility as local resources, that you will begin to see results. Visit my Best Practices in the Financial Services Industry blog at www.marieswift.com or www.impactcommunications.org for additional insights and advice.