Mike Williams: We've been completely rewriting our reporting capability to get it up to this day and age.
Brooke's Note: Arguably the two biggest decisions an RIA makes when setting up a practice are the choice of an asset custodian and the portfolio accounting system. So it's notable that The Charles Schwab Corp. owns the unquestioned leader in custody in Schwab Advisor Services and — depending on your metrics — the leader or almost-leader in portfolio accounting in Schwab Performance Technologies. Still the San Francisco-based corporation hasn't seemed to realize big synergies from these dual strengths. Now the company is putting the final touches on a series of efforts that could bring PortfolioCenter to its fuller potential as a stand-alone software company and as a partner of the industry's biggest custodian.
Heather and I split the writing of this piece. I took on the question of how Schwab's platform competes; she wrote the review of the technology that begins after the subheadline "Interface."
With a reputation for adequate technology at a good price for smaller advisors, Schwab PortfolioCenter has won a big share of the advisor market. But unlike competitor Advent Software and a host of start-ups, Schwab Performance Technologies is known less for pushing the envelope of technology.
The desktop product has successfully kept up with the rapidly changing technology standards in terms of interface, usability and backend technology, and has used its long history as a portfolio management system provider to address specific client needs.
There are 150 people working for Schwab's Performance Technologies, the subsidiary owned by Schwab since 1994. That number includes developers in [mostly] Raleigh, San Francisco, Kansas City and Denver.
In 2008, Schwab acquired Etelligent, a 45-employee firm that allows Schwab to host its own portfolio accounting software – something it formerly left solely to outsourcing firms like Tamarac, Adhesion Wealth Advisor Solutions and B-Ready Outsourcing Solutions Inc. See: Envestnet buys a company to gain an edge with Schwab RIAs
PortfolioCenter has 3,500 clients. Some 2,200 of these clients have custody business with Schwab and 400 firms are using outsource solutions supported by PortfolioCenter.
800 downloads
Mike Williams, sales director of Schwab Performance Technologies, says it makes roughly 45-50 conversions a year to PortfolioCenter from existing firms that are already using a different portfolio management system. In addition, about 800 existing firms have already downloaded the upgraded version of PortfolioCenter released earlier this year, according to Williams.
One enhancement: easier reports. "Before you had to be a [web] developer and use code to build a report," he says.
"That's really just the first taste," Williams adds.
When Schwab first acquired Raleigh, N.C.-based Schwab Performance Technologies, the company's aim [according to lore] was to offer its smaller advisors an alternative to Advent Axys. Many of these emerging advisors felt like they were boxed into using software they could not afford.
From that time, PortfolioCenter was considered precisely that – a good basic alternative for small, desktop-based advisors. It was presumed that bigger, more sophisticated RIAs would seek – and pay for – Advent's more sophisticated solutions.
Full-on competitor
In the past few years, Schwab has taken steps to reposition PortfolioCenter as a full-on competitor to Advent on the desktop and online, and to relative upstarts such as Morningstar Office, Orion and Black Diamond: in the outsourced solutions world. The latter two players are known to wow advisors with the quality of their reports and Schwab is looking to compete on that front.
"We've been completely rewriting our reporting capability to get it up to this day and age," says Williams.
Morningstar is know for its integration.
"I think that the efforts of other firms to build an integrated platform further confirm that we were on the right track when we launched Morningstar Office in 2006," says Michael Wilson, director of marketing for Morningstar Office. "With over 2,000 subscriptions, and hundreds of conversions completed from other advisor software platforms, we think advisors understand the benefits of our all-in-one practice management solution."
Schwab plans to reveal more about its integration plans and overhaul at its IMPACT 2010 conference in November.
The overhaul of PortfolioCenter will keep it at the forefront in the RIA market, according to Joel Bruckenstein, publisher of Virtual Office News and producer of the Technology Tools for Today (T3) Conference, a major technology conference for independent financial advisors. See: The T3 conference has a rebellious air and the makings of success
"I think the latest upgrade will help Schwab Performance Technologies maintain its leading position as a leading provider of portfolio management and reporting software to independent RIA firms," he says. "With a desktop/server offering, a web based outsourced solution (Schwab Portfolio Services), a new integrated offering (Schwab Intelligent Integration) coming soon — plus exposure through third parties that offer services around PortfolioCenter — Schwab certainly has all the major sales channels covered."
Too early to tell
Bruckenstein adds: "Having said that, I think it is too early to tell whether the improvements will serve to help them simply retain existing clients, strengthen their competitive position with new Schwab clients, or actually lure clients away from competitors."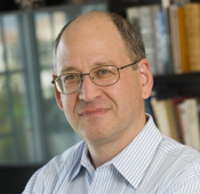 Joel Bruckenstein: It's too early to
tell whether Schwab's improvements are enough
to lure clients away from competitors.

Schwab now has clients using PortfolioCenter whose assets under management range into the billions of dollars — though the majority still have more modest practices, the company says.
PortfolioCenter's competitive stance will no doubt be aided by the giant custodian's new overarching technology platform that will integrate a variety of programs into one grand ecosystem.
While other vendors wait on pins and needles to see whether they will make this company-making cut, Schwab's PortfolioCenter is already assured to be part of the long-term plan.
Schwab will definitely choose at least one other portfolio management system for its comprehensive integration — though which one or ones has yet to be determined, according to the company.
Interface
PortfolioCenter's ability to handle large firms, hundreds of accounts, and tons of data is tucked beneath a deceivingly simple interface; a good sign for any software I review is when I find the navigation intuitive, the layout appealing, and the functionality un-intimidating.


A clean conventional interface makes users
feel comfortable with the product
PortfolioCenter's interface uses standard Windows icons (e.g. the floppy disk for "save", the blank sheet of paper for "new", the printer image for printing, etc.) and the conventional Microsoft top-bar navigation (e.g. File, Edit, View, Tools, Help, etc.), which makes traditional Windows users feel familiar and comfortable with the product right away.
Reporting
Williams spent much of our demo showing off PortfolioCenter's new reporting system. "We've been in the process over the last year and half completely rewriting our reporting engine and getting our reporting capabilities up to this day and age," he says.
"The biggest selling point for PortfolioCenter over the years has been the flexibility of reports," says Williams.
All of the reports are generated dynamically. Any changes made to an account, a date, a holding, etc. will be automatically reflected in the reports.
The client presentation tools, announced last week, are live for download on PortfolioCenter's website. The presentation tools allow advisors to take components from different reports and create a customized presentation for clients.
"These are what you would send out to a client at the quarter end or maybe use if the client is coming into the office; these are not the reports you would actually make decisions off of," says Williams.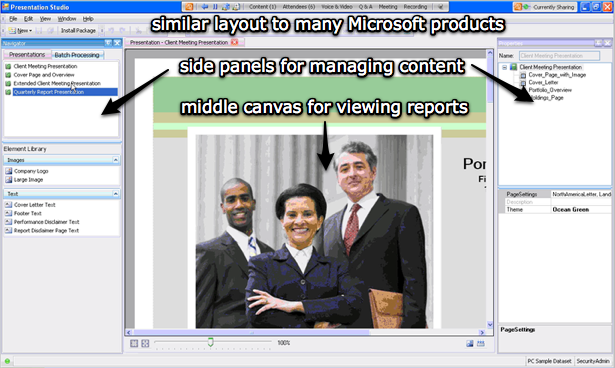 The customization interface for client presentations is especially reminiscent of Microsoft Publisher. The middle "canvas" shows the report; two side panels are for arranging and adding graphics and content. There are currently five themes an advisor can choose for a report, but in the next quarterly release of PortfolioCenter, themes will be completely customizable. It is very simple to upload a logo or custom graphic for the report cover page, and commentary pages and text are edited using a basic built-in text editor — very similar to Microsoft Word.
"It's a completely different look and feel compared to the old system…and this is just the first taste," says Williams. PortfolioCenter is gearing up for version 5.1, due out later in third quarter, that will build on the current reporting system and expand upon the customizability of the client presentation tools. Williams estimates a new release every six months.
New reports will be available on PortfolioCenter's website for download. Advisors can click "Install Package" after downloading the new reports and have them available on their system; no writing code, no installing new versions of the software, and overall a quicker turnaround time for getting reports to clients.
Price
"We haven't raised our prices in about four years now," says Williams, and with Schwab's maintenance discount in 2009, the price has actually gone down.
Two years ago Schwab released its emerging practice product, a full version of PortfolioCenter with a 100-account limit, for $2,500/year for Schwab advisors.
"We're trying to lower that hurdle to let people get into a quality system from day one," says Williams.
The PortfolioServices offerings — a rebranding of Etelligent — went from $15,000 per year to $12,000 last year and with the emerging practice version of this product, the price has come down to $8,000 per year.
Flexibility and Functionality
"We needed to let our clients actually design the data fields that they needed to track information about their clients," says Williams, showing off the "Create custom field" functionality.
In 2001/2002 PortfolioCenter switched to a SQL server database for its backend data management to meet the need for scalability in its product. The custom fields, groupings, and data lookup reflect the flexibility that this backend solution provides. Some readers will recall my explanation of SQL server advantages from my review of Advent's APX. But clearly this server's advantages don't impress everyone. See: Advent Software is moving ahead in the RIA tech market— even if most Axys users refuse to budge
The advantage of using a relational database lies in the flexibility of querying data; it gives advisors more freedom to search through data by any available data attribute (i.e. name, symbol, address, account number, etc.), instead of using a single hardcoded relationship between two data items.
PortfolioCenter's data manager tool is the result of building out the system to take advantage of the SQL server. "This tool allows me to manage data, view data, and sort data in my system," says Williams. You can mass populate information in the system — good for large numbers of accounts — and filter data by any number of criteria (i.e. type of account, client name, a customized field, etc.)
Mentionables
Transaction writer tool: "We have built tools that allow us to go in and quickly create transactions that replicate or keep in place the trade loss depending on what's happening with corporate actions," says Williams.
The ability to drill down into the system, specifically into calculations through the reporting system, gives the system transparency and accountability. Advisors can determine "where a number came from" by walking through the calculations outlined in the report.
In the data manager tool and transaction writer tool, the system gives RIAs the ability to manage large sets of data and perform mass changes to data. That's critical for RIAs managing many accounts.
---
---
Mentioned in this article:
---
---
---
Bill Winterberg
September 17, 2010 — 10:38 PM
This is a needed update for Schwab Performance Technologies® PortfolioCenter®, as they were behind the curve compared to performance reporting engines such as <a href="http://www.assette.com/ProductEasyReportsTO.asp" rel="nofollow">Assette EasyReports.</a>
Granted, Assette is not an accounting system, but their report design interface is built using Microsoft PowerPoint template files. If you can make PowerPoint slides, you can make custom performance reports; there's almost no learning curve.
But where Schwab can add value is the delivery of reports after production. Once reports are generated by PortfolioCenter, then what?
It would be nice if a feature similar to <a href="http://www.trumpetinc.com/svc_assemblage_details.jsp" rel="nofollow">Trumpet's Assemblage</a> was added, where batch processed reports were collated with cover letters and invoices and automatically uploaded to the advisor's secure document vault for client delivery.
If Schwab were to add that kind of report delivery function, now you're talking about a truly scalable reporting solution for the most innovative of advisory firms.
Bill @ <a href="http://fppad.com" rel="nofollow">FPPad.com</a>