News, Vision & Voice for the Advisory Community
PlaceMark deal modifies unified managed account platform so advisors can plug in their former wrap managers
September 15, 2010 — 6:00 AM UTC by Brooke Southall
Brooke's Note: TD Ameritrade has always had its fans but it also suffered a few digs from advisors who saw it as Schwab-lite for operating in following mode for several years. It never seemed like a good strategy for a third-ranked company that was determined to close the big gap with its larger rivals. Obviously some folks upstairs at TD Ameritrade [with names like Clark, Tomczyk and Bradley] feel the same way because the company is more and more often trying approaches that differ from Fidelity, Schwab and Pershing. Nevin recently wrote about open code [API] it is using to broadly integrate technology and there are a host of other moves TD has made in the past couple of years that are detailed in this article: Where TD Ameritrade has come since its 2006 merger and where it is headed in 2010 The deal that TD Ameritrade is announcing today with PlaceMark to provide an in-house UMA appears to be another example of where the company is making the kind of gamble it will need to make — and execute — to eat into the lead of bigger competitors.
TD Ameritrade Institutional is launching its own UMA program in a move that could give it an edge with breakaway brokers and other RIA clients.
The Jersey City, N.J.-based custodian is the first to roll out its own unified managed account platform and the extra control it gains may make a difference for wirehouse brokers who are determined to make the transition to independence as seamless as possible.
"I believe we are the only custodian with our own program," says Matthew Judge, director of wealth management solutions for TD Ameritrade.
Typical approach
The approach of Schwab Advisor Services is more typical of the approach custodians have traditionally taken in providing access to UMAs.
"To date we've taken an open architecture approach, with advisors able to choose from a number of third party asset manager UMAs," says David Lindenbaum, vice president of managed accounts for Charles Schwab. "‬Right now there are between eight and 10 such UMAs available through our Managed Account Marketplace platform."‬
Fidelity utilizes Envestnet's Advisor-Directed UMA, according to Steve Austin, spokesman for Fidelity. The Boston-based financial giant bought about a 4% interest in Envestnet in 2005, according to press reports and other industry sources. As part of that deal, Fidelity's correspondent B/D firms gained access to a unified managed account (UMA) service that meshed with National Financial's Streetscape brokerage platform.
TD's upgraded platform, Unified Mnaged Accouny Exchange [UMAX], which TD has formed in partnership with Dallas, Texas-based PlaceMark Investments will — over time — allow advisors to put the assets of virtually any separate account manager on the platform. Since 2008, TD has provided UMA with PlaceMark but included a substantially narrower range of product choices.
Favorite wirehouse product
Separate accounts [embedded in wrap accounts] are — from an investments perspective — the product of choice of wirehouse brokers who serve affluent clients. When they choose to break away to independence, they want to bring their portfolios with them as intact as possible.
"They don't want to sell out and explain that to clients," says Judge. "The [new] UMA allows them to have the same managers."
Right now, that often involves putting them on a relatively clunky separate accounts platform or go to a UMA with substitute managers, according to Randy Bullard, executive vice president of PlaceMark. TD's UMAX is being designed to avoid having advisors face this dilemma, he says.
"If advisors say: I want manager X, they can have it," he says. "It's the first time the product access is in a UMA construct. That's the real difference here."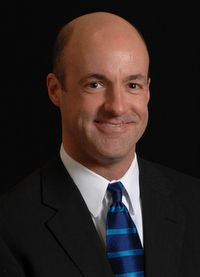 Randy Bullard: If advisors say: I
want manager X, they can have
it. It's the first time the
product access is in a UMA
construct. That's the real difference here.

UMAX will also include tens of thousands of mutual funds and thousands of ETFs.
UMAs in general have been growing in popularity as wirehouse brokers come to the independent world wanting them and as RIAs become familiar with how efficent they can be for running a practice.
This migration of this platform from the realm of wirehouse brokers to independent wealth managers is a positive event, according to Gary Carrai, senior managing director of consulting and sales for Fortigent LLC of Rockville, Md. See: Why Moss Adams signed a big contract with Fortigent
Terribly misunderstood
"I feel that greater adoption of UMAs is good for the RIA industry. UMAs are still terribly misunderstood because they were born out of the wirehouses and big banks, and were designed more for operational efficiency than as an enhanced investment solution. Many advisors still perceive them as a packaged product rather than simply a better way of delivering objective investment advice. They are not a "product", just a more effective and efficient way of delivering the investment solutions RIAs were already delivering through SMAs. UMAs fulfill many of the un-kept promises of SMAs (customization, active tax management, ease of implementation and rebalancing, etc.)."
Mike Stier CEO of Adhesion Wealth says that it's clear TD advisors have strong appetite for UMA services. He knows because, he says, they've been making good use of his company's UMA platform.
"In fact, just in the past quarter we have added in the neighborhood of $200 million assets from TDA advisors," he said.
"All along we've believed that advisors benefit from an open architecture managed account service and Adhesion's investment management service has seen excellent adoption from TDA-based advisors over the years. "
But Stier says he's not concerned about the new competition from TD.
"I see Adhesion's services and the TD/ Placemark product serving very different segments of TD's advisor base. Advisors typically do not come to Adhesion to "buy" product. They partner with Adhesion to facilitate a substantial, strategic shift in the way they operate their business."
Bullard agrees that there is a basic difference between what UMAX does and the UMA platform that Adhesion offers.
Big books of business
Currently about 10% of TD RIAs make use of separate accounts. Many of them tend to have big books of business that include high net worth investors, Judge says. Though the UMA adds value, it doesn't usurp the value of the RIA.
"The advisor still owns the client," he adds.
One knock on UMAs is that all those layers of management come freighted with wirehouse-style layers of extra cost.
TD Ameritrades's new product has cost layers but its UMA appears to be cost-competitive. For example, a client with $500,000 invested across mutual funds, ETFs and an equity-based SMA model would generally pay between .65% and .77%. The fee would include a custody fee of .17% paid to TD plus an overlay management fee of .2% and a SMA model provider fee of .28% to .4%.
The fee gets swollen by .1% if the client wants research and manager due diligence from Capital Markets Consultants and it pays an additional .1% when tax management is applied.
With all these services applied, a client pays just shy of 1% before the RIA applies its fee, which is traditionally an additional 1%.
---
Mentioned in this article:
---
---
Share your thoughts and opinions with the author or other readers.
Craig Iskowitz said:
July 29, 2011 — 4:58 PM UTC
The market share of UMA increased almost 100% from 2009 to 2010. It's still only 6% of managed account assets, but if this kind of growth continues, UMA could outpace SMA and become the dominant product.
Here's a good article that describes how one sponsor helped to drive the growth of UMA's: JPMorgan Doubles Model SMA, UMA Business in 2010, which you can read here: http://wp.me/pPor1-56
---
---