Ben Welch: iRebal's client base, currently at 67 firms, has doubled in the last two year. It has also experienced a five-fold increase in developers to five full-timers
Release Date
iRebal was first launched in 2004 and was acquired by TD Ameritrade in 2007
Price
Annual minimum of $20,000 plus one time implementation fee of $10,000
User Base
67 firms with an average

AUM

of $800-900 million
Main Competitors
Tamarac
Web or Desktop
Desktop software; iRebal does not run locally on a Mac without a Windows emulator, but can be used via a portal such as Citrix
What does it do?
iRebal is a rebalancing software; it includes trading tools, reporting capabilities, and built-in compliance features
iRebal first launched in 2004 with a single developer and a narrow focus on serving large firms — and developed a reputation for being head-and-shoulders above the rest of the field.
But, the market and the company have changed since then. In 2007, the company was acquired by TD AMERITRADE. In the meantime, iRebal's competitor, Tamarac, has won attention for improvements to its software and a strategy to branch out and provide an all-in-one platform to large and small clients alike. See: A close look at Tamarac's Advisor 9 and its strategic use of Schwab software Those events have naturally raised the questions in the minds of advisors: Will iRebal maintain its large-client focus? And, will it continue to be a strong player in rebalancing technology?
Ben Welch, director of iRebal for TD Ameritrade Institutional, answered both questions for this reviewer. He affirmed iRebal's commitment to large firms going forward. He said the company will continue to specialize in rebalancing software, despite the example of the success of Tamarac.
iRebal has a robust, but not pretty, piece of software aimed at providing the customizability and complexity necessary for large firms. Firms that are able to dedicate resources strictly to learning and using iRebal will find it a useful and well-supported tool. Breakaways and smaller firms where advisors wear many hats for the company may want to choose something cheaper and simpler for their rebalancing software.
TDA

acquisition

Acquisitions in the tech world are often associated with a loss of identity for the acquired company, or in some cases, a complete dissolution of the original company. See: The executive Advent bought and buried is back with a vengeance This perception of acquisitions has led to questions about where iRebal is headed and how the company plans to differentiate itself from competitors from within TDA.

Welch pointed out iRebal's growing client base — iRebal's client base, currently at 67 firms, has doubled in the last two years — the five-fold increase in developers to five full-timers, and the many new features iRebal has released since 2007. It shows that TDA is still supporting iRebal's growth.

"The software has not been stagnant," says Anita O'Brien of Wingate Financial Group, an iRebal client since just before the 2007 acquisition. When O'Brien's firm started using iRebal, it reduced its staff dedicated to doing portfolio reviews from five people to one and simultaneously increased the frequency with which portfolios are reviewed.

"If we hadn't implemented iRebal before the market downturn, we would have been dead in the water," says O'Brien.

J.D. Bruce of Pacific Palisades, Calif.-based Abacus Wealth Partners, an iRebal client since 2007, reports a similar increase in efficiency for his firm; Abacus was able to downsize from two full-time trading employees to one, and save 10-15 hours a week per advisor spent rebalancing, reviewing and trading. The selling points for Bruce at the time were iRebal's approval hierarchy, which proved especially beneficial for multi-office firms, its tax-loss harvesting tools, and the efficiency of its workflow.
User Experience
"All of [iRebal's] energy goes into delivering features that we've asked for, not into creating flashy front ends," he says.
iRebal's emphasis on functionality means the product's aesthetics don't get much attention. When Welch demoed a typical advisor's workflow, iRebal became a mess of colored highlights, one-letter drop down menus, and acronyms. iRebal software relies more on memorization of color-coded indicators and acronyms instead of intuitive conventions.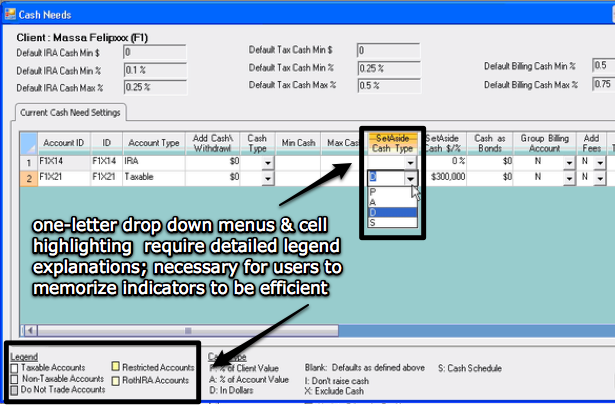 User interface has cell-highlighting and acronyms
instead of more intuitive indicators
When the application is first launched, there are five top navigation buttons and an empty body. The five-button workflow is an intuitive model that leads advisors through selecting clients, reviews, approvals, trade tickets, and trade reconciliations. Each process presents advisors with an Excel-like layout with tab-based navigation and drop down search menus.
Desktop Platform Specs
iRebal operates on a four-month release cycle, pushing new features and enhancements about three times a year. In comparison to the four-six week release cycle of Tamarac, this may sound slow. It's not. While the fast paced web-world requires a rapid release cycle, for desktop software, three times a year is quite impressive.
Often, when people hear "desktop application" they think of cumbersome installations for every new release. IRebal, however, installs new features and updates through the client's server; all the client has to do is provide server access.
These updates are pushed to a Q&A environment on the client's computer that advisors can walk through with an iRebal team member before installing them in the production environment, allowing advisors to easily integrate new features without interrupting existing workflows.
Although none of iRebal's clients are Mac users, according to Welch, there is limited support for Mac users via a Windows emulator like Parallels or VMWare, or via a portal like Citrix.
Model tier structure
iRebal uses a three-tier structure for model management — asset class, subclass, and funds. This hierarchy gives advisors the ability to structure rules from very specific to very general based on different client or asset criteria.
Tamarac boasted the upcoming release of its n-tier system, but iRebal will actually be the first to release a more-than-three tiered system. In less than two weeks iRebal will release its 4-tier model, which includes a "Category" tier that allows advisors to create a "model of models". Welch states that this will streamline model management, and says Tamarac's N-tier approach is "more complexity than our clients need."
Robert Fundy, marketing manager for Tamarac, says his company was deliberate in how it designed its software.
"When developing N-tier modeling, our approach to designing the functionality is to provide our diverse client base with the flexibility to manage their client's portfolios at both as granular a level or as general of level that they choose," he says. "The key philosophy here is that we leave the choice to our clients."
iRebal's category tier will also allow sleeve rebalancing. The idea behind sleeve rebalancing is to allow advisors to rebalance within a category without moving money between categories.
The Bullet List: What You Need to Know
Integration: iRebal integrates with Advent, Portfolio Center, Black Diamond and Orion. iRebal reads straight from portfolio management systems; so, no manual imports and data is always up to date. iRebal also integrates seamlessly into TDA's new Veo

API

(see: "Joining the industry-wide trend, TD Ameritrade announces its upcoming project for "open architecture technology integration) and gives advisors the ability to complete trades from iRebal without ever opening Veo.
Audit trail and compliance reports: Detailed statistics are kept on client submits, buys/sells, edits, etc. Reports provide a quick way to measure firm efficiency, and report hyperlinks give advisors quick access to data and reports.


iRebal comes with compliance reporting tools;
allows firms to more easily measure
efficiency
Dashboard screen: "It shows all the information about the client's existing situation, the recommendation, the tax consequences, all on one screen," says Welch. It is customizable and interactive. Advisors can immediately see how trades affect accounts and drill down into asset, fund, client or category levels.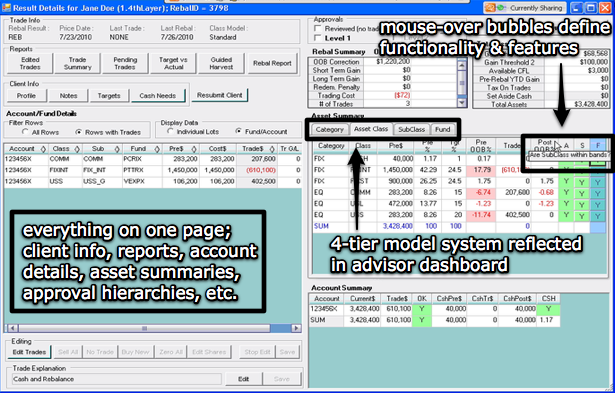 Dashboard lets advisors see everything in
one screen; dynamically updates based on
advisor actions
Price
iRebal is not being rolled into the TDA package free of charge. iRebal clients pay an annual minimum of $20,000 and a one-time implementation fee of $10,000, which includes three months of weekly meetings, and unlimited support afterwards. Pricing models are based solely on AUM and there are no modules or piecemeal offerings.
Why so exclusive?
Why has iRebal chosen to strictly focus on firms with an average of $800-900 million in AUM instead of broadening its user base to include smaller firms?
With 2/3 of iRebal clients having over $500 million in AUM, Welch said iRebal's focus on larger clients originates from the desire to establish a relationship with every client. The focused appraoch allows for a "high touch" customer experience. This level of service would not be possible with a larger number of smaller firms, he said.
Both clients interviewed for this review rated the customer service and speed with which their input is received and implemented to be among the best they have experienced.
Bruce says that iRebal competitor Tamarac has solved many of the problems that initially pushed his firm toward iRebal. However, Bruce points out iRebal's customization and flexibility aimed at individual clients as a big differentiator for iRebal.
iRebal's specialization in rebalancing software instead of an all-in-one platform is also appealing to large firms; "I can't see a firm over $500 million in assets being in a position where they can convert everything all at once," says Bruce.
Large firms have dedicated employees for performing trades and handling rebalancing, allowing them to learn iRebal and use it efficiently without simultaneously trying to grow a business — as is the case with smaller RIAs.
"[iRebal] is complicated, but it has to be. If it was more simple then it wouldn't be useful to us," says Bruce, illustrating the importance of dedicated staff to make this platform valuable.
Client driven
iRebal's annual user conference is the driving force behind new features and additions to the software platform. According to Welch, 75% of iRebal's clients attended the conference this year in Chicago.
"I've been to every one and I wouldn't miss it," says O'Brien. iRebal's conferences are less informational and more brainstorming-oriented. The majority of the conference is dedicated to hearing client feedback and creating and prioritizing a client wish list of features.
---
---
Mentioned in this article:
iRebal
Trading/Rebalancing
Top Executive: Benjamin Welch
Envestnet | Tamarac
Portfolio Management System, CRM Software, Trading/Rebalancing
Top Executive: Stuart DePina
---
---
---
Matt Stroh
August 9, 2010 — 11:16 PM
Great article Heather. Quick point of clarity on J.D. Bruce's comment, Tamarac's Advisor 9 suite can be purchased separately or a combination there of. Most clients implement our rebalancing product first, since key rebalancing and trading functionality/information is integrated into our customer relationship management (CRM) and performance reporting applications. At the point a firm decides to add Advisor CRM or Advisor Performance Reporting, their rebalancing system is already setup and they have received training on the integrated functionality.
---