News, Vision & Voice for the Advisory Community
New York remains king, but Houston is a fast-rising up-and-comer
August 4, 2010 — 5:40 AM UTC by Brooke Southall
Brooke's Note: There was a time when it might have seemed irrelevant for financial advisors to find out where all the rich people are. It doesn't make much difference what you discover if you're just going to serve the people who live in your local community anyway. There are a variety of factors that make the data that CapGemini published from its 2010 U.S. Metro Wealth Index yesterday more than relevant for many wealth managers today. [The high net woth population in the top ten U.S. metropolitan statistical areas increased by 17.5% which was the highest rate of growth in the last four years.]
RIAs are starting to think like the big wirehouse firms that they are devouring. They make major strategic decisions every day about where to open satellite offices and how heavily to staff them. See: RIA aims to take NYC with six new offices; Chicago, Detroit, SF, Miami to follow With the rise of technology, geographical considerations are losing relevancy anyway. Sure, it's nice to sit down with clients from time to time. But many of them in reality are perfectly pleased to be serviced by phone, email and even social media. [Just ask Ken Fisher who has built the largest RIA in the U.S. by having his service teams religiously avoid face time with existing clients.]
It's notable just how staggering New York City's lead is in making a home for high net worth individuals. [HNWIs are defined as those having investable assets of $1 million or more, excluding primary residence, collectibles, consumables, and consumer durables.] It reminds me of a conversation I had with Joel Isaacson last fall when he partnered his firm with Focus Financial. See: RIAs join Focus Financial with their own acquisition plans. He told me that he believes that New York City is vastly underserved by wealth managers. As the hub of wirehouses, it has kept a transactional mindset for longer, according to Isaacson. He joined Focus so he would have a partner firm for more aggressively pursuing business there. There are a few more 'aha' facts in here like the rise of Philadelphia and Houston in the rankings and the demotions of Boston and San Jose.
Below, we show tables with all the latest data from CapGemini's study. For a another look at RIA-relevant wealth data, also see: Which metro areas are the most fertile ground for advisors?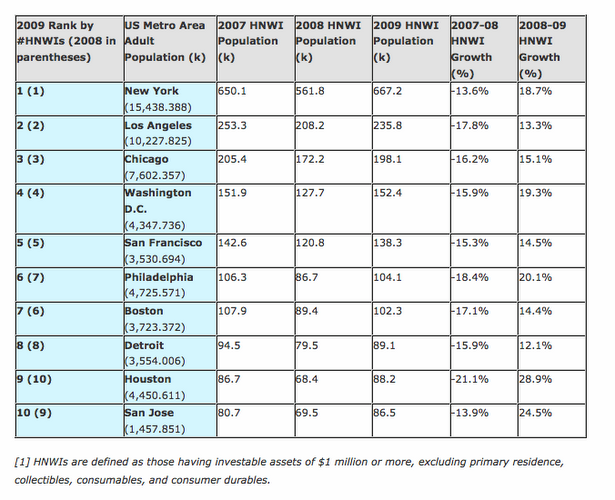 New York leads, both by the
sheer number of high-net-worth individuals, and
by the proportion of them in
its population. Call that the Wall
Street effect.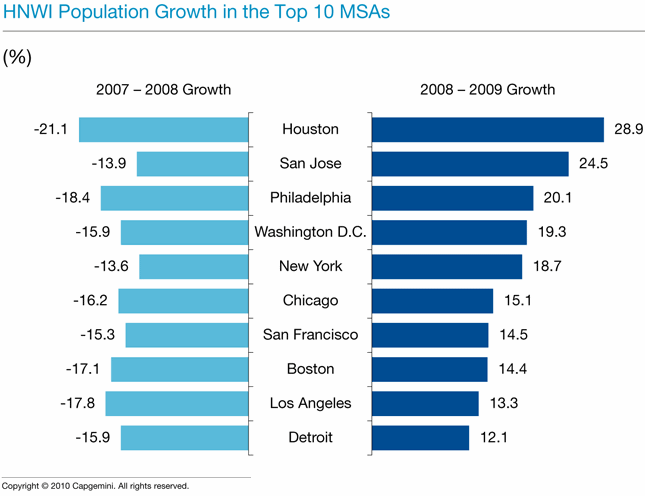 New money: The high-net-worth population is
growing fastest in Houston.
---
---
Share your thoughts and opinions with the author or other readers.
---