News, Vision & Voice for the Advisory Community
The Chicago-based aggregator is breaking even and signing leases for more office space in three cities
August 3, 2010 — 4:25 AM UTC by Brooke Southall
A couple driving a navy blue Series 7 BMW with a tan interior pulled in front of a large, high-end office tower at 505 Fifth Avenue in New York [see photo below] on Saturday.
"It was our first drive-by client," says Andrew Morse, 64, the head of Morse, Towey & White and the most recent managing director of HighTower Advisors, which he joined on Friday after his breakaway from UBS.
Typically, high net worth investors like those riding in the BMW do business with their financial advisors by phone. But this couple wanted to be the first people to sign on as clients with their former UBS advisory team's newly formed independent practice.
When the couple couldn't find parking, partner Justin Towey, 34, brought the necessary paperwork curbside. The process of transferring more than $10 million of assets is now under way.
Good weekend
Though many client transitions were less dramatic, Morse Towey & White, which has three principals and two associates, had a good weekend of gaining commitments from clients to move assets. They expect $1 billion of assets to make the move.
The principals estimate more than 85% of the business is fee-based and the bulk of those assets will end up with Fidelity Institutional Wealth Services.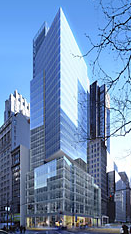 HighTower selected this office building for
its beauty and location more than
its parking convenience.
For Morse, 64, the breakaway is the culmination of a storied Wall Street career. He even worked for a time as an executive at Salomon Bros. at the time Liar's Poker [Michael Lewis' classic about Wall Street excesses in the 1980s] was written. Morse also had an 11-year stint with Drexel Burnham Lambert, made famous by its association with Michael Milken and the cash he raised for corporations using so-called junk bonds.
It is precisely his career at these famous [or infamous] organizations and others that makes Morse feel so good about finally making the move to independence.
Brinksmanship
"I have yet to work for an investment bank that hasn't gone out of business or was brought back from the brink," he says. "After 2008, I don't think clients should ever again share in that risk. I don't ever, ever, ever want to see something like that [fallout] occur again."
There may be other related factors drawing so many big advisory practices to HighTower, according to Charles "Chip" Roame, principal of Tiburon Strategic Advisors.
"It may feel like a relief to be the center of attention," he says. "HighTower has no investment banking, no legacy issues, no tarnished brand; its whole story is about the private client business and the importance of reps."
HighTower considers its recruitment of the Morse Towey & White team to be an important milestone in its development, says Elliot Weissbluth, CEO of the Chicago-based company, one of the most active aggregators of RIAs. The new team has big-time assets from ultra high net worth investors.
"They are the absolute crème de la crème of the financial services community," he says. "Each of the individuals would have been attractive as a standalone advisor. As a team, it was tremendously attractive."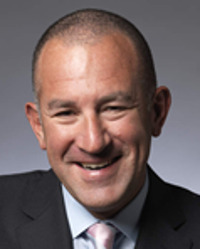 Elliot Weissbluth: They are the absolute
crème de la crème of the
financial services community
The third principal on the team is Bob White. Two senior associates, Pamela Tang and Maja Janko, also made the jump from UBS. Another principal, Ira Millman, chose to stay behind at UBS. This is now the 15th team that HighTower has brought aboard in the last 23 months; the combined assets of these teams is about $18 billion, sources say.
Deals with HighTower typically include cash and equity to the recruited advisory team in exchange for claims on the firms cash flow and ownership of its equity. HighTower gained great leverage to make these kinds of deals this winter when it scored $100 million from private equity sources. See: Weissbluth lands war chest for HighTower Advisors [Updated]
Morse accepted a position as a special advisor to Weissbluth to assist with HighTower's growth plans.
Once Morse made the decision to leave
UBS
amid the 2008 meltdown on Wall Street he considered virtually every option – including joining Merrill Lynch and Morgan Stanley Smith Barney.
Considered another big rollup
But ultimately the decision boiled down between joining HighTower [with Fidelity as custodian] as a hybrid advisor or becoming a pure RIA under a company he characterized as another big rollup that specializes only in aggregating RIAs. HighTower is different from that aggregator for allowing transactions to continue to occur plus for having a more centralized approach to management — including company office space.
Scott Dell'Orfano, executive vice president of sales for Fidelity's RIA custody business, says that Andrew Morse took a very deliberate approach before making the leap to independence.
"We met about a year ago. It started with questions about what it means to go independent and got to questions about how we cover them on the capital markets desk." Fidelity [including National Financial's correspondent firms] brought aboard 13 teams with $250 million or more in 2010's first half and about half those firms had $500 million or more of assets under management, Dell'Orfano adds. See: Breakaway broker signings get off to hot start in 2010 for Fidelity, TD and Schwab
HighTower ultimately felt more like home to the Morse Towey & White team, which made multiple trips to HighTower's Chicago offices and met with the HighTower board of directors.
One way that HighTower was — on the surface — less attractive was in terms of sheer payout, Morse says. But the decision to join a company with a lower payout underscores its other strengths.
Lower quartile
"HighTower was in the lower quartile," Morse says. "If you go somewhere that doesn't pay as well as someone else, there has to be a good reason."
The reason boiled down to the character of HighTower's managers and advisors and how tightly knit they were.
"They've really got their hearts in it and that creates a community of effort you simply don't find [elsewhere.]"
Morse says that this community has him energized to launch the next phase of his career, despite [at 64] being on the verge of what many Americans consider retirement age. He has a close bond with Towey, 34, forged in 1998 when the two advisors worked for Smith Barney. The two-man team joined UBS in 2001.
Rush on office space
Besides giving HighTower critical mass as an aggregator of financial advisory talent and assets, the latest acqusition has triggered the company to begin bargaining for new office space in New York for soon-to-join advisory teams. It has already added more space in Chicago and Menlo Park, Calif. The space, however, is not being leased to accommodate recent recruits, according to Weissbluth.
Rather, "we need more space for our pipeline," he said.
HighTower is also in the process of bringing aboard a third business development officer (whom it can't yet name) after bringing aboard its second one earlier in the year. The new officer is currently a wirehouse recruiter.
---
---
Share your thoughts and opinions with the author or other readers.
Jeff Spears said:
August 3, 2010 — 6:12 PM UTC
Brooke Southall said:
August 3, 2010 — 8:43 PM UTC
It would hard to argue that HighTower isn't on fire right now. Smoke [office leases being signed] and flames [big teams signing on] are both apparent.
I have continually asked advisors, consultants and other industry observers what accelerating force is sending the flames higher. The answers are typically long and not easy to summarize. Andy Morse made a comment about how HighTower has the feel of the old Wall Street firms — before they became [my words] amorphous, CYA corporations.
What I take this to mean is that the aggregator has struck a balance between contradictory needs. Advisors want the sense of autonomy and individuality that comes from being a member of a smaller organization. They also crave the sense of security and omnipotence of being part of something with some heft and firepower.
HighTower's growth seems to be aided by giving advisors a sense they are part of a small worthy club. But its platform, team of advisors and managers are impressing prospects that they have more than enough scale to compete with anyone.
---
---