Bernie Clark: Complicated markets make clear the need for 'prudent, objective, and personalized' guidance from RIAs.
Big advisors are acting more like deflation hawks as their fear of inflation plummets and their appetite grows for investing more in cash, fixed income and non-correlated assets like precious metals, alternative investments and real estate.
But RIAs also show signs of being conflicted. There are more advisors looking to divest or slow investments in cash and fixed income. And more RIAs are predicting a softening in the real estate market, according to a study published yesterday by Schwab Advisor Services.
This article follows yesterday's article in RIABiz, 9 things worth knowing from Schwab's newest advisor study , that concentrated more on the same study's practice management findings — and especially social media.
This article focuses more narrowly on the asset management-related findings in the Independent Advisor Outlook study of July 2010.
This is important because the ability to make sense of topsy-turvy markets is what makes RIAs so valuable to investors, according Bernie Clark, executive vice president for Schwab Advisor Services in a prepared remark for this study.
"In markets like these that are complicated for investors to navigate solo, there is a clear need for the kind of prudent, objective, and personalized guidance provided by independent investment advisors."
The San Francisco-based RIA custodian's study is a semi-annual survey of 1,200 RIAs who manage a combined $234 billion of assets [All of Schwab's RIA clients combined to have $597 billion of assets as of June 30].
The Schwab Independent Advisor 2010 Outlook study was conducted by Koski Research between July 13 and July 23; RIAs took an average of 12 minutes to give their responses.
1.) Despite signs of pessimism, 63% of RIAs surveyed for the Schwab study predict that the S&P 500 will rise. That number is down from the 65% who held that view in January and the 72% who predicted an increase in July 2009. It's worth noting that on only one occasion in recent history, January 2008, did the Schwab survey find that a minority of RIAs, 46%, predicted an increase in the S&P 500. RIAs have not proven to be reliable market prognosticators: Consider that 78% of RIAs predicted a rise in January 2007. The S&P stood at 1,429 then and closed at 1055 yesterday.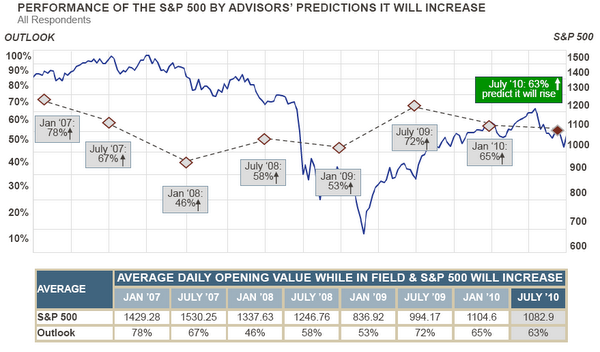 Schwab's Outlook study shows RIAs aren't
always the best weathervane for markets

2.) The biggest macroeconomic shift in sentiment demonstrated by the Schwab study concerns whether inflation is poised to increase; 49% of RIAs believed that would happen in January but by July only 28% foresaw an increase in inflation. Going along with this finding, only 20% of RIAs believe that the Federal Reserve will raise rates, down from 39% in January.
3.) In general, 49% of RIAs are "less optimistic" and 16% are "more optimistic" than they were in July 2009, but only 28% believe that a double-dip recession is likely.
4.) There are big changes afoot in how advisors say they are going to use [or not use] cash. On the one hand, advisors are losing their taste for cash with 30% reporting that they plan to either invest less in cash or eliminate cash investments entirely. On the other hand, there was a 40% increase, from 10% to 14%, in the number of advisors who say that they plan to increase their investments in cash.


More RIAs plan to invest in
cash, according to Schwab's Outlook study

5.) A similarly bipolar view prevailed for RIAs with regard to fixed income with 23% of them reporting that they plan to eliminate or invest less in this asset class. Yet 19% of respondents say they intend to invest more in this category. This means that fixed income trails only U.S. large cap, 27%, and international large cap in emerging markets, 28%, for assets classes where RIAs plan to increase investments.
6.) The biggest mood switch happened between January 2010 and July 2010 and was related to international equities. In January, 28% of RIAs planned to build positions in international large cap stocks in developed countries but by July only 15% of RIAs expressed the same inclination.
7.) The investment vehicles and asset classes that RIAs cite most for channeling greater investment are: ETFs, 25%, alternative investments, 20%, real estate, 12%, separately managed accounts, 12%, commodities, 11%, and precious metals, 11%. This suggests that RIAs are in a mood to find ways to invest in assets uncorrelated with the returns of equities. See: The top 10 alternatives to alternative investments And ETFs are the preferred vehicle for RIAs who want to gain exposure to international investments. 52% of advisors prefer ETFs to access emerging markets and 52% also say they use them for foreign developed markets.
8.) Forty-seven percent of RIAs rated information technology as their favorite sector, up from 44% who expressed that view in January. Health care had the biggest loss of fans, dropping from 42% who were rating it tops in January to 29% of RIAs seeing it that way in July.
9.) Despite RIAs looking to invest more in real estate (as per #7), 53% predicted in July that the housing market would soften, up from 46% who held that view in January.
---
Related Moves
December 10, 2019 – 2:05 AM
---
---
---