Ben Bernanke's popularity with advisors stays steady in turbulent markets
Big advisors are investing more in ETFs and alternative investments, largely steering clear of social media and helping their clients brace for big tax increases, says a study published yesterday by Schwab Advisor Services.
The San Francisco-based RIA custodian has published the views of a semi-annual survey from 1,200 RIAs who manage a combined $234 billion of assets [Schwab's RIA clients combined to have $597 billion of assets as of June 30]. The low use of — and low interest in — social media is very interesting in the Independent Advisor Outlook Study 2010. [For the sequel to this article, see: The nine things Schwab's new study shows about how big RIAs are managing client assets]
The views about advisors' outlook on Federal Reserve Chairman Ben Bernanke [still positive] and the perceived likelihood of a double dip recession [mixed] may be less influential in how an RIA runs his or her business. Here are the eight findings of the study, conducted by Koski Research, that I thought had the potential to alter how an RIA might choose to conduct business — plus the aforementioned RIA opinions on Bernanke and recessionary probabilities.
1.) Registered investment advisors are not sold on social media. Only 13% call themselves "eager learners" compared to 34% who say they are "skeptical" and 41% who are "tentative users."
42% of the RIAs in the study make some use of LinkedIn professionally, making it the platform that enjoys the most traction with those surveyed.
Though 45% of RIAs surveyed use Facebook, only 6% of them say they use it for professional use, compared to 39% who use it only personally.
Twitter gets no respect with 3% saying they use it professionally and 7% saying they use it only personally.
The desire to blog is low, too, with 14% of RIAs saying that they keep a public journal. This includes 8% who only blog professionally and 2% who consider their blogging efforts both a personal and professional endeavor.
These findings largely corroborate the Pershing-Aite study on social media covered in this article: 9 things to know about the 'truth' concerning RIA use of social media.
2.) After the economic and market dislocation of 2008-2009, most advisors would say that their main preoccupation was holding on to existing clients. They logged long hours holding clients' hands. Those days are over – at least to some extent. Only 30% of advisors reported that clients needed reassuring in July compared with 49% in January and 43% last July. Of course, such an emphasis on handholding was a bit of a cop out from the pursuit of proactive marketing anyway, according to findings of an earlier Schwab study. See: Schwab study shatters three RIA myths
3.) Still, most advisors, 71%, report that it is now 'difficult' to achieve client goals, up from 58% in January. Most advisory goals depend on cooperative securities markets. The markets – and their outlook – have not been considered good for a while.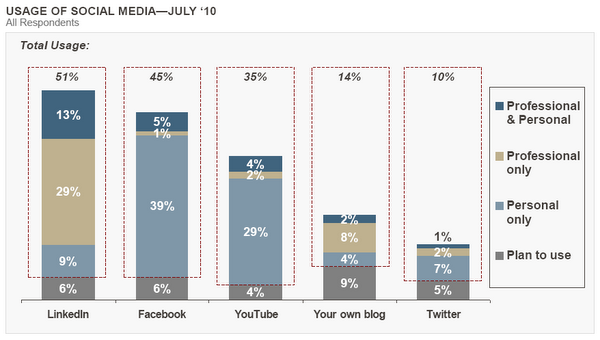 Schwab's Advisor Outlook Study shows that
big RIAs aren't too eager about
social media
4.) To try to better achieve goals, RIAs report that the number one category that they will invest in is large capitalization companies in emerging markets and the number one category that will be pared back is international small cap in developed countries.
5.) Ninety-two percent of the RIAs surveyed won new assets during the past six months. The source of these assets: 41% came from full-service brokerage firms, 34% from other financial professionals and 25% were do-it-yourself investors. This finding looks similar to other ones in studies on this subject – including where breakaway brokers come from – and it's instructive that wirehouse clients are able to perceive greater value with RIAs.
6.) The #1 and #2 reasons advisors report for why clients left a full-service firm to join them: 64% say the client wanted more personal attention and 62% say the client lost trust in the firm. Of course these two findings could be considered flip sides of the same coin. They reveal why the biggest reservoir of new assets to RIAs is from wirehouses [see item 5 above]. How can trust be developed without lavishing some personal attention? The stories are legion of brokers with hundreds of clients. When the market dips, there is no way to give them all a reassuring call – or to do meaningful planning. But even some big clients report that they do not receive much attention from wirehouse brokers. There really is not much explanation for that except that – as some RIAs point out – they have little to say because they can't put adverse events into the reassuring context of a long-term plan.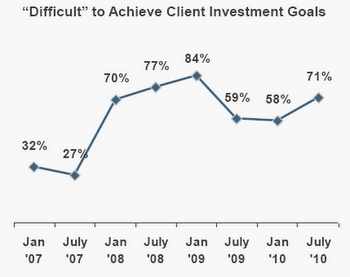 Difficulties in helping advisory clients rise
and fall with markets, according to
the Schwab Advisor Outlook 2010 study

7.) Advisors are being proactive in reacting to tax changes – real or presumed. Some 52% of them are realizing capital losses to offset expected increases in the capital gains tax. In addition, 50% report that they are selling investments that have appreciated in value in advance of capital gains tax increases and 43% are adding tax-free income sources to client portfolios. The other tax tactic: 52% of advisors report that they are converting traditional IRAs to Roth IRAs. See: Look at the benefits, but beware the dangers, of Roth conversions. Advisors are in control of so little related to clients' returns and clients get it. But RIAs had better pay attention to circumstances within their control. This survey finding suggests that they aren't asleep at the tax-planning switch.
8.) The top investment vehicles that RIAs will invest more in in the future are ETFs, 25%, and alternative investments, 20%. Certainly these findings reflect the way RIA custodians are focusing their efforts with new alternative asset platform and ETF marketplaces. See: 10 reasons why Schwab's move into ETFs may be an even bigger deal than it appears and After a wait, Schwab has a program for alternative assets.
9.) Advisors are still seeing the economic glass as half full with 59% finding it "unlikely" that the economy will succumb to a double dip, though 28% find it "likely." The rest are neutral. Bernanke maintains the 73% approval rating he enjoyed in January, though he dipped below the 79% approval rating that RIAs surveyed by Schwab gave him in July of 2009.
---
---
Brooke Southall
August 25, 2010 — 6:57 PM
Hello Pat,
I would have been disappointed if you hadn't lent your perspective to this article!
Schwab's Outlook studies have some survey questions with responses that can be compared to previous iterations and others that are new. I believe this one was new so I offered my own reaction to the findings.
RIABiz is to some extent a social media kind of entity — and we depend on Twitter, blogs, LinkedIn and even Facebook for traffic — so I like to believe the whole world is either ensconced in social media or well on its way. To find that only 13% or so are "eager" and that so many RIAs are "tentative" jumped out at me and colored my thinking in a half-full way.
You're right to remind me that social media is still very much in its infancy and that these findings need to be looked at in that light as well.
Brooke
Blane Warrene
August 25, 2010 — 7:49 PM
The statistics are revealing – not only as to sentiment – but also to the continued need for education and advocacy. A higher percentage of advisors use social media (LinkedIn) than do suggest that they are curious, interested or excited….
The shift is evident, as Pat notes, from 2009 surveys. We see that as well from implementations. Certainly the larger the advisor and institution – the slower pace of working through the hurdles of policy, procedure and scheduled implementation – but there is no shortage of hunger for clarity and guidance – a sign toward the adoption curve tailing up.
What is curious is the blog response – as blogs are an ideal platform for longer form content where an advisor can share (and showcase) well-researched ideas and advocate for their business.
Jeff Spears
August 25, 2010 — 9:40 PM
I was dissapointed to read that such a low % of RIAs were writing blogs. This is a HUGE missed opportunity in my opinion as our (RIAs) wirehouse competitors are not allowed to write blogs due the their "lowest common denomitor" compliance policies.
As a blog writer, I will admit that to reap the benefits of a blog does take time to attract subscribers and to write the blog itself, but it is worth it.
Pat Allen
August 25, 2010 — 3:52 PM
Hey Brooke, thanks for the full coverage of the Schwab study but you know that we're going to key in on the social media findings.
You note the data in this article. But we think that the pie chart in Schwab's second social media slide was instructive: 66% of advisors describe themselves as tentative users of social media at the minimum. While 34% are social media skeptics, two-thirds are not. We think that's pretty significant given that a year ago, a high percentage of advisors (the survey included more than RIAs) told kasina that they'd never been to Twitter, Facebook, LinkedIn or YouTube.
We pay homage to your work and show both charts on the AdvisorTweets blog. http://bit.ly/9JPOSJ