Kevin Crowe: We think it's a real game changer
Brooke's Note: I believe that turnkey asset managers bear watching. These companies are a major example of scaling-up occurring in the RIA and independent advisory realm in general. The recent Envestnet IPO was one example. This article is about two established public companies – SEI and Genworth – and how they are fighting for market share. Up and comer Genworth has been enjoying a phenomenal run, but SEI now is posting results that show it may be able to transform itself soon enough to keep its industry-leading position.
In a sign that SEI Investments is poised to regain some of the the market share it has lost to archrival Genworth Wealth Management, SEI Investments reported net new flows of cash for the first time in three years.
Publicly held SEI is reporting net new flows of $86 million for the quarter ended June 30 – the first time since 2007 the Oaks, Pa.-based TAMP brought in more assets from advisors than they withdrew.
Expand market share
"SEI's intention is to not only lead but to expand market share," says Kevin Crowe, head of advisor solutions for the SEI Advisor Network.
SEI has long been the industry leader among providers of turnkey asset management programs serving independent advisors, but it has been losing ground to Pleasant Hill, Calif.-based Genworth.
SEI experienced outflows of $151 million for the first quarter ended March 31. It saw outflows of $179 million, $225 million and $555 million for the fourth quarter, third quarter and second quarter of 2009, respectively.
Still, SEI is still the industry leader, with $28 billion of assets under management to Genworth's $19 billion.
Ace up sleeve
When it comes to whether SEC will be able to keep its turnaround going, Crowe says SEI has an ace up its sleeve. It's counting on its longer-term growth getting a boost from a giant new technology platform that the company will roll out in 2012.
Its recent rebound stems from a renewed emphasis on attracting advisors through practice management offerings. The company appointed John Anderson, a 15-year SEI veteran, to the newly created position of head of practice management solutions. Anderson is criss-crossing the country to speak at broker-dealer conferences.
He also affects advisor recruiting by speaking at "new advisor" days. SEI can virtually fill as many events as it can run on the topic of advisors switching their practices from fees to transactions, Crowe says.
"We've invested heavily in it," Crowe says. "The numbers tell the story."
During the quarter ended June 30, SEI attracted 111 new advisors, bringing its total for the first six months to 192. This amount is double the 96 advisors it had join its platform during the first six months of 2009. It's also more than the 175 new advisors it brought aboard as clients in both 2007 and 2008. SEI works with about 6,000 advisors in total.
"The new advisor number is the most important leading indicator for us," he says.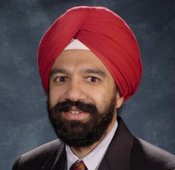 Gurinder Ahluwahlia: Genworth was one of
the few TAMPs to grow in
the last three years: "We believe
in [practice management] religiously."
But Gurinder S. Ahluwalia, president and CEO of Genworth Financial Wealth Management, says that his company is way ahead of competitors in delivering practice management consulting.
"That has paid dividends and that's why we have been one of the only TAMPs to grow in the last three years," he says. "We believe in that religiously."
Genworth works with about 5,000 financial advisors – most of whom are hybrid RIAs working with independent broker-dealers — and its sales are primarily concentrated among its top 1,000 customers, according to Genworth. See:RIA hybrids help Genworth's wealth management business to stunning growth
There are good reasons why the demand for these events is ever-rising, according to Charles "Chip" Roame, managing principal of Tiburon Strategic Advisors in an earlier interview.
IBD
RIA
LPL
AIG
IBD
Wayne M. Withrow is an executive vice president of SEI, added in an earlier interview that IBDs have good incentive to see SEI partner fruitfully with SEI. "If IBDs see us growing their advisors, that's new growth for the broker-dealer also," he says.
Both SEI and Genworth saw their assets tumble in 2008. In 2007, SEI posted an assets total of $40.8 billion before tumbling to $27.7 billion by year's end in 2008. Genworth's high-water mark for assets was $20 billion before the markets tumbled in 2008. See: SEI has a new strategy for boosting 2010 sales and an analyst calls it a 'grand slam'
Billion dollar habit
Genworth is still growing at a fast pace. Its gross inflows have easily surpassed $1 billion during the past few months, and net inflows have consistently been in the hundreds of millions.
| | | |
| --- | --- | --- |
| Quarter | Gross Inflow | Net Inflow |
| 2Q09 | $1.11 billion | $160 million |
| 3Q09 | $1.37 billion | $468 million |
| 4Q09 | $1.497 billion | $605 million |
| 1Q10 | $1.48 billion | $504 million |
| 2Q10 | $1.36 billion | $436 million |
Genworth had negative inflows for first quarter of 2009, though the company did not specify the amount.
SEI's strategy for taking Genworth and its other competitors on is what the company calls its Global Wealth Platform.
SEI is already is already selling the service to British banks and is converting it to make it US-compatible.
"We think it's a real game changer," Crowe says. "People talk about unified managed accounts; we're talking about unified managed households."
The technology, for instance, will be able to make sure that tax efficient investments flow into non-retirement accounts and vice-versa.
Unified managed household?
Randy Bullard, executive vice president of Dallas, Texas-based Placemark Investments, a big provider of unified managed accounts and separate accounts, says that SEI's plan to develop technology for a unified managed household is certainly highly desirable – but also difficult to achieve.
"Directionally, it's where everyone is going," he says. "UMH is a buzzword."
Unified managed accounts, done properly, encompass integrated household planning, household-level performance planning and household-integrated investment management, he says.
PathMark is working on developing the third leg of the trifecta – integrated investment management.
Getting it all working is something that no company has accomplished with any success – though CitiGroup Global Transaction Services has come to market with its version of UMH, Bullard says.
Achilles heel
The Achilles heel of all these systems – CitiGroup's included — is they only work if the system administrator is able to get a view of all of a client's assets – including those held at other institutions.
Getting banks and brokerages to share financial information is something that Bullard calls a "tall order."
"It's an industry problem," he says. "Unless a client gives all assets to SEI, they can't truly do UMH unless they're integrated with all the other [holders of assets on Wall Street and beyond]."
---
Related Moves
December 20, 2021 – 11:59 PM
---
September 10, 2019 – 10:52 PM
---
---
Mentioned in this article:
---
---
---