Andy Rachleff: KaChing is setting itself up as an alternative to mutual funds for smaller investors, and may benefit advisors in the process.
Elizabeth's note: I first learned about KaChing last April, and it took me a while to understand what the company was doing. Perhaps that's because we tend to think of the advisory business as old-school, at least in its interactions with clients. KaChing upends that idea with a web site that mixes social media and marketplace to link investors with advisors. Two things of note: its backers include early VC investors in eBay, and KaChing revamped its business model late last year from one built around consumers to one that leverages RIAs. As reporters for advisors, we also don't have much experience with the VC world (though we'll probably have to get more familiar with the names and companies as the RIA business scales up. See 8 ways that the RIA business is achieving scale at breakneck speed.
A one-year-old web site with the backing of Silicon Valley heavy hitters is betting that it can win investment advisors to its platform by helping them serve a large number of smaller clients at one time.
KaChing vets RIAs and then posts their portfolios online, with a wealth of background material about the RIA's track record and research. Investors (many of them young and tech-savvy) can chose to invest with any of them.
KaChing's industry-upending idea is to set itself up as a way to offer professional money management to investors outside of a mutual fund.
"Anyone who has lived through the performance of the mutual fund industry over the last year will see the advantages of KaChing's radically transparent alternative," said Andy Rachleff, chairman of the Palo Alto-based firm.
Rachleff was a general partner with Benchmark Capital, the vc firm famous for being a late-stage investor in eBay. Bruce Dunlevie, another Benchmark general partner, also is a KaChing investor, along with a host of other Silicon Valley names. (see list below)
KaChing, which says it is on a long-term growth trajectory and is hitting its benchmarks, has attracted little notice in the advisory industry so far. About $11.4 million is invested through the web site, up from $8 million in April. [Note added Oct. 19 note: KaChing has grown, evolved considerably and taken a new name, Wealthfront. See: Wealthfront: How fine minds from the tech world aim to establish a platform with billions in assets
Many on and offline companies have tried referral programs and marketplaces. Their success depends on the credibility they win with investors, says Philip Palaveev, president of Fusion Financial Network of Elmsford, N.Y.
KaChing may have a leg up there because of the transparency afforded by the online world. Advisors that it puts into its marketplace don't pay to be there; they are vetted strictly and given a ranking based on a score that KaChing says is based on the system used by Ivy League endowments to rate money managers. Moreover, investors can follow all of their investing moves through the site.
The industry welcomes innovative models, Palaveev said, and those operating online have a good chance.
"We see consumers shopping online for everything, including advisors … there's probably going to be traction."
Nuts and bolts
KaChing custodies with Interactive Brokers. KaChing has had an initial discussion with Schwab, and Schwab "hopes to learn more about what they offer advisors," said Alison Wertheim, spokeswoman for Schwab.
KaChing launched in its current form late last year. RIAs on KaChing's platform charge investors 1-3%; KaChing takes .25% of that for its fee.
Separate from and in addition to the public web site, the company also offers its back-end systems up as a technology platform called KaChing Pro, for 25 basis points.
It's aimed at small and medium-sized advisors, with AUM of less than $1 billion. There are currently 36 on the platform, though KaChing will not reveal how many assets are custodied through KaChing Pro.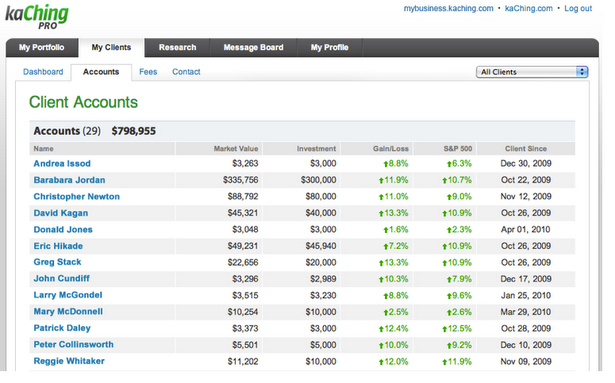 Some 36 advisors are now using
KaChing Pro for portfolio management and
other office needs, including web site
development. The platform's dashboard is shown
above.
Back story
The tale of how KaChing evolved to its current form is interesting and heartening from an advisor's point of view, because it seems to reaffirm the idea that investors recognize the value of professional advice for their money.
KaChing began life as a Facebook game that pitted amateur investors against each other. It won about 450,000 portfolios – and with that base in hand, it decided to try to convert some of those people to paying customers.
Its strategy was to put the portfolios of the best game players on public display on its web site, allowing people to follow their investment strategies. KaChing, of course, would allow people to invest for a fee.
Along the way, one of the young company's advisors suggested that professional investment advisors be allowed on the platform too.
What happened next is instructive: Few of the game players were good enough to be held up as examples. And even fewer of the 450,000 game players wanted to sign up to pay to invest with them.
In the meantime, investment advisors were showing interest in KaChing as a tool for marketing and distribution.
That's when KaChing changed direction and, late last year, began to focus on investment advisors. That, in turn, led to the introduction of KaChing Pro in April.
One advisor's experience
Andy Mathieson, founder and managing member of Fairview Capital, which manages $450 million from Greenbrae, Calif., gathered together about $200,000 worth of assets in smaller accounts from his practice and put them on the KaChing public platform. Since last November, the total invested with him on KaChing is nearing $800,000, as investors have noticed his track record and entrusted their money to him.
Mathieson, who went to Stanford's business school with Rachleff, said he was open to trying KaChing because it seemed to offer solutions to two problems that had vexed him over the years.
First, he's been frustrated by his inability to serve smaller investors because the size of their accounts made it unprofitable for his firm, which has a minimum of $1 million. And second, he's frustrated by investors' tendency to "do dumb things at the market extreme."
"The average investor has done half as well as the average mutual fund," said Mathieson, because of investors tendency to move money into a mutual fund after it's had excellent returns (and when it's just about to take a dive).
He hopes KaChing's transparency will cause more investors to stay the course with an advisor and the markets.
Matheison was also willing to have the spotlight shined on him. Indeed, KaChing is not for the faint of heart. It measures advisors' performance across the board and gives them an investing IQ – all of the advisors and their investing IQs are listed.
Mathieson said the reason he hasn't moved more of his assets to the KaChing platform is that he doesn't have the staff to manage two different portfolio systems. The bulk of his assets are custodied with Schwab.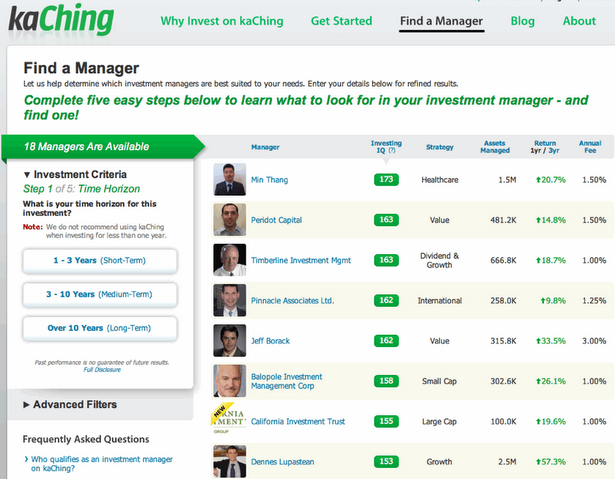 The 18 advisors on KaChing public
site are ranked by 'investing IQ.'

The VC role
KaChing is backed by some of the most illustrious venture capitalists in California, including:
Marc Andreessen and Ben Horowitz of Andreessen Horowitz
Kevin Compton and Doug Mackenzie
Dave Beirne and Bruce Dunlevie
Jeff Jordan of OpenTable; and
Mike Volpi of Index Ventures
KaChing received $3 million in angel funds, and aother $7.5 million in venture capital in December.
Doug Mackezie, founder and partner at Radar Parters, is an angel investor for KaChing. I asked him what KaChing's big appeal is to these big players.
He said that the company is a good play in a mature, highly profitable industry that's in flux. He pointed to other big venture-backed successes in the tumultuous financial services world, including E*Trade.
"KaChing was founded with the belief that there's a better way, that investors need better advice, better tools," said Mackenzie.
In addition, MacKenzie said, KaChing is led by an experienced management team. Evidence of that is their recognition that the site they had developed for investors would also serve advisors.
The company, he said, recognized that though there were many quality managers in the advisory business, "a lot of those have been inhibited in their own business. They may be sub scale. They might need tools to help scale themselves. They might need help with analytics. They might not be particularly adept at marketing. ... Andy and the team realized there's something we can help these people out with."
The big question
The crucial question facing the company is whether it can attract enough investors to trust their money through KaChing with the RIAs on the site.
"Credibility and trust is established slowly," Palaveev said. "The patience may not be there."
Among other things, Palaveev said, the company will have to resist the trap that many other marketplaces fall into, of charging advisors to be part of the marketplace. That undermines credibility.
KaChing's VC backing means that it may have the dollars for marketing, though the company did not reveal plans for a big advertising push.
Certainly, to succeed it will have to find a whole generation of tech-savvy, young investors interested enough in investing to use KaChing, but not interested so much that they want to do their own trades.
KaChing is, apparently, cheaper than many mutual funds. Costs on KaChing average 1.42% (that's a combination of the management fee and the commissions, which have been averaging .17%.)
In total, according to KaChing, investors have paid an average of 1.42%, compared with 2.93% on average for actively managed mutual funds.
One 36-year-old software industry manager I spoke to said he started by putting $20,000 on the platform last November, split between two investment managers. Now, he has a total of $50,000 on KaChing's platform.
He likes the transparency, and the community aspect. (Investors can post questions to the investment managers).
In one potential danger sign, he also likes the ease with which he can move his money around if he disagrees with a trade a manager makes.
"It's instantaneous," he said. "You can clear out your accounts."
Some of the exchanges have advisors reassuring clients on the message boards, as in this post from the advisor, Min Thang, who currently has the highest investing IQ on the site and more than $1.4 million under management.
In response to a question about the overall economy, he wrote:
Someone(s) unfortunately pulled $500k out of my fund just a few weeks ago likely from getting emotionally jittery from the market turbulence. Had they kept the money in my fund (one can even argue that they should've added more money), they would've recovered most of the short-term paper losses. I hope that you (and those reading this) share the same long-term mindset that I have for this fund and have patience._
Take care,
Min
This story was changed Tuesday, Aug. 10, to correct information about the way KaChing's fee is calculated, and to correct a typo in the fee the average investor pays for an actively managed mutual fund. It was also adjusted to better characterize the meeting between Schwab and KaChing.
---
---
James Levy
August 13, 2010 — 9:12 AM
In June I blogged on SeekingAlpha, ̈Will Open Source Asset Management Disrupt the Mutual Fund Industry ̈. The blog examines the potential of KaChing and Covestor from the point of view of a 20 year veteran RIA. The link is below:
http://seekingalpha.com/instablog/202397-james-levy/76488-will-open-source-asset-management-disrupt-the-mutual-fund-industry
Elizabeth MacBride
August 14, 2010 — 3:18 AM
James: thanks for adding the link to your blog. It's interesting to see KaChing as part of a general movement toward open source everything.
Randy
August 16, 2010 — 3:26 PM
Uggg. I'm the former CEO of a company that had the same business model TEN YEARS AGO, and we raised 10s of millions in VC backing from some of the largest names on the west coast. And we were competing against other more "established" players. In the first dot-com boom and bust, there were probably a dozen companies all pursuing some spin on this model – empowering largely self-directed investors to access the ranked/scored securities selections of others. Some worked through advisors, some tried to disintermediate those advisors, some tried to use the information to run one or more funds, some tried to turn amateur investors into quasi-professionals, some charged (with no success) while others gave it all away (with no revenue). All struggled to make a penny and find a business model that was relevant and generated any appreciable revenue. And they're all gone.
And now Covestor and KaChing are back, "inventing" something new that's about as new as soap, and both also failing to move the needle with investors, managers, or advisors. The industry dynamics that made that the case ten years ago have not changed now, and both Covestor and Kaching will disappear soon enough for reasons I won't bother to enumerate here because it's not worth the energy. I actually wish them luck and find intellectual merit in the effort and ideals behind them both. The asset management industry is ripe for innovation, but this isn't the form of innovation needed or that will result in a successful or valuable business.