Ron Shevlin: The message is: Get more aggressive about marketing in general.
So much is written about the promise of social media. But without the benefit of facts to back up the claims, you can forgive advisors for being skeptical about the whole topic. Until now. This study, Creating Growth: The increased use of social media by independent advisors — produced by Pershing – and written by Boston-based Aite Group — goes a long way toward filling the fact gap. It shows that there's a distinct correlation between fast growth and the use of social media.
"We wanted to get to the truth," says Kim Dellarocca, a Boston-based director of segment marketing and practice management for Pershing LLC of Jersey City, N.J. "The good news is that advisors are using social media and for a lot of advisors, it's paying off."
The Pershing survey encompassed 144 financial advisors; 33% were employed with firms with $1 billion of AUM or more and 37% with less than $100 million. The remainder fell at firms with between $100 million and $999 million AUM. Of the participating advisors, 55% of them are hybrids and 45% are fee-only advisors.
1.) Financial advisors using social media have higher growth rates in revenues, 19%, AUM, 19%, and in client base, 21%, than ones that don't. The non-users in the survey report revenue growth of 6%, AUM growth of 6% and client growth of 7%. "The Pershing study connects the dots" of social media availability and advisors' need to market for growth, says Pat Allen, principal of Chicago-based RocktheBoatMarketing, which specializes in aiding asset firms in developing social media strategies.
2.) Social media is not a panacea. What the study doesn't show but what must be noted is that these fast-growing firms were big marketers in general and that social media was just part of what they do, according to Ron Shevlin, senior analyst for Aite Group in Boston, who authored the report. "The message is: Get more aggressive about marketing in general," he adds. Yet there are aspects of social media not found in traditional marketing, Dellrocca says. "It gives advisors dialogue and communications with their clients,"' she says. "Right away, they're getting feedback."
3.) The biggest practices as measured by assets are not necessarily the biggest users of social media. Big firms may be slow adopters because they take a cautious approach from a compliance perspective, according to Shevlin. [see second chart down the page]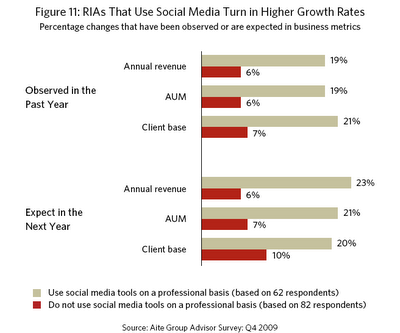 This Aite-Pershing study graph shows that
fast-growing advisors use social media more
than slower-growing ones.
4). Forty-three percent of RIAs use LinkedIn, Facebook, Twitter, blogs and other social media to support their businesses. But 67% of advisors use social media personally.
5.) There are 300 million people using Facebook worldwide and, among advisors using social media, it's the favored form for personal use at 71%, followed by LinkedIn, 54% and Twitter, 30%.
6.) Among advisors using social media for business purposes, LinkedIn, 53%, is most popular, followed by Facebook, 39%. About 27% use Twitter and 21% use blogs. Allen says that the Twitter's lag is more an indication of how difficult it is to learn rather than its usefulness. She likens using Twitter to going to a bar where you don't know anyone. Sites like Facebook and LinkedIn have a learning process that is helped by having people inviting others to join, Allen adds.
7.) One in five advisors say they increased revenues and fees from clients through social media efforts. The reasons that advisors named for using social media include: reaching new prospects, 42%, increasing awareness of their practices, 31%, differentiating form other practices, 27%, and increased revenues, 21%. It makes sense for advisors to use social media for all these reasons — and there's a price to pay for holding back, according to Michael Byrnes, president of Byrnes Consulting LLC of Boston. "Advisors using social media (especially LinkedIn) are gaining a competitive advantage over other advisors that are not. Those competitors that are late adopters are missing out on expanding their reach, brand awareness and opportunities for increased new business."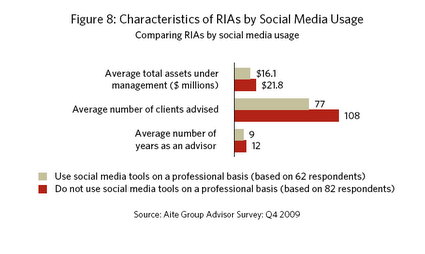 This Aite-Pershing study graph shows that
bigger firms are not necessarily pioneers
with social media usage.
8.) The reasons advisors name for not using social media are: compliance, 71%, regulatory concerns, 55%, and negative publicity, 22%. Of advisors who say that their firms have written policies regarding social media, 81% say that policies inhibit them in their social media use. Compliance concerns should not stand in the way of advisors forming social media plans now that FINRA has issued guidance, Shevlin says. See: FINRA guidance may help RIAs avoid social media blunders
9.) Indeed, the benefits of using social media need to be kept in focus. "From a client's perspective, it's an inexpensive way to stay in communication, and they begin to experience [an advisor's] brand in a different way. It creates a snowball effect." Allen agrees but notes that it may not be inexpensive for the advisor. For instance, one advisor she knows was spending 20 hours a week writing entries in a blog.
---
---
Mentioned in this article:
Aite Group
Consulting Firm
Top Executive: Frank Rizza
---
---
---
Bill Winterberg
Facebook is nearing 500 million members worldwide, not 300 million, according to many sources including this article from msnbc.com: <a href="http://www.msnbc.msn.com/id/38310046/ns/technology_and_science-tech_and_gadgets/" rel="nofollow">http://www.msnbc.msn.com/id/38310046/ns/technology_and_science-tech_and_gadgets/</a>
Bill @ <a href="http://fppad.com" rel="nofollow">FPPad.com</a>
Brooke Southall
Hi Ben,
There's certainly not a clear cause and effect and — to be fair — the study's author was not trying to say that there was one, as you can tell from his photo caption.
Here's one of Ron Shevlin's quotes that [I didn't use in the article] that drives home the point:
"The RIAs that are most successful are aggressive about how they market and use whatever tools help them; they just see this as one more set of tools to [gain], retain and maintain client relationships."
So it's nuanced. Successful RIAs use social media but it's not, so it seems, necessarily the overarching reason for their success.
Brooke
Ben
This study seems to rely on correlation data, but I wonder if there's a true cause-and-effect thing going on, or if this is go-getters just doing more of what go-getters do. The advisor who spent 20 hours blogging sounds familiar. If you're going to do this, you'll need a real plan and some real help.
Ben
I wonder, if the title had been "9 things to know about the 'truth' concerning RIA use of portfolio management software" or "9 things to know about the 'truth' concerning RIA use of virtual assistants" or "9 things to know about the 'truth' concerning RIA use of alternative investments", would the stats still break out the same way?
Basically, I'm wondering, is this really news? Or another headline grabber for folks who "help advisors grow their businesses".
Andrew Woolley
Anyone unsure about whether social media is a "fad" or deadly serious may well be helped by looking at this presentation: http://www.youtube.com/watch?v=sIFYPQjYhv8&feature=player_embedded
We use social media extensively and 70% of our high net worth clients come via our website as a result: http://www.family-lawfirm.co.uk/
If divorce lawyers can get clients from social media and the Web then IFAs surely can?
Stephanie Sammons
August 2, 2010 — 10:37 PM
There is no doubt that developing a professional blog and optimizing social media profiles followed by engagement and participation in social networks can do 3 things for a financial advisor: Create awareness in their target markets, differentiate them from the competition, and enhance their professional credibility. All of these are important to gaining introductions and referrals, and ultimately success will come from these efforts if done the right way.
You can't just go out, throw up a few profiles and hope for the best. There is no doubt that you need a plan, a strategy, and a system to maximize your results and minimize your time spent!
Elmer Rich III
As marketers we have done a lot of market research and "We are easily convinced by data." However, these figures stand out as very different from other professional social media data.
<ul> <li> "Forty-three percent of RIAs use LinkedIn, Facebook, Twitter, blogs and other social media to support their businesses." That is very high compared to other stats. How was the sample recruited? This is basic question. The sample size is also too low to generalize stats across the whole RIA segment.</li> </ul> <ul> <li> The mistake on the FB number also suggests either a typo of lack of familiarity with social media research and data. </li> </ul> <ul> <li> "One in five advisors say they increased revenues and fees from clients through social media efforts." !? We do this kind of work, successfully, for a living and see nowhere near those kinds of results. Is this research suggesting "only" social media caused these reported results? 1/5 of which advisors? The whole study sample or just the one who are heavy social media users.</li> </ul>
A reality check is in order. For example, data shows that 90% of social media users don't post but are purely passive observers. 60%+ check Linked In once a month or less, etc.
Posting a link to the study report will allow more useful information to be uncovered.