Matt Stroh: Our clients tended to think our service reputation was the best of all the vendors they were working with, and they began relying on us more and more.
Heather's note: I learned last week that the coffee is still flowing and the sun is surprisingly shining in my hometown of Seattle when I spoke with Matt Stroh and Connor Wilson of Seattle-based Tamarac. The extra caffeine may have come in handy. In the past two years, the Tamarac staff has been working feverishly to make 250 enhancements to its rebalancing technology as it rushes to compete with iRebal. It has also begun to compete with other vendors with CRM software and portfolio management systems – in a tidy bundle. I admit that parsing this all out in a two-hour demonstration and chat was challenging. I've related my best observations of the arc covered by Tamarac in two years in this relatively brief review. To read more about Tamarac, check out Brooke's recent article, Tamarac claims what was unthinkable two years ago — that it is on the same playing field as iRebal for rebalancing software.
Advisors breaking away from custodial giants and wirehouses are accustomed to the all-in-one approach to technology that large companies can afford to take. However, in the breakaway world, RIAs are thrown into the vendor market — hundreds of products built to accomplish different goals — and must make technology decisions they previously didn't have to. See: How the breakaway movement is driving the outsourcing trend
Most technology vendors are working to gain an edge primarily with a single application; they leave it to the asset custodians to try to weave the vendors' products together into something that has the plug-and-play atmosphere of Mother Merrill. [See Schwab unveils a plan to create a grand ecosystem of top technology vendors to RIAs]
Tamarac is a Seattle-based company that has built its reputation selling trading and rebalancing technology. Now it is trying to edge further into the market for portfolio management systems and customer relationship software.
It released Advisor 9, a suite of advisor products, last September — believing it could capitalize on client loyalty earned through good service.
"Our clients tended to think our service reputation was the best of all the vendors they were working with, and they began relying on us more and more," says Matt Stroh, vice president of marketing for Tamarac when explaining the motivation for building out Tamarac's products offerings in Advisor 9.
Tamarac's products are entirely web-based and use a software-as-a-service (SaaS) model. The demo of Tamarac's Advisor 9 suite revealed a commitment to high quality technology and an efficient, high quality user experience; it was easy to see why the company is becoming tougher competition.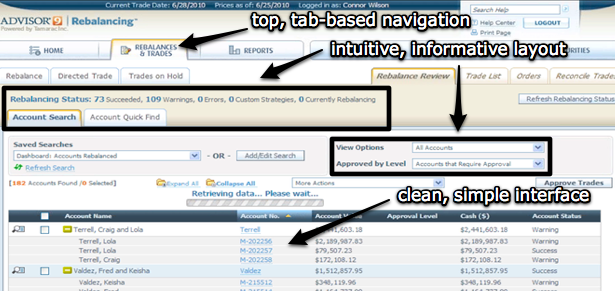 Easy navigation and a clean interface
are big improvements from the UI
of two years ago, says Tamarac
client, YellowWood
Customer-Oriented
The first thing Wilson touched on in the demo was Tamarac's extensive training, documentation, and customer support. As much as reviewers love to believe that one company can engineer success in a back room, customers are more often fixated on how the company interacts with them.
To gain this perspective, I spoke with Brian Lipton, president, and Dave Walker, director of operations, of YellowWood Financial Advisors, Inc., a Tamarac Rebalancing client since 2006 that was part of the Advisor 9 beta testing in the fall and made the transition in May of this year.
Walker spoke highly of Tamarac's customer service. "They are great about listening to you and making changes," he says.
For the principals of YellowWood, a four-person firm based out of Gaithersburg, Md., it was a natural next step to expand their relationship with Tamarac.
Walker told me that he wasn't unhappy with his company's previous CRM and portfolio management systems, but Tamarac was better integrated and is reliably supporting and updating the software. Tamarac has 50 employees, 18 of them in-house developers who crank out new releases every 4-6 weeks.
This will be YellowWood's first quarter using the Tamarac product suite — always a leap of faith from the sense of security that comes with using an existing provider.
Price
Tamarac's Advisor 9 suite has four main components: AdvisorServices (i.e. Portfolio Management), Advisor Rebalancing & Trading, Advisor CRM, and Performance Reporting.
The pricing scheme for these products is modular, but only AdvisorServices and Advisor Rebalancing & Trading can be purchased as standalone offerings. The pricing varies, but a general range for all services on an annual basis is $10,000 to $100,000.
Integration
The Advisor 9 rebalancing, trading, and CRM tools integrate with Schwab PortfolioCenter, Advent APX and Axys, Morningstar, and Checkfree's APL.
Performance reporting is the exception. Tamarac leverages Schwab's PortfolioCenter database for its performance reporting so if you're using a portfolio management system other than PortfolioCenter or Tamarac AdvisorServices, you can't get Tamarac reports.
Tech Specs
Tamarac has a clean web interface and intuitive tab-based navigation. It uses the common conventions and design patterns of most Windows products, and its Outlook-integrated CRM tool is practically indistinguishable from Microsoft's popular e-mail system.
Innovation has its place but Tamarac at times errs on the side of familiarity. Executives reason that it's best not to not overwhelm users; "RIAs don't have much experience as technology experts," says Wilson.
Browser support for Tamarac is currently limited to Internet Explorer.
I liked the look of Tamarac's rebalancing summary reports, which appear in a new browser window and allow editing, rebalancing, and direct trading to happen straight from the report page.
It looks like a regular report data table but – and this is cool — you can edit the numbers on the page and the rebalancing actions will be updated without going a step back a re-entering the desired ratio between stocks and bonds.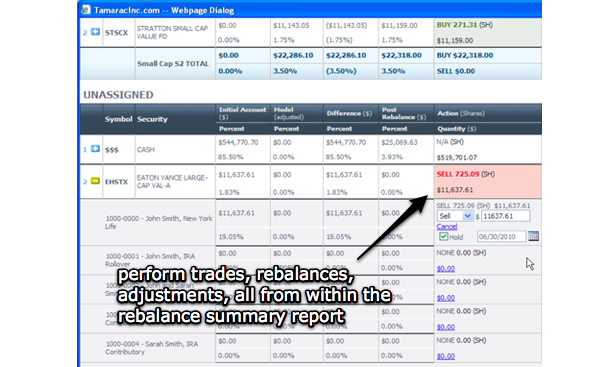 Rebalance report summaries allow advisors to
edit and review information straight from
within the report
Advisor Trading and Rebalancing
Tamarac has its roots in rebalancing and trading and uses a rules-based approach to automate transactions. RIAs manually completing transactions on five ort six accounts per day can perform transactions on 500-600 accounts per day with automation. "It usually takes 20-40 minutes to manually rebalance an account; you're going to see me rebalance 182 accounts in about a split second," says Wilson.
Set-up for Tamarac is a three-phase process, which includes two to three weeks of preliminary setup working five or six hours a week setting up models and rules, two to four days at Tamarac University working closely with Tamarac staff to really learn the system, and a three week "Assisted Trading" phase where advisors basically test drive the product.
That may sound like a bit of an ordeal. And one major Tamarac competitor boasts a one-day setup period, Wilson allows. But Tamarac believes that this approach is short-sighted and his company is committed to the longer education process.
It's the small things
Tamarac has many "convenience features" targeting workflow efficiency for RIAs.
Both the trading and rebalancing tools use a 4-step process: isolate accounts by performing a "saved search" (i.e. a query); run the rebalancer, cash manager, etc.; review the results; and submit the trades. Conventions like this make it easier to navigate new functionality because advisors already know what to expect.
Tamarac provides alternate security sets so advisors can create different versions of securities to represent different account types.
There is a quick export functionality that creates a

CSV

file for import into a portfolio management system.
For direct trading, advisors can specify multiple funding sources, prioritize trades, and execute partial trades.
Advisor 10
In rebalancing and trading, Advisor 10, expected to be released on October 10th, 2010, will support the FIX (Financial Information eXchange) protocol to allow real-time connectivity to clearing brokers and the ability to reach them directly without importing and exporting data.
Advisor 10 will also extend the model architecture to support "n" tiers instead of the current limit of three. "No other system on the market operates on more than three tiers, but we will," says Connor Wilson, Tamarac's director of institutional sales. "We will be the first to handle it."
Advisor 10 will also include a client web portal for performance reporting similar to those offered by Orion and Black Diamond. Advisors can tailor the interface to reflect their brand and expose selected reports to clients via this portal, he adds.
CRM

& Performance Reporting
The CRM tool serves as a single hub for the products in Advisor 9.
"We not only have seamless data sharing between the portfolio accounting system, the rebalancing system and the CRM system, but we've actually built the functionality of these systems into a central location, which consequently is fully integrated with Microsoft Outlook," says Wilson.
Again, Tamarac's use of conventions and familiar interfaces works in its favor; Wilson says. If you know how to use Outlook, you'll know how to use Tamarac's CRM tool. CRM is just another Outlook tab alongside "Inbox", "Sent", and "Drafts". CRM can also be accessed through the web, without losing the Outlook look and feel.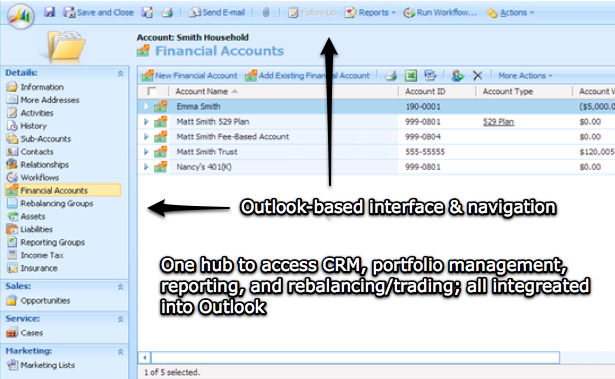 Tamarac's CRM tool integrates seamlessly with
Microsoft Outlook and serves as one
familiar hub for all Advisor 9
products
Integration between Tamarac products and with Outlook, their local e-mail program, was on the top of Walker's long list of Tamarac "pros", "It provides the great efficiency of working out of one hub…it doesn't involve headaches."
Release Date
Trading and rebalancing tools were first released in 2005. The product suite including outsourced portfolio management,

CRM

, and performance reporting in addition to trading/rebalancing was released last September, 2009.
Price
From $10,000 to over $100,000 annually
User Base
350 client firms, 1100 users, 30 clients product suite
Main Competitors
iRebal, Advent's Moxy
Web or Desktop
Entirely web based, no desktop software or local hosting
What does it do?
Automates trading and rebalancing to improve workflow efficiency; has

CRM

, performance reporting, and portfolio management capabilities
---
---
Mentioned in this article:
Envestnet | Tamarac
Portfolio Management System, CRM Software, Trading/Rebalancing
Top Executive: Stuart DePina
---
---
---
Matt Stroh
August 13, 2010 — 3:39 PM
Ted, I work for Tamarac and would like to address your comments – however, I'm not perfectly clear on the challenges you faced. Can you provide me with more details? Thank you for the opportunity.
Brooke Southall
August 20, 2010 — 1:27 AM
A comment by "Ted" was deleted after attempts to contact him failed. RIABiz encourages open discussion and allows anonymous posts — but we expect intellectual honesty from the posters, and we remove comments that seem to be potshots.
After Tamarac's Matt Stroh made a good-faith effort to engage Ted in discussion and he got no response, we reached out to "Ted" directly. We also got no response.
Brooke