Marc Cohen: Frankly a number of our attorneys stayed up way too late sitting around a conference table continually throwing out words that could possibly get someone into trouble.
Heather's note: As a reviewer of technology, I usually get information straight from technology creators without much input from the technology users or technology competitors. As I note in my conclusion, the value of this review would be greatly enhanced by comments from advisors using MailBanc or a similar email compliance tool, so please chime in!
Instant communications like email and the concerns about the potential liability they present, prompted New Jersey-based MarketCounsel to address client inquires for an email archiving and compliance tool.
MarketCounsel, a business and regulatory compliance consulting firm, was formed by Brian Hamburger in August 2000. MarketCounsel was born out of a need for affordable services and tools among small to mid-size RIAs.
| | |
| --- | --- |
| Release Date | June 2007 |
| Price | 5-user pack for all four products: $950/yr |
| Main Competitors | Smarsh , Global Relay, Advisor Mail |
| Web or Desktop | Entirely web-based, no desktop software or local hosting |
| What does it do? | Archives emails, uses message surveillance techniques to help advisors adhere to compliance policies |
"It's not that compliance issues are getting more prevalent or the rules are getting any stricter. Compliance gets thrown into this big pot with risk management, but firms now understand that liability lies in those instant communications we rely on," says Hamburger, MarketCounsel's managing director.
When it began looking for an email archiving tool, the company found the market was somewhat limited: it looked at about 40 tools, some in the right price range, but none had all the bells-and-whistles MarketCounsel wanted, says Marc Cohen, executive vice president of MarketCounsel.
The lack of viable solutions for small to mid-size RIAs in the compliance space was the catalyst for developing MailBanc, MarketCounsel's online tool for email archiving and surveillance.
Addressing Compliance Concerns
Adoption of MailBanc services have been driven by word of mouth, some PR and marketing campaigns, and a growing concern surrounding compliance. The service was released in June 2007.
In RIABiz's recent article about "Massachusetts Privacy Laws":https://www.riabiz.com/a/1192005 it is clear that compliance policy, from servers and computer hardware to emails and "tweets", is compelling advisors to seek out technological solutions that reduce regulatory headaches.
Compliant "Tweets"?
MailBanc is focused on providing a compliance tool for email specifically, but Cohen said that future releases of the product will tackle compliance issues around the increasing social media scene and directly address the new laws in Massachusetts and Nevada.
Future plans include a web scraper to gather information from LinkedIn, Facebook, and Twitter profile pages and compile it into an email that is archived in MailBanc using the existing infrastructure. These social media emails would be generated every time a profile page is updated; good thing MailBanc offers unlimited storage because someone who updates Facebook every 20 minutes and tweets every 10 will be generously contributing to the archive.
User Interface
"It's very user-friendly. When it was built, we realized that many of our clients are not the most tech savvy individuals and we wanted to make it so that when they logged in they didn't feel completely overwhelmed. We wanted them to feel comfortable logging in so that they would be able to conduct their reviews and take this side of things seriously," says Cohen.
The interface for this web application is indeed very simple; no flashy logos, simple top bar navigation and right side sub-navigation, neutral color scheme, and simple table views. I didn't feel overwhelmed by it in the least.
Product Offering
There are four products encompassed by MailBanc: Archiving, Surveillance, Message Defense, and as of two months ago, Message Continuity.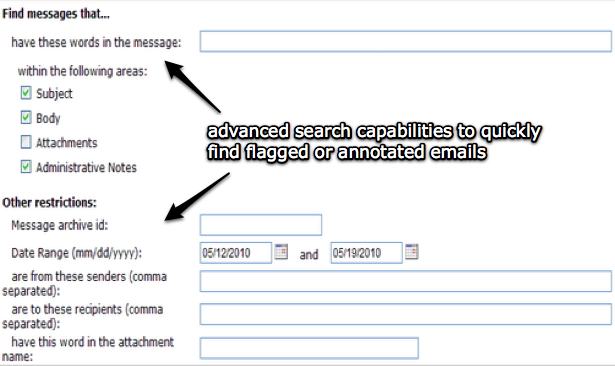 Compliance officers can search for emails
that have been flagged or that
they have previously made notes on.

Archive
Archiving is the bread and butter of MailBanc. A copy of every email sent and received is stored in the archive. These emails cannot be edited or deleted from the archive and have a set retention period of six years; better safe than sorry as the minimum SEC requirement for RIAs is five years from the end of the fiscal year in which the email was last used (i.e. when it was last opened, read, forwarded, etc.) If a legal hold is placed on an email, the retention period is indefinite.
MailBanc supports any email configuration, the most common being POP, MS Exchange, and Google Apps. The setup period typically two business days, but can be ready to go in hours if necessary.
The archive provides basic and advanced search capabilities in order to quickly access emails flagged for certain compliance violations, within a specific date range, with certain administrative notes attached, etc. For compliance officers sifting through email, this search functionality becomes invaluable.
Emails are viewed via the archive in full HTML format and look exactly the same as when they were sent and received, images and all.
The archive also serves as an email backup. In the event that an advisor's local mail client crashes, he or she can download a zip file of all the emails in the archive and import them directly into his or her local mail client; effectively an airbag for those occasional email catastrophes.
Surveillance
The MailBanc surveillance engine largely differentiates MailBanc from its competitors — Smarsh, Global Relay, and Advisor Mail. According to Cohen, although these products all provide similar services, MailBanc's close relationship with MarketCounsel gives it an edge on detecting compliance violations.
Account administrators and compliance officers are able to login to MailBanc and monitor in real time the emails flagged by the surveillance engine for potential compliance violations.
The surveillance engine comes with 15,000 built in keywords and phrases to provide a robust rule base for compliance adherence. For example, the SEC/FINRA compliance policy contains words like "bargain" or "guarantee" or "triple your money" whereas the Customer Service policy will include words like "complaint".
"Frankly a number of our attorneys stayed up way too late sitting around a conference table continually throwing out words that could possibly get someone into trouble," says Cohen.
These rules are broken down into categories or "folders". Examples include Customer Service, SEC/FINRA, Discrimination, and ADA policy. Rules can be applied to specific employees, all inbound/outbound messages firm-wide, or anywhere in between. This tool allows administrators to keep a finger on the compliance "pulse" of their firm; by taking action now they can avoid time-consuming compliance issues later.

Over 15,000 rules come standard with
the MailBanc surveillance engine; policies and
rules can be edited, added and
deleted.
Message Defense
If you're looking for someone who knows a thing or two about large amounts of data and privacy, why not go to the ultimate authority — Google.
MailBanc worked with Google to create an email overlay complete with spam filters and virus protection. MailBanc's message defense is set up in front of advisors' local mail servers to protect them from spam and viruses regardless of which mail client they use or where they access their mail from.
Message Continuity
Two months ago, MailBanc added message continuity to its list of product offerings. This service is a communication safety net; when your local mail server goes down, your business doesn't.
In short, the message continuity service monitors advisors' local mail servers and detects outages. In the event of an outage, MailBanc immediately gives advisors a web mail portal to continue sending and receiving emails even when their local mail client is out of commission. Message continuity detects when the local server is back online and pushes all emails sent and received through the temporary mail portal to the local mail client; it's as if the outage never occurred.
Reporting
Several default reports come with a MailBanc license including flagged message reports and compliance stats based on number of flagged emails. If an advisor is looking for a report not currently offered by MailBanc, they can submit a request for the report's addition. "[Client input] is where we get our best ideas," says Cohen.
Future releases of MailBanc will continue to increase the number of default reports that come standard with the product and add charting and graphing capabilities to its reports.
Your Input
Almost all email services serve as an email archive. In addition, almost all email services delete archives when an email account is removed. MailBanc's archive, however, was designed with RIA needs (i.e. communication retention periods, compliance adherence, etc.) in mind.
MailBanc's features and its surprisingly low price tag make a good case for advisors looking for a way to avoid compliance hassles. From a tech review standpoint, using MailBanc seems like a no-brainer.
Does your firm use MailBanc or one of its competitors? We would love to hear what your experience has been.
---
Mentioned in this article:
---
---
---