Bernie Clark: I've never seen us announce something that has been so universally embraced [as Project C].
Brooke's Note: I have long heard Schwab's EXPLORE spoken about with reverence by financial advisors but it's a very private event so I could report little about it . Though the media wasn't invited to this year's event held last week, I was able to piece together this article with the cooperation of attending Schwab RIA clients and — especially — Schwab itself. This article contains thoughts about the conference from Tom Meyer, president of Meyer Capital Group Inc. and Tom Myers, principal of Brownson Rehmus & Foxworth Inc. The similarity between the names is not a misprint!
EXPLORE, as Schwab's by-invitation-only conference for its biggest advisors is called, is the opposite of Schwab's better-known IMPACT conference in almost every sense. IMPACT involves thousands of attendees, an open-invitation policy, big-time speakers, a Mexican bazaar of trade booths, advisors of every shape and size and a location in a city near a convenient airport.
EXPLORE, on the other hand, has a limited number of attendees: 128 this year, more than half of whom worked for practices with more than $1 billion in assets under management. It was held at the Ritz-Carlton on Amelia Island — just north of Jacksonville.
Many attendees came for the atmosphere of substantive discussion about how to grow practices. Schwab's promise to better integrate third-party technology was of keen interest to advisors. For some of the attendees, the chance to interact with the relatively few very large RIA practices drew them to Florida.
"After so many of these, I go to see my brethren," said Tom Meyer, president of Meyer Capital Group Inc., which manages $530 million of assets from Marlton, N.J.
Beach time
There was no exhibit hall at EXPLORE, and only a handful of speakers. They included some of Schwab's top brass including Walter W. Bettinger II, the company's president and CEO. The event ran from Wednesday evening, when it started with an on-the-beach, shorts-encouraged reception in 90-degree heat, to Friday evening.
On Thursday morning Bettinger showed his company's great gratitude to the assembled guests, about half of whom brought spouses or significant others. to participate in some of the evening activities.
"On behalf of Chuck and the board, I want to thank you," he said, according to the company. "You helped keep our company stable during the last year. You've had a disproportionate impact on our growth the last 12 months."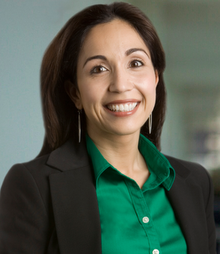 Neesha Hathi's big technology plan made
her a magnet for attention at
EXPLORE
The 128 advisors represented a combined $150 billion of assets under management and the average firm represented had 700 clients and 25 employees. [I asked if Ken Fisher, who uses Schwab as a primary custodian, was there to singlehandedly inflate the numbers. The answer was "no."] The $150 billion of assets represent about 10% of all RIA assets. The average practice grew at 12% last year or about double the rate of the average RIA.
Breakaway prospects
The event – for the first time – also hosted breakaway prospects. The four wirehouse brokers represented a combined $3.5 billion of assets under advisement.
Though the event was similar in many ways to Schwab's events in previous years (EXPLORE was held in Carlsbad, Calif., last year and Beaver Creek, Colo., Maui and Key Biscayne, Fla. in previous years) there were a handful of notable tweaks. For the first time — the event took direction from a six-person panel of RIAs.
Their basic message: Give us more networking time with our closest peers and fewer off-the-point speeches.
The structure of the conference pleased Tom Myers, principal of Brownson Rehmus & Foxworth Inc., which advises more than $10 billion of assets from Menlo Park, Calif. "There wasn't a lot of downtime," he says. "For the most part, if you're going too travel across the country, you want something of substance."
Not all fun and games
Bernie Clark, senior vice president and head of Schwab Advisor Services concurred about how intense things were.
"It was all business," he says. "It doesn't mean people didn't enjoy each other, but it was all business."
Besides the rigorous schedule of serious discussions that put like advisors across from each other in breakout sessions, there was an overall atmosphere of deliberate desire to learn about how to grow and adapt RIA practices, Clark adds.
If there was a star of the conference, observers say, it was Neesha Hathi, vice president of technology solutions for Schwab Advisor Services. She has promised to deliver a new world of integrated software in coming months or years. It's called Project C. See: Schwab unveils a grand plan to create a grand ecosystem of top technology vendors to RIAs
See also: Schwab's Project C now has two tiers and three new names
"I'll believe it when I see it," Myers says.
Advisors will be skeptical until she can deliver tangible results. "Neesha didn't have a minute of downtime," says Alison Wertheim, a Schwab spokeswoman who attended the conference.
Something fresh
Meyer appreciates Hathi's efforts – though he's also waiting to see more before rendering an opinion.
"It'll be interesting to see how this all works," he says. "But it's bringing something interesting and fresh [to the table], and that's all we can ask."
Clark says he is very pleased with Project C and the positive reception it has gotten so early in its development.
"I've never seen us announce something that has been so universally embraced," he says. "It's in the sweet spot of what people are wanting."
The appeal is that it removes barriers to what advisors most seek – growth – by automating and streamlining time-consuming processes.
IMPACT is just different
But though the quality and intimacy of EXPLORE has its advantages, there are still reasons to attend IMPACT, too, Myers says.
"I think I'm going to IMPACT this year," he says. "This conference comes and goes very quickly and the vendor halls at IMPACT I find to be very helpful. You can do a lot of research and due diligence on vendors. There's a much broader range of sessions to attend."
For an an account of the 2011 event, See: Schwab EXPLORE goes deep into the Rockies with big RIAs
---
Related Moves
December 10, 2019 – 2:05 AM
---
---
---
---