Adam Honoré: The reason you'd want Merrill Lynch is that you'd want access to their advisors and to their training.
Brooke's Note: I've heard the same comment about wirehouses from several sources ranging from heads of asset custodians to research analysts: "They're not stupid." The backhanded compliment comes as a follow-on to my question: Will wirehouses stop or slow the steady erosion of advisors and assets that they're experiencing right now? The answer combines memories of painful experience when these competitors flexed their marketing muscle to great effect and the dumbfounding knowledge that wirehouses have hardly made a competitively threatening move in years. So now Bank of America is at least making a move. Will it be effective? Maybe. They're not stupid.
In a move that may eventually give BofA another way to feed clients to its highly profitable wirehouse, the bank launched – or relaunched – an online brokerage business under Merrill Lynch's name today.
Merrill Edge, which officially goes live today (see screenshots below), is actually just Bank of America's online broker being given a more Merrill-y name, analysts say. Merrill Lynch formerly rolled out MLDirect.com, but it's not clear whether it will continue as a separate entity.
A BoA executive told Bloomberg in an interview that the move is intended to allow the wirehouse to better compete with Schwab, Fidelity and other established online brokers. Analysts are skeptical about Merrill's ability to do so: the likes of Schwab and Fidelity are well-established in a market in which few customers switch.
But Merrill's expanding presence in the online market may be less about winning in that market – and more about feeding customers to wirehouse advisors through cross-channel collaboration, say analysts.
Toothless tiger?
"We do not view Bank of America/Merrill Lynch's new online brokerage product, Merrill Edge, as a serious competitor near to medium-term to Schwab and TD Ameritrade," wrote Celeste Mellet-Brown, a senior research analyst for Morgan Stanley, on Friday. Her comments are fairly typical of the ones made by analysts.
"Bank of America and Wells Fargo/Wachovia have had online brokerage products for some time and they haven't impacted TD Ameritrade and Schwab's ability to grow assets – clients choose to use one product over another and don't easily switch."
Matt Snowling, an analyst with FBR Capital Markets in Arlington, Va., wrote on Friday that Bank of America "will need to invest hundreds of millions in technology, customer support, and branding to truly compete for new customer assets."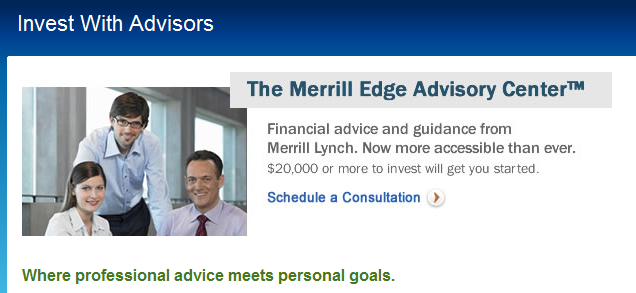 On the Merrill Edge website, it
says that 'financial advisors are now
more accessible than ever.'
"I think this [move] is going to be effective but one of the challenges they're going to have to face is how to tie this [online broker] into the [full-service] advisory firm," he says. "Otherwise it's just another online brokerage site and there's lots of really good online brokerage sites out there. The reason you'd want Merrill Lynch is that you'd want access to their advisors and to their training."
Broker hand-off plan
Such access could take the form of a team of advisors who handle inquiries "up to some form of a hand-off plan" where customers being handled by call centers could get referred to a full-service broker as their assets grow and their needs for advice become more sophisticated, Honoré says.
In this "hand-off" endeavor, Merrill Lynch could have – in one respect – an edge over Fidelity, TD and Schwab, which have been successfully handing off billion of dollars of assets from their branches to RIAs for several years, according to the Aite analyst.
"Schwab has to hand off [the client] to a third party; Merrill Lynch gets to keep it" which is a big advantage," he says.
But a spokesman for Schwab adds that his company in fact offers broader referral options.
"We 'hand-off' formerly self-directed clients who decide they want help or even money management not just to Schwab Advisor Network, but to internal capabilities as well — including to Schwab Private Client and a managed accounts program," he says. "The beauty of our model is that there is a range of solutions available, giving clients the option to get a best-fit for their need."
There are two other ways that Merrill Lynch can make hay out of its new online brokerage unit, Mellet-Brown says in the notes to clients.
"Merrill Edge will focus on: 1.) Offering its existing advisory clients an online trading tool for "play money" – and incentivizing advisors to push the product on their clients for referral fees, though channel conflicts need to be addressed, and 2) Offering mass affluent clients who aren't currently profitable advisory relationships [for full-service brokers] a brokerage service associated with the Merrill Lynch brand early in their investing lives. While logical in theory, we believe it will take time to build."
Tough bananas on channel conflict
Raymond James Financial Inc.'s analyst Patrick O'Shaughnessy, also wrote in a research note that Merrill Lynch could pay a price because of the channel conflict it causes. Financial advisers could jump ship because they fear Merrill Edge could cannibalize their clients.
Indeed, many Merrill brokers have feared that BoA would make changes that didn't respect their position at the firm. See: Merrill Lynch team leader broke away for fear of what might happen under Bank of America
But competition with Schwab and Fidelity is now so fierce for Merrill Lynch, that channel conficts no longer are of the same paramount concern as yesteryear, Honoré says.
"At this point, [executives of Merrill Lynch] have to say [to brokers]: that's tough," he says.
---
---
Brooke Southall
January 14, 2011 — 9:47 PM
Jim,
Sorry to hear! Can you keep us apprised if you get an insight into what's going on? Feel free to contact me directly. 415-331-7828 or Brooke@Riabiz.com
my best,
Brooke
Jason
September 16, 2010 — 2:30 AM
Merrill Edge is missing a lot of important features that Bank of America online investing had. If they want to attract more customers they should have stayed with the Bank of America platfortform which is far superior to Merrill Edges' platform. I don't see how anyone could think Merrill Edge is an improvement, I think Bank of America oline investing was many times better. I hope many people are complaining about how horrible Merrill Edge is, and that they will go back to the way things were on Bank of America online investing.
Jim
January 14, 2011 — 9:39 PM
As of Jan. 14, 2011 @ 4:25PM, BoA's new Merrill Edge platform has been down all afternoon and I have been unable to reach a live representative to transact my business. Worse yet, BoA's banking site is running so infuriatingly slowly that it is essentially useless. I must say that, in this wake, the recent improvements heralded to me by BoA through the mail and online now leave me wondering why I have kept this old dog so long?!?
Ivan Q
October 2, 2013 — 8:02 AM
Suggest avoiding Merrill Edge and foregoing eventual headaches. If you are a glutton for punishment and receive a form letter from Merrill Edge Pennington, NJ signed by **. Dial (609) 303-6200, press 4 for the company directory. Then spell the person's last and first name. So, when you get an unhelpful response form letter signed by someone, Enter that person's name in the directory, get their phone number and 'reach out' to them!
Virgie Hudgins
September 29, 2015 — 3:25 AM
Hey blog post , I loved the information ! Does anyone know if my business could possibly obtain a template 2011 CA 37A-209 copy to fill in ?
Fred St Laurent
I was misquoted in this article and will respond in detail later....
ria14141414
beware of merrill edge platform and the so-called financial solutions advisors in the banking centers. the investment options are terrible, high loads, high expense ratios and low returns and low ratings…these are the "recommended funds". there managed solutions have posted terrible returns and most of these "advisors" are glorified personal bankers! they know very little about investing and planning, so if you choose to go with this platform just realize that you have been warned once your account starts to post negative returns.
BullBear
October 30, 2010 — 3:48 AM
I've been with Banc of America for couple years and overall I was quite satisfied. But now with Merrill Edge I just can't stress enough how HORRIBLE the online trading is. Website is very illegible, not responsive. Very slow trade execution. Extremely slow. When you want to place and order you have to click so many fields, that by the time it fills, the price might change even 10-20 cents in $100 stock. If it wasn't bad enough – customer service is just a plain and simple NIGHTMARE. Reps are rude and they sound like they don't wanna deal with you at all. They are simply PISSED OFF that somebody (a customer) bothers to call them.
What's even worse – when you sell short a stock and it happens you still have a long position in the same security, "outstanding" Merrill's system neither let you cover the short position nor liquidate the long one.
It displays error and instructs you to call customer service. How awful the experience is I don't have to even tell, but the wait time is another story. On average 20-30 minutes and then some bored and apparently annoyed person answers the phone and just wants you to hang up right away.
If you're not convinced… well good luck with them. I am definitely moving my account as fas from Merrill as possible. They just make you feel like they don't care about you and your money.
Enough said