News, Vision & Voice for the Advisory Community
In a down market, RIAs need a new growth strategy and small brokers a safe landing place
May 26, 2010 — 7:18 AM UTC by Brooke Southall
Brooke's Note: Call them what you like: tuck-ins, joiners or just breakaway brokers joining existing RIAs; they are the subject of enormous amounts of buzz. They seem to solve multiple growth issues at once for the RIA industry by bringing assets over from the wirehouses, even as existing RIAs benefit from the migration. FA Insight has just completed a Pershing-sponsored white paper entitled: "Breaking out with breakaways" that comes right on the heels of Schwab Advisor Services' study on the subject entitled: "Recruiting advisors turning independent." This article seeks to encapsulate the studies and take a broader look at the tuck-in phenomenon that has really manifested in the past couple of years.
1.) In sheer numbers, the trend of advisors leaving full-service brokerages to join existing RIAs is a big trend. In fact, 42% of the 172 new advisory teams Schwab Advisor Services helped transition to independence in 2009 did so by joining an existing firm. TD Ameritrade Institutional reports that 40% of the breakaways bringing assets there fit in to the "tuck-in" category. A Fidelity spokesman says his firm sees a similar trend. A recent Cerulli Associates report finds that RIA firms' share of wirehouse advisors turning independent has grown nearly sixfold, from an average of 2.1% between 1999 to 2003, to 12.4% between 2004 and 2008 with the remainder starting their own firms, according to Schwab's "Recruiting advisors turning independent" whitepaper.
"This topic is heating up in a big way. In fact, I have four clients that I'm helping build tuck-in strategies for," says John Furey, principal of Advisor Growth Strategies of Phoenix, Ariz. "Custodians are all over this, as it's a scale play, a unique way to help existing advisory firms, and a way to broaden their addressable market (capture mid market and small advisors)." Typically, RIA custodians have best addressed larger, more entrepreneurial advisors who had the scale and moxie to turn independent.
2.) The tuck-in trend is both a burden and an opportunity for the asset custodians. "RIA custodians are feeling the fire," Furey adds. That's because RIAs are demanding help to efficiently bring aboard wirehouse brokers. Independent registered investment advisory firms historically have grown at a rapid pace—more than 20% annually in assets and revenues for three years prior to the financial crisis in 2008. But the ensuing market downturn has challenged RIAs: advisory firms in Schwab's 2009 RIA Benchmarking Study anticipated a revenue decline of 10% in 2009 [compared with 2008] and off 19% from the 2007 peak, according to Schwab's new study.
A tuck-in strategy can put growth back on track – and provide additional benefits, according to Bernie Clark, senior vice president and head of Schwab Advisor Services. "With a thoughtful recruiting strategy in place, adding experienced advisors can be a great way for firms to gain new talent, serve new client segments, uncover potential growth and succession planning opportunities, and boost revenues," he said in a release.
3.) Custodians also see the tuck-in trend as a new avenue for their own growth. "It widens the net," Furey says. "For [a broker] looking at Raymond James or LPL, they can say: I know an RIA that would love to have you."
Edward Sullivan, president of SeaCrest Wealth Management, LLC of Purchase, N.Y. says that an existing RIA is actually more like the former wirehouse than an independent broker-dealer is. "With the Raymond James [IBD] model, you need to rent an office space and do homework on the whole infrastructure. That's where we might be attractive. Most wirehouse folks are used to having everything done for them. They turn on their computer and start talking on the telephone." SeaCrest is an RIA with six offices nationally; it has landed 16 breakaway advisors and plans to grow to nine offices by the end of the year with an aggressive tuck-in strategy.
SeaCrest has different payouts depending on what infrastructure the advisor requires but generally payouts are 60% to 70% of revenues.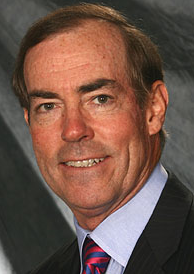 Edward Sullivan: Most wirehouse folks are
used to having everything done for
them.
4.) The implication of the breakaways-to-RIAs trend are profound, says Tom Nally, managing director of institutional at TD Ameritrade. "I think joiners are going to take the breakaway trend to the next level," he says. Indeed, Furey adds that had the custodians been on top of the trend two years ago when wirehouses were hemorrhaging so-called penalty-box brokers, they would have significantly more assets today. But the trend will continue, and it bodes well for big assets staying in motion, according to Schwab's study. "The economic crisis that has swept the industry has accelerated this trend, prompting many of these advisors to take a closer look at joining an RIA or starting one of their own. According to Cerulli Associates, wirehouses will see their market share of assets under management drop from the 47.7% they held in 2008 to 40.7% by 2012," it says. "During the same period, independent RIAs, dually-registered advisors and independent broker-dealers will grow their market share from 32.8% to 39.3% of AUM."
5.) The advisors that are more likely to want to be a tuck-in to an existing RIA are the smaller ones because they get treated as second-class citizens by wirehouses. "RIA Recruting bonuses can total up to 330% of annual advisor revenue – targeted at advisors with $1 million or more in production. Advisors with less than $500,000 of production get few incentives. Hence, lower-producing advisors are the big recruiting pool," says the FAInsight study. Indeed, 22,000 of the 55,000 brokers who work for wirehouses got a retention check, according to Jeff Spears, CEO of Sanctuary, a San Francisco-based company that provides support services to advisors that break away. Of those 22,000 brokers, about 8,000 have $300 million or more of assets under advisement and 14,000 have $100 million to $300 million of AUA.
6.) Despite the success of the tuck-in model, there are caveats, Spears adds. "That group is finding that while it's great to be independent that a lot of the things they hated are found in microcosm in their new firm," he says. "They thought it would increase their payout but now they are told to lower it to raise their equity value. It's déjà-vu all over again. For a tuck-in to work, you have to start singing from their hymnal."
The flexibility that RIAs have in offering deals also works in their favor in terms of creating the environment that they want for tuck-ins, Furey says. "This is not a homogeneous opportunity: [RIAs can offer] revenue-sharing or salary and bonus like a bank; and some do a payout structure — that provides the breakaway more than they got out of the wirehouse."
7.) But Sullivan says that the RIA environment is really radically different. "The brands [at wirehouses] have been tarnished," he says. "Even the great Goldman Sachs has been dragged through the mud. At Morgan Stanley, you're working with 22,000 of your closest friends. In addition, the advantages of working at a wirehouse have largely eroded. "Research is commoditized; trading desks mean less and I can make the case that Schwab's technology is better than the wirehouses," he says.
8.) There are tried and true methods for ensuring a good fit between a breakaway and an RIA, according to the FAInsight study.
Define the personnel needs and the target profile of a recruit.
Develop value proposition for recruits about why they would want to join the firm
Market the value proposition to recruits just as you do to win clients
Use centers of influence, professional networks and executive recruiters to identify and attract advisors
Deploy a formal screening and due diligence process to determine whether a prospect is appropriate match for the firm
9.) Avoid the pitfalls of creating unequal deals, the Schwab study adds.
Stick to existing policies. If the firm has already admitted new partners or discussed ownership with employee advisors, it would be difficult to justify a special deal with incoming [breakaways]. Deals should be equitable regarding existing and future arrangements with current owners and employees. Multiple arrangements and criteria for ownership may affect the firm's ability to promote a new partner or owner because they may lead to confusion and misaligned expectations for future candidates.
Develop a deal the firm can offer to its employees, too. Adding a new owner will immediately set a precedent for existing employees who aspire to be owners. It sends a signal that ownership is available under certain criteria, which will be defined by the specific contribution of the person coming in as a partner.
---
Mentioned in this article:
---
---
Share your thoughts and opinions with the author or other readers.
Doug Michie said:
June 11, 2010 — 3:16 PM UTC
I'm not sure that the tuck-in will attract the numbers the article envisions. After all, I believe many break aways do so for the sure freedom of no longer having to deal with policies from on high. I have got to imagine that the real growth is, and will continue to be, in groups breaking away to set up their own independent RIA. Doug Michie www.michielawfirm.com
---
---