Michele Holton: You'll definitely know you're still with Advent; our customers have been pleasantly surprised.
Advent Portfolio Exchange never really had an official coming-out party. The heir apparent to Advent Axys first appeared in 2005 and was used by a handful of jumbo RIAs — but that was more like a beta period.
Since then Advent Software of San Francisco released APX in 2008, also as a web-hosted product. See: Outsourcing begins to catch fire at Advent Software. With its price reduced considerably to attract a wider market, the software's rolling launch seems to be meeting with success, though Advent has been characteristically quiet about it. See: Advent Software got a lift from improving APX sales in first quarter
APX now has about 630 users. This is only about 20% as many users as the 3,000 or so that Axys has, but APX appears to be on a much steeper growth trajectory. See: Advent Software is moving ahead in the RIA tech market — even if most Axys users refuse to budge
Still, there are hundreds if not thousands of Axys-users, like Mark Balasa, who remain on the fence about whether to make the move to APX.
He is struggling to better understand whether it's worth the extra money. His Chicago-based firm, Balasa Dinverno & Foltz LLC currently pays about $55,000 annually to Advent for use of Axys.
Conversion fee
Advent has told him that his firm can expect to pay roughly a $125,000 conversion fee to move to APX but it won't say how much his license fee will go up. Balasa Dinverno manages about $1.6 billion of assets.
"We're looking at APX again on June 2 and we've looked at it several times before and we travelled to [fellow RIA firm] Plante Moran to see how it helped them," he says. "If it was night-and-day better, that would be fine but [the improvement] is incremental."
Still, Balasa says he is intrigued enough by APX to hear another pitch. Advent reps say they will give him some ideas in June about how APX will continue to be developed.
RIABiz wanted its own look at this software, and Advent, in a rare move, opened the door to us. APX proved impressive, but our hosts demurred – beyond basics — on comparing and contrasting APX and Axys, so the comparisons drawn below are based on our own analysis.
| | |
| --- | --- |
| Release Date | APX was released in October, 2005. |
| Price | $15,000 to more than $200,000 |
| Main Competitors | Schwab Portfolio Center, Orion, Morningstar, Black Diamond |
| User Base | Just over 630 firms are using APX. |
| Browser or Desktop | APX runs in a browser. Browser support is limited to Internet Explorer. |
| Externally or Locally Hosted | APX can be hosted both locally or externally |
| What does it do primarily? | Portfolio management, CRM |
Technical Evaluation
APX is built using a SQL server system (i.e. a relational database capable of organizing and grouping data by attribute) for its backend data management. In contrast, Axys, Advent's desktop solution, is built on a flat file system (i.e. there are no structural relationships between data entries, only plain text files). The advantage of using a relational database lies in the flexibility of querying data; it gives advisors more freedom to search through data by any available data attribute (i.e. name, symbol, address, account number, etc.), instead of using a single hardcoded relationship between two data items.
APX's relational database architecture is also more flexible and open than a flat file system, making it easier to integrate with third party software; it's easier to import and export data in multiple formats and still have data conform to the underlying system.
The browser support for APX is limited to Internet Explorer and relies on a Windows operating system, according to the System Requirements document on Advent's website. When asked if he gets a lot of clients asking for Mac support, Kevin Hollingsworth, senior sales consultant for Advent OnDemand, said he got that question pretty infrequently. It's safe to say that Mac support is not high on Advent's list of priorities.
The APX interface is minimalistic without many icons or visual indicators. The layout is reminiscent of Excel; landing pages consist of collapsible row and column data modules, and top bar navigation.
One platform for CRM and Portfolio Management
The biggest strength of APX is its integration of CRM and portfolio management into a single platform. The CRM is essentially Advent's Qube desktop CRM application reborn as a part of the new portfolio management system.


Links make it easy to view
both portfolio management data and CRM
data. Relational database back-end makes querying
more flexible.
"We have all of that contact and client information stored in the same database as the portfolio information," says Michele Holton, Advent's director of product marketing. "Having that central database…really has allowed our clients to consolidate…and use APX as their primary platform; they don't have to go out to another CRM."
A byproduct of consolidating portfolio management and CRM is better scalability (i.e. accommodating a growing firm, more data, more clients, etc.) It is easier to manage the growth of a single platform than it is to keep multiple applications scaling in sync.
With APX, advisors can construct a single query that returns data conforming to both client and portfolio search criteria, without having to import and export data between two applications — as in the case with Axys and Qube.
For example, if I wanted to change the address for multiple accounts in a portfolio, I could query for the portfolio — one of those easily searchable data attributes thanks to our friend, the relational database — click to see the client view for the accounts I want to change, and do a batch change on the address. No import, no export.
APX makes it easy to switch between the "client view" containing contact information, correspondence dates, relationships with other clients, etc. and the "portfolio view" containing performance data, gains summaries, etc.
On every page account names and client names are links — the typical blue, occasionally underlined format of traditional web links — which gives advisors a way to quickly get to client information and back to portfolio information in a single click.
"By clicking through it you get to underlying account detail right from the CRM…that type of integration is the nature of APX," says Hollingsworth.
Cool Features
Version three of APX extended the CRM capabilities to allow advisors to install an Outlook plug-in to capture, manage, and monitor client correspondences via e-mail directly from APX. E-mail data is integrated into the CRM database and can be queried in conjunction with other client and portfolio information.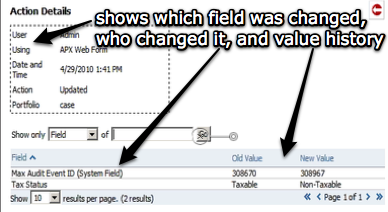 A change history is kept for
every field in the system.
APX also has an audit trail feature that automatically tracks change over time. On a more granular level, APX tracks every change made to a client's information or their accounts. Changes to everything from text fields and check boxes to client addresses and scheduled meetings are tracked and reflected in the "History" for that field. "It'll tell me what it changed from and what it changed to and the time and date and the end user that changed it," says Hollingsworth.
If an advisor is audited by the SEC, the APX audit trail makes it easy to retrieve transaction data and materials and organize them into custom reports. Does this feature make getting audited easy? "An SEC audit is a stressful situation and having things that are already prepared can help with that stressful situation," Hollingsworth adds.
OnDemand or Local Deployment
Web-based platforms require hosting. APX provides two options: local hosting or Advent's OnDemand outsourced hosting. About half of current APX users — many of them RIAs and small firms — are using OnDemand.
OnDemand, Advent's recently branded outsourcing product, can come with or without data management. Both options provide the advisor with hosting, system maintenance, disaster recovery and software upgrades. Opting for OnDemand with data management provides advisors with a complete suite of back-office services including data reconciliation and corporate action processing.
Reporting
Over 200 reports come standard with an APX license. APX also recently added a specific reporting package for wealth managers. Combined with SQL Server Reporting Services (SSRS) to generate custom reports and the automated packing utility, APX provides a robust reporting tool that many advisors praise because it is simple, thorough and can be customized.
The report generation interface is a separate window with drop-downs for date ranges and currency. Filling in a few of these fields and clicking OK produces a basic report to which graphics and advisor branding can be added. Reports can also be exported to various formats including PDF and Excel.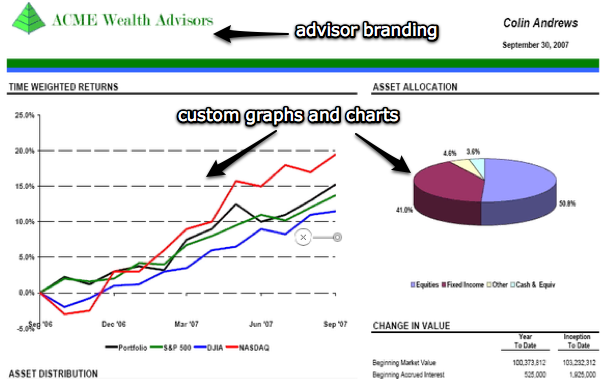 A sample report generated from APX
and customized to reflect advisor brand.

APX reports' aesthetic quality lags, to my eye. Generating a report was fast and simple, but the graphics, layout, and customizing options of a reporting tool like the one Orion has to offer look superior.
But one advantage to the look and feel of APX for Advent loyalists is that it makes them feel right at home when they switch from Axys, according to Holton. "You'll definitely know you're still with Advent; our customers have been pleasantly surprised," she says.
Conclusion
The APX learning curve seemed minimal, and the overall product seems more flexible and efficient than its desktop predecessor, Axys. Whether its worth the cost of making the switch is a question advisors will have to weigh on their own – but in committing to support Axys, Advent is giving them time to figure it out.
---
---