Tony Ferreira: They're a victim of the recession.
Brooke note: We've written a number of articles lately about how RIAs may find great opportunities in the 401(k) market. No sooner had the ink begun to dry on those articles than this Cogent Research study appears suggesting that the whole $3.7 trillion pile of assets is in some peril — or is it? Here are some lively thoughts about 401(k) assets and there is no bottom-line answer. Nobody has a crystal ball but it also turns out that all 401(k) asset amounts published in studies are based to some degree on estimates.
The 401(k) market among affluent and high net worth investors has taken a nosedive in recent years and a market rebound may not be enough to bring it back to its old dynamic self – at least among those investors, according to a new study slated to be published next week by Cogent Research
Ownership of workplace-based retirement accounts — made up largely of 401(k) accounts — has decreased by 23% since 2006, according to the survey, 2010 Investor Assets in Motion: IRA & Retirement Marketplace Opportunities, that the Cambridge, Mass. company will release.
For the first time since Cogent Research has been tracking investor allocations, wealthy Americans now hold more assets in IRAs than in workplace-based retirement accounts like 401(k)s and 403(b)s.
The findings of the study are based upon a survey of 4,000 affluent and high net worth Americans polled in the fall of 2009. These investors have at least $100,000 in investments.
A warning
"It's a warning about what's going on," says Tony Ferreira, managing director of wealth management at Cogent. "They're a victim of the recession."
The king of 401(k)s, Fidelity Investments, could not comment by publication of this article on whether its experience in the market jives with these findings but hopes to offer insight on Thursday. We'll add those comments here.
Participation in 401(k) plans has probably rebounded somewhat with the economy, as employers have resumed matches, and hires have been made. Still, Ferreira suspects that the 401(k) market is facing long-term headwinds because of a series of adverse factors.
Boomers are retiring and rolling their 401(k) assets into IRAs.
Boomers who don't retire start their own businesses, making for fewer people in traditional retirement plans.
Gen X investors are forgoing 401(k) plans.
Gen Y investors are responding to the Big Recession like our grandparents did to the Great Depression and eschewing investments.
Investors who stay in the plans are keeping more substantial assets in cash and fixed income investments. This makes these assets largely unprofitable for providers and has a similar effect to having the assets withdrawn from the market i.e. the plan sponsor doesn't have much leverage with the plan provider to have them administer the plan for a low cost. Potentially, this could have a chilling effect on the 401(k) market if employers find they can't afford plans.
Lost some steam
Indeed, the 401(k) market has lost some steam that the industry failed to notice because it was preoccupied by monumental market losses, according to Louis Harvey, president and CEO of Boston-based Dalbar.
"The [overall stock] market loss is so large that the [downward] shift [in the growth of the 401(k) market] is lost in the turmoil," he says.
Other industry observers like Ryan Alfred, president of BrightScope, the San Diego-based rating company of 401(k)s find the Cogent study's findings about the 401(k) market not to be credible.
"I don't put much value in survey-based reports like this," he says. "They basically called 4,000 high net worth people and asked them where their money is."
Actually getting bigger
Alfred adds: "The 401(k) market is actually getting bigger and bigger due to the decline in defined benefit plans. This trend has been going on for years. There will be more and more money going in to the 401(k) system than there is going out and if annuity-type features find themselves in to plans, the money will likely never leave."
He has more faith in estimates of the 401(k) market published by the ICI, he says. [See immediately below]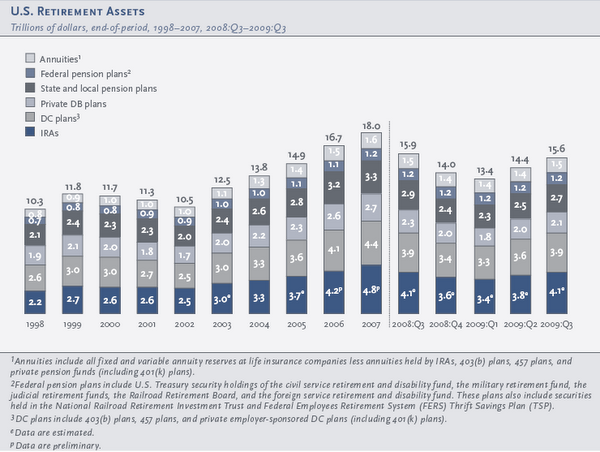 ICI's data differs from Cogent's but
it's also based on estimates
Other observers like David Wray, president of the Chicago-based Profit Sharing/401(k) Council of America say the 401(k) plan's "function as the nation's primary accumulation vehicle is solid and growing."
But he allows that the 401(k) industry is indeed facing challenges because the rate of rollovers to IRAs from aging Baby Boomers will impact providers that focus primarily on 401(k) plans. "There's clearly a conversation going on that might be impactful," he says.
Harvey encourages RIAs not to get too worried about slowing assets into the 401(k) market – especially since RIAs are so well positioned to prosper in the defined contribution market.
Still $3.7 trillion of assets
"It's on the way down but there are still $3.7 trillion of assets in there," he says. "The ideal way to capture the IRA market is to get into the 401(k) market. You have first dibs [on the rollover]."
Indeed, since 2006, IRA ownership has slid by just 5% compared to the 23% slide in 401(k) plan ownership.
"It appears that the majority of dollars that investors formerly allocated to ESRPs have been funneled into IRA accounts and, to a lesser extent, bank accounts. This shift has resulted in the proportion of assets affluent Americans hold in IRAs (31%) to surpass the proportion of assets they hold in 401(k) and other employer-based retirement plans (25%)," says a Cogent press release.
---
---
Mentioned in this article:
---
---
---
Skip Schweiss
I'll agree with Ryan Alfred on this one. The Cogent study results are based upon a survey. Fine organization, Cogent, and I'm sure they took appropriate steps to ensure a valid outcome. The ICI data is not an estimate, as is mentioned in the article. Only the federal pension data is an estimate, if you read the chart. Nor is all data on 401(k) assets estimated. The best source is the government itself, since these plans must file annual reports. Numerous sources pull this data and report on it. Also, future prediction: the 401(k) market is not "on its way down". Mark my words, Mr. Harvey!