One-Man Think Tank: When Wall Street has investors' 'best interests' at heart, watch out
As Senate is poised to take up reform, Ron Rhoades contends the movement to create a "new" fiduciary standard is a campaign of disinformation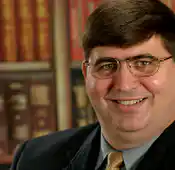 Ron Rhoades: When will Congress stand up to Wall Street?
---
---
---
Stephen Winks
Is Congress really interested in exposing the truth about Consumer Protection?
Does Congress know enough or even care enough to ask sufficiently penetrating questions to expose FINRA and SIFMA misinformation on their desire to act in the best interests of the consumer? Is there no one like Ron Rhoades who Congress can call upon to to penetrate this veil of obscuration to expose the truth and bring clarity? Of course there is, so why hasn't Congress called on Ron?
Now we see how large campaign contributions loom. It is a perversion of Congressional legislative authority that will subvert the best interest of the consumer in deferance to the brokerage/insurance lobby. This is not even a close debate where there is room for principaled disagreement. The consumer's best interests are clearily not being advanced by FINRA and SIFMA and it doesn't take much to prove it.
SCW
Skip Schweiss
Ron, another excellent column on this topic! Stephen, of course you get to the heart of the matter: when Congress is faced with a choice between principle and money, they will choose the latter. Most unfortunate.
Ron Rhoades
April 28, 2010 — 12:53 PM
Stephen, thanks for the suggestion to go to Congress. I can assure you that there are many good people working on this issue on behalf of both consumers and investment advisers – both in Washington and elsewhere. Unfortunately, those who seek to oppose and/or weaken the fiduciary standard of conduct possess about 100 times the manpower and 1,000 times the money. Hopefully, Congress will be wise enough to see through the smokescreen and – at the minimum – not permit the Advisers Act's fiduciary standard to be weakened. Stephen, thank you for your continued writings on this topic, as well.
Skip, thanks for the comment. I hope that Congress is so "angry" with Goldman Sachs and other investment banking firms that they will forge ahead with true reform, despite the many political contributions. Hearing Goldman Sachs execs seek to explain to Sen. Levin yesterday how and why they take positions adverse to their institutional clients was interesting. I'm certain that if the purchasers of that MBS were individual investors, or smaller institutional investors, the hearing would have been even more tumultuous. Thank you, to TD Ameritrade, for continued support of RIAs and the fiduciary standard. Hopefully Congress will not enact any legislation which could effect a lowering of the current bona fide fiduciary standard. In that event, perhaps we can move the debate ahead, and instead of discussing WHETHER a fiduciary standard exists, we can address the specific requirements of the standard, as applicable to RIAs and financial planners.
I found it interesting that, yesterday, as Marketwatch reports, "Former and current bankers at Goldman Sachs Group Inc. disagreed Tuesday about whether the firm has a duty to act in the 'best interests' of its clients, during a hearing Tuesday of the Senate's Permanent Subcommittee on Investigations." Seems to me that there are a LOT of people confused about the "best interests" standard is, when it should apply, and what it requires – including those in Congress. Is this confusion a challenge, or an opportunity?
Skip Schweiss
As with most things, it is both challenge and opportunity. I still believe the vast majority of investors have no clue about the difference between the suitability standard of brokers vs. the fiduciary standard of advisers. Recent mainstream press articles (NY Times) and the Goldman grilling (Sen Collins' comments) I believe are beginning—just beginning—to open the public's eyes to the distinction. Let's keep fighting the good fight!