Michael Wilson: We are trying to cut down on the number of systems an advisor needs to use.
Bright and early on Tuesday morning, amid wind and rain on the West coast, the RIABiz team phoned in for a demo with Michael Wilson, marketing director, and Brian O'Neill, business development consultant, of Chicago-based Morningstar.
When most people think of Morningstar, they think foremost of its research. The Chicago-based company has also enjoyed considerable success with Advisor Workstation, a planning and research platform that has made a big dent with reps in the broker-dealer community.
Yet, somewhat quietly, Morningstar has also been making a strong bid with RIAs since 2004, when it first released Morningstar Office as an online CRM, planning, and research tool. The company added portfolio management tools in 2006 and a client web portal in 2008.
Many companies aim to offer a single, all-in-one product. Morningstar's chief advantage is the ability to put its deep analytics and research at advisors' fingertips from anywhere within its product.
About 1,700 firms are using Morningstar Office, and roughly 1,000 advisors are using the desktop platform, Principia CAMS for portfolio management. Principia, Morningstar's CD-ROM based research and analytics platform, released in 1991, has approximately 16,000 unique users. "There are still enough people who want a desktop solution," says Wilson, a reassurance that its desktop software will continue to be supported.
Usually before the demos, I like to get a feel for the product, so Wilson pointed me to the free two-week trial of Morningstar Office. Wilson noted that the trial version is the exact version paid subscribers receive. Prospective customers can upload real client data to test-drive the system.
My first impression: "Dang, it doesn't work on a Mac." In this industry, being a Mac user means being the minority. But, then I received a phone call from a real person at Morningstar to make sure things were working OK and to see if I had questions. The company's attention to customer satisfaction, which includes free support and training programs, almost made up for having to switch my Mac to Windows mode.
Cut to the Chase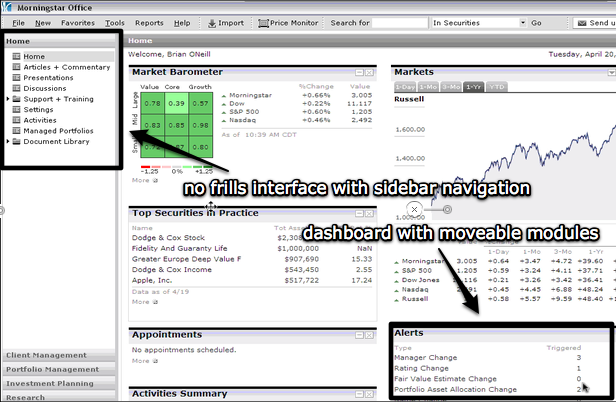 Customizable dashboard with sidebar navigation
Morningstar Office has a no-frills interface organized into a sidebar navigation panel and main content window. It is a similar set up to the Orion Advisor Desktop, but without the fancy icons or pretty colors. See:A closer look at Orion Advisor Services' software and what's in store for the next release The Morningstar Office "dashboard" is organized into modules advisors can quickly scan for an update on the status of their firms, their clients, and the market. Users can drag and drop, add, or remove the modules to customize the layout of the dashboard. O'Neill specifically pointed out the Alert module on the dashboard where advisors can set customized alerts triggered by activity across their firm or pertaining to a particular client or account.
"We are trying to cut down on the number of systems an advisor needs to use and the steps they perform to complete their day-to-day routine," says O'Neill.
With one click in the sidebar, O'Neill showed us the engine room: Morningstar's Research pages. The Morningstar databases provide advisors with data from 100 equity analysts and 40 mutual fund analysts, as well as 1,200 data points for any single fund, and 25,000 total funds. All of this data comes with the license.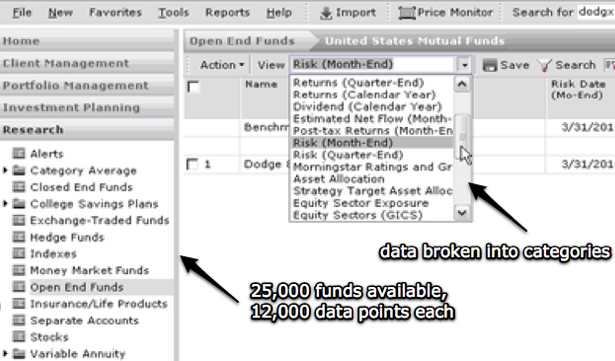 Categorized research data for 25,000 funds

But data doesn't mean a thing unless you know what to do with it. With the research fully integrated into this product, there is no need to import any data, and creating reports is as easy as selecting from a drop down menu. Having research integrated into the product means stocks, funds, and securities are already classified, benchmarked, and ready for reporting, saving advisors time on manually entering data. The reports can be branded with the advisor's logo and company name, and range from simple templates to more technical report styles.
Morningstar Office is a powerhouse of data, functionality, management, and reporting, but the unlimited free training and support may attest to the complexity of this product. The vast amount of data and the things you can do with it is initially overwhelming. The demo reminded me of learning to use Adobe's Photoshop and Illustrator products; both are chock-full of amazing features and can produce incredible final products, but learning how to use them efficiently and to your advantage is incredibly time consuming.
However, I consider that time well spent every time I am able to doctor up a photo in a few seconds or produce a slick logo in a matter of minutes. The same seems true of Morningstar Office; if you take the time to learn what this product has to offer and how to use it, the efficiency and efficacy with which an RIA can do business will increase. It would be great to hear from advisors with reviews or comments on this process.
Pricing
Across the industry, there are numerous pricing models for portfolio management systems based on number of clients, AUM, number of accounts, or some combination of these. Morningstar's price is based on the number of advisors. A 12-month license at (typically) $5,400 per year is good for one advisor and an assistant. This yearly license covers everything from research data to portfolio management to client services and planning. Additionally, advisors are "grandfathered" into quarterly-release upgrades with no additional fees, and receive free unlimited training and support.
The only other possible pay-points associated with Morningstar besides the yearly license are historical data conversions and back office services. "We're not out to make money on the conversions." O'Neill says.
Currently 151 firms are using Morningstar's back office services to outsource the reconciliation of their client data at an average price of $450/month — calculated on a case-by-base basis using number of accounts and sources of import. Wilson notes that this service has seen big growth — almost doubling since 2009 — among breakaways.
"Web-Based"
As I outlined in detail in the Orion Advisor Services article, there are many benefits to having a web-based system, which include dynamic reports, quick fixes and upgrades to the system, hosted data, and simplicity for firms with advisors spread across multiple locations.
Morningstar Office is labeled a "web-based" solution, but in reality it is a web-hybrid consisting of a web-based backend and a necessary desktop component. This model is great for RIAs who value the interactivity and speed of desktop applications and want real-time data updates, quick emailing within the application, and server-side data storage. The drawback is that unlike Orion and Finfolio, Morningstar Office cannot be directly accessed through a browser, limiting advisors to the computer with the desktop application installed.
"What if my internet connection goes out?" Morningstar Office addresses this question in part by locally caching information the user has viewed during the current session. For example, if an advisor pulls up all the necessary pages for a presentation beforehand, the "show will go on" even without a connection during the actual presentation. However, if the user wants to access new or updated data, an Internet connection is required.
Pressing technical concerns
A few of my most pressing technical concerns (i.e. offline work environment, browser-accessible system, and Mac support) are in the works, says Morningstar's, Hailin Li, VP of Advisor Office Solutions. A thin client version — meaning the background computations will be performed via a server instead of your local machine — is being developed for online work through a browser, and will support all mainstream browsers. Safari and Firefox are on the list of supported browsers for the thin client version, meaning initial support for the Mac will come via this browser-accessible version of Morningstar Office. The thin client is tentatively scheduled to be released in first quarter 2011.
Overtime
As usual, there are more features than we can shake a stick at, so here's the bulleted version:
Included CRM; no additional fee.
Client web portal; a clean, simple interface customized with advisor's logo/name; used to upload and present documents to clients.
Educational materials; provides articles, complimentary web-classes, commentary on the market and mutual funds, and other resources to help advisors get started, improve, and expand.
---
Related Moves
February 28, 2020 – 11:09 PM
---
---
---
Mentioned in this article:
---
---
---
Brooke Southall
October 12, 2015 — 6:25 PM
Hi Tim,
Are you commenting on the article above or the one that was published today?
Thanks,
Brooke
Rob
January 16, 2014 — 7:10 PM
Save your money!!! There…you've been warned.
Tim
October 12, 2015 — 6:21 PM
Glad I did not waste our firm's money on this. We were about to pull the trigger and go with this as our rebalancing solution. What happens now to legacy client's? So you now have to buy in to Morningstar Advisor's stand alone product to utilize this going forward? What about advisor's that use a watered down version via their broker/delaer arrangements? This article is very good in one sense that it sounds the bell and alerts the industry, but very lite on specifics.
Nate
December 3, 2020 — 7:53 PM
I was just quoted $14,900 for under 250 accounts and almost $20,000 for 251-500 accounts from Morningstar.
John
September 20, 2013 — 11:37 PM
Signed on with them 6 months ago. Was told I could get my existing data converted. After I signed up I was told "Not so". Data conversion was phased out. New system available by September. Nope, not yet. I'm paying for something I can't use. Looking into their competitors. Tired of being ripped off.