Bob Kleiber: Our fees are up front, on the statement every month. Brokers and insurance agents fees are hidden. Sometimes we have to explain that to clients, again.
Brooke's note: Fidelity is the towering king of the 401(k) business. It is in second place all alone as an asset custodian for RIAs. Now it is making one of its first efforts to wire those capabilities together at a time when RIAs are gaining a big regulatory edge over brokers. See: Why the DOL's proposed 401(k) rules could ding brokers and leave the spoils to RIAs. If Fidelity succeeds in helping RIAs get a leg up in serving the 401(k) market, its new program could be a major difference maker in the advisory industry.
Fidelity Investments is moving deeper into the fast-growing market of RIAs managing 401(k) plans with a new retirement platform that includes access to Fidelity's mutual funds and plan administration services geared specifically to RIAs. The new platform bundles the various components of a 401(k) program, such as recordkeeping, investments, and employee education and guidance as well as the fiduciary support materials for advisors.
Fidelity launched the new product in response to the growth in the RIA channel, says Richard H. Linton Jr., executive vice president, Fidelity Investments Institutional Services Co. "Advisors really have a growing market there," he says.
Similar platform for brokers
The company has had a similar platform geared toward brokers managing 401(k) assets for a decade. That platform administers 3,771 plans with record-kept assets of nearly $25 billion, according to the company.
The 401(k) market is fairly new for many advisors. See: 7 things a financial advisor needs to know to succeed in the 401(k) business. It's governed by a set of regulations that the Department of Labor enforces on RIAs as fiduciaries. Brokers, who manage a much larger share of the assets in the 401(k) market, aren't governed by those regulations.
RIAs earn a fee from the plan. Brokers make their money by the fees wrapped into the products they sell.
Brokers will face greater challenges as fiduciary concerns become paramount to plan sponsors.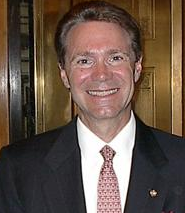 Darwin Abrahamson: This business has really
been controlled by brokers who made
their living off 12b-1 fees.
"This business has really been controlled by brokers who made their living off 12b-1 fees," says Darwin Abrahamson, CEO of Invest N Retire LLC, a 401(k) record-keeper in Portland, Ore. "That market is changing big-time."
The change is coming about because plan sponsors realize they need to provide fiduciary care to plan participants and stock brokers generally eschew taking on a fiduciary burden.
RIAs now manage nearly $1.4 trillion, including more than $230 billion in 401(k) plan assets, according to Fidelity. Even more to the point: RIAs control many of the plans that are in motion in the market. In 2009, according to Linton, 79% of the plans under $50 million that were sold to a new platform were managed by advisors.
25 hand-picked advisory firms
Fidelity launched the product, which is aimed at managers of plans with fewer than $50 million in assets, on a trial basis with 25 hand-picked advisory firms. Today, nearly 80 percent of 401(k) plans under $50 million are sold through an advisor — up from 52 percent in 2003, according to a Fidelity release. New Century Asset Management Inc., a Wayne, N.J.-based subsidiary of Valley National Bank, was one of the pilot firms in Fidelity's product trial.
"It's been ideal for us," says Bob Kleiber, president and CEO of the firm, which has about $300 million in assets under management and an emphasis in advising 401(k) plans.
New Century Asset Management has used Fidelity to custody 401(k) assets in the past. It uses other companies offering mutual funds, too. But in the past, it used a third-party administrator for the reporting, web sites and the client communication required of RIAs by the Department of Labor. TPAs typically charge about $75 per employee and an additional $2,200 a year for filing documents, Kleiber estimated. Those fees are paid by the client plans.
In essence, Fidelity Advisor 401(k), as Fidelity calls the platform, has been taking on that role of third party administrator. For his client plans that have more than $5 million in assets, Fidelity has been waiving the administrative fees. A company spokesman said fees are waived on a case-by-case basis.
Competes with third-party administrators
For Kleiber, that's meant that using the Fidelity Advisor 401(k) is a savings for clients, and that Fidelity is now competing directly with the many third-party administrators in the market.
Vanguard does not have a similar product, in that it does not custody 401(k) assets and serves advisors on a case-by-case basis, a spokeswoman said.
A The Charles Schwab Corp. spokesperson did not respond to a query made for this article by time of publication.
Kleiber particularly values the education support that Fidelity is providing. He meets with employees of 401(k) plans twice a year. Though he enjoys the works, it's tough to get to every location in the seven states in which he has plans. Fidelity is willing to send its staff to provide that client education, he said. Kleiber checked with Schwab about 401(k) products before going with Fidelity. The San Francisco-based broker had nothing comparable, he added.
Fidelity Advisors 401(k) for RIAs was developed jointly by Fidelity Investments Institutional Services Co., which provides investment management services through advisors, and Fidelity Institutional Wealth Services®, which provides custody services to RIAs.
---
---
---
Alison Farrin
It is getting easier to provide the basic service for close to free. But as always, the plan sponsor receives what it pays for. Generally these large "service" providers take whatever information they get from the employer, run the tests and report. So, the Plan Sponsor gets a test, a report and a 5500 – usually based on bad data in the initial submission. That works just fine until they are audited. Then all the issues become apparent and the Plan Sponsor looks for someone to blame, or closes the Plan citing administrative difficulties.
We joke about the retirement administration of one large payroll provider. They have a 100% failure record on correct ADP tests for plans where we have subsequently assumed administration.
They also provide "free" administration for their premier payroll clients. The clients that pay extra for the premier package….....
Bill Sands
Is anyone really believing you can get free admin? Maybe if the plan had one participant. But most companies that look at bundled products are larger companies w/ a lot of employees. If anyone is getting paid hidden fees, it would be Fidelity. They're getting paid…one way or the other.
Phil Chiricotti
October 21, 2010 — 2:05 PM
When digesting this article, your readers might want to note that the DOL does NOT have a set of enforcement regulations for RIAs. DOL regulations deal with fiduciaries. Anybody can be a functional fiduciary. Furthermore, RIAs/IARs may not be ERISA fiduciaries when serving a retirement plan. It depends on the services that are performed. Fiduciary status under ERISA is not the same as fiduciary status via securities licensing.