News, Vision & Voice for the Advisory Community
Geography becomes a greater concern as the Boomers become snow birds
April 20, 2010 — 6:38 AM UTC by Elizabeth MacBride
After reporting a story about Ric Edelman's planned expansion to eight cities, I was curious about the distribution of wealth in the United States. Which cities were wealthiest? Which might be fertile territory for investment advisors with expansion aspirations?
Even those without a national agenda may need to start keeping a closer eye on geography. Common sense suggests that as the Baby Boom bulge gets closer to retirement, the wealthiest Boomers will migrate to the places they've always wanted to live.
Gary Carrai, senior managing director of consulting and sales for wealth manager Fortigent, of Rockville, Md., says that one of the outsourcer's RIA clients, located in Cincinnati, opened an office in Florida as more of its clients established second homes there.
That idea is borne out in the data that research firm ESRI produced for RIABiz. True, the working cities of the East Coast megalopolis are well represented among the metro areas where more than 3% of households have more than $200,000 in disposable income.
Retirement zone
But there are many more sunbelt cities: the retirement zone.
So, a second office in Boca Raton, to keep up with your clients' second homes? That doesn't sound like such a bad idea.
One note: the cities on this list of places where more than 3% of the wealthiest households are also those that weathered the recession fairly well.
Nationally, households with disposable income of more than $200,000 numbered 2.4 million in 2009, or 2.1% of households. In 2008, 2.3% of households had that much disposable income; in 2007, 1.7% did.
Fell off the list
Between 2008 and 2009, the following cities fell off the list: Baltimore; Cape Coral-Fort Myers; Hartford – West Hartford; Santa Rosa; Anchorage; Chicago-Naperville – Joliet; Bradenton – Sarasota – Venice; Philadelphia – Camden – Wilmington; Houston– Sugar Land – Baytown; Manchester – Nashua; Santa Fe.
Below are the metro areas where more than 3% of the households had disposable income greater than $200,000.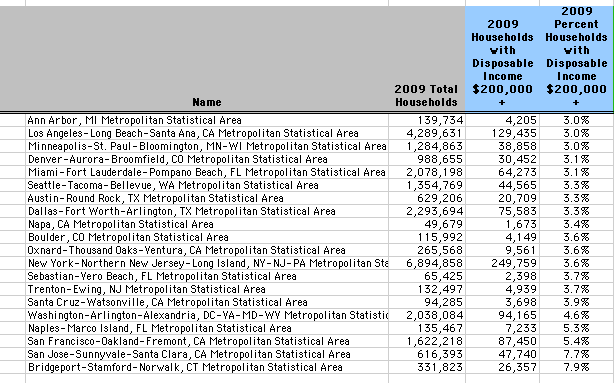 The number of households with plenty
of disposable income shrank between 2008
and 2009, but these metro areas
held up.
ESRI Data Note:
CBSA Metropolitan Demographics
This table lists the demographics for all of the metropolitan areas in the U.S.
Disposable Income is defined as after-tax household income.
Disposable income forecasts are based on the Current Population Survey, U.S. Census Bureau.
Income represents the preceding year, expressed in current dollars.
Household income includes wage and salary earnings, interest, dividends, net rents, pensions,
SSI and welfare payments, child support and alimony.
ESRI's Demographics – 2009 estimates.
For more information about ESRI's data products, call 1-800-447-9778 or visit www.esri.com/data
---
---
Share your thoughts and opinions with the author or other readers.
http://hard-games.eu/forum/member.php?action=profi said:
June 26, 2014 — 7:52 AM UTC
The most beneficial website app even so will be the YouTube software, along with the 3G connection YouTube video clips buffer very swiftly and there exists nothing like showing someone that funny YouTube clip that you saw as a substitute of just telling them about it. The built-in WiFi means which you can use your dwelling ADSL instead of the 3G connection. The iPhone's multi-touch display is actually a excellent interface and it makes applying the telephone an addictive knowledge, while the sounds make the display seem as responsive to be a normal keypad until finally you attempt an SMS. The iphone OS is extremely person welcoming and the layout helps make accessing each of the capabilities simple. Apple hasn't included iTunes which means you will need to download it being able to transfer music and movies on the apple iphone.
http://www.helmig.com/emailme.htm said:
June 26, 2014 — 9:18 AM UTC
Initially, the objective of having digestive pure nutritional supplements is shateringly plain — they are really plainly meant to increase digestive overall health. Nonetheless, 1000's of people just about every year consider without truly focusing on how they operate, or why their digestive tract requires the assistance to begin with. With out entirely focusing on how the digestive tract performs and what sorts of matters will go erroneous by making use of it, it's not hard to select a digestive supplement that is not suitable for the unique dilemma, or even worse, increase the severity from the problem or maybe provides a replacement.
---
---