News, Vision & Voice for the Advisory Community
Taking the attitude that any client with $25 million is a good client leads to trouble
March 9, 2010 — 5:58 AM UTC by Janelle Sallenave, Guest Columnist
Elizabeth's note: This guest column, by Janelle Sallenave, vice president of client experience at Schwab Advisor Services, offers a path for advisors eyeing the multifamily office bonanza. Definitions of ultra-high-net-worth vary, but for purposes of this column, it's $25 million or more in investable assets. The path to serving the ultrarich is more or less clear, but once you're on it, you might find it a little strange. The super-rich demand another world of service beyond the traditional strengths of many RIAs. Do you know a party planner who can reel in Madonna's makeup artist for a teen-ager's birthday party? Have a line on an appraiser willing to accompany an Imari collector to Europe? Are you equipped to cope with the disputes that arise as the scion of a wealthy family takes a greater role in a family business? One of the most important takeaways from this column is how much time you'll need to spend considering exactly which clients your RIA is equipped to serve.
These days, a growing number of RIAs are looking more closely at the multifamily office (MFO) business model as they strive to move up-market and serve ultra-high-net-worth families. The appeal of working with affluent clients is obvious — and thanks to RIAs' skills in client relationship management and investment management, and their reputation for transparency, RIAs are definitely suited to address the needs of multiple generations of highly affluent families.
That said, the challenges involved in transitioning an advisory practice to an MFO structure can be immense. If you're considering entering this market, you should ask yourself these six key questions to determine if it's the right move for you:
1. Who will you serve?
When identifying an ideal MFO client, it's imperative to look beyond a simple asset target. The reason: Two ultra-affluent families with the same net worth could face extremely different challenges that require vastly different services. Consider, for example, how the needs of a family with a young entrepreneur patriarch might differ from the needs of a large, geographically diverse family with inherited wealth. It's important to look for prospective clients who are highly aligned with you in terms of their overall approach and philosophy. Virginia-based Signature Financial Management, for instance, seeks to work primarily with highly successful business owners and executives who possess certain characteristics, like the willingness to delegate and a desire to use their wealth to achieve meaningful goals. According to co-founder Susan Colpitts, "We want to be the trusted advisor to people who view wealth and its potential as we do. It's important to work with like-minded people."
2. What is your value proposition?
Once you've identified your target clients, you must determine the suite of MFO services that will add value and differentiate your practice. Signature focuses on providing sophisticated active investment management strategies and other solutions designed to help business owners and top executives navigate the implications of large corporate transactions. "Liquidity events require continuous tax planning, estate planning and cash management," says Colpitts. "We have a deliverable … to ensure that all clients receive a consistent offering that is grounded in our core competencies."
Another key area of value that differentiates MFOs is the lifestyle management services that support ultra-affluent investors' non-traditional needs — which, depending on your target client base, might include services such as family governance, bill pay, art valuation and private aviation services. Family governance is an integral part of Pittsburgh-based Guyasuta Investment Advisors's value proposition.
"Facilitating family meetings, serving as independent trustee and helping families develop a unified purpose and values around their wealth are some of the most important things we do for wealthy families," says Peter Mathieson, president. "We think that these discussions help family members recognize that their true wealth is much greater than the totals at the bottom of their balance sheets."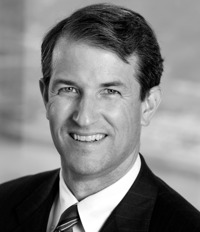 Peter Mathieson: Ultra-affluent investors expect the
best there is, which means formally
evaluating potential partners and providers is
extremely important.
3. What MFO-level capabilities do you already offer—and where do you have service gaps?
Identify any areas where you're currently delivering MFO-level value. Then identify gaps where you need to make investments to shore up your capabilities. The specific service gaps will depend on each advisor's target market and value proposition, but most advisors who transition to an MFO model need to add at least a few lifestyle management capabilities aimed at ultra-high-net-worth families. You also may need to enhance some of your existing services, technical skills and technologies, as responsibilities like asset allocation, tax planning, coordinating trust work and net worth reporting can become significantly more complex once multiple generations are involved or a family business experiences a liquidity event.
4. How will you fill those key service gaps?
MFOs often choose to provide some services internally using existing or new resources, and outsource others to third-party providers or strategic partners. What can drive the "in-house versus outsource" decision are factors such as how much control over the offering you want to have, whether there is adequate client demand to warrant spending the money needed to create and manage the service internally, and your ability to provide the level of required service.
"The affluent demand excellence, so you have to look at any potential offering and ask if it's something you can be excellent at or if there's someone who can do it better," notes Colpitts, whose firm has opted to handle investments in-house but outsource tax work to a specialist. "There are so many specialized experts out there who want to work with these families that it really pays to partner instead of trying to do it all yourself."
Indeed, outsourcing can be a key component in top MFOs' success. The costs of providing the full range of services in-house that ultra-affluent clients might need can quickly add up and significantly erode profit margins. Outsourcing can allow the MFO to stay focused on the high-value, high-margin services at the core of the client relationship.
That said, the ultra-affluent have high standards — which means successful outsourcing for MFOs requires partnering only with high-quality providers of particular products and services, and managing the relationships to ensure flawless delivery and results. "Ultra affluent investors expect the best there is, which means formally evaluating potential partners and providers is extremely important," says Mathieson. "Our professional partners need to be technically superb, of course, but they also need to share our passion for always putting the client's interests first," he emphasizes.
5. How will you price?
Being acutely aware of how much it costs to serve your clients so you can price accordingly is critical, of course. Signature, for example, has rationalized every one of its clients' fees, and created a fee structure the firm is confident accurately reflects the true cost of the specific services provided. The fee can be adjusted as families' situations evolve. Most clients at Signature, for example, pay a flat fee that differs from client to client based on the level of complexity required to meet a client's needs. That means Signature is compensated appropriately by clients who require time-consuming services, like evaluation of private equity opportunities, that wouldn't accurately be reflected with an assets-under-management fee structure.
Advisors like Mathieson see value in a flexible approach to pricing. He applies a combination of an AUM fee for investment-related services and a retainer fee for family governance and non-traditional services that are especially time-intensive.
6. How will you ensure that you accept only ideal new clients?
In the MFO arena, the belief that "any client is a good client" can quickly lead to trouble if non-ideal clients consume precious time and resources, eroding profits and making life difficult for advisors and their teams. That was the case in the past at Signature when the firm attempted to serve non-delegators. Colpitts says her firm has identified at least four areas that must be examined to ensure a good fit: investment beliefs that include basic relationships between risk and return; risk profile as it relates to income and estate tax strategies; willingness to delegate minor decisions; and ability to trust. "We have found that if these things don't match, a lot of things suffer—particularly the client's sense of satisfaction, our sense of a job well done, and our margins. Over time, we've gotten better at recognizing the prospects that will make good long-term clients," she says.
The solution: Stay focused on your ideal client profile by taking plenty of time to get to know prospective family clients. Profile prospects based on your selection criteria and consider using a committee review process to determine if prospects should be accepted. Above all, be willing to say no to a prospect who isn't a good fit. Say Colpitts, "It's our firm belief that to be successful in the MFO space, you don't have to have a huge percentage of the market." Rather, she concludes, "You just need the right clients for you."
Of course, there are risks, but evolving your practice to the MFO model can be a rewarding experience in many ways. If you want to be sure to set yourself up for success, however, you will need to take time to explore the answers to these fundamental questions.
Janelle Sallenave is vice president of client experience at Schwab Advisor Services. For more information about Schwab Advisor Services Family Office Group, contact schwabfamilyoffice@schwab.com.
_Experiences expressed are no guarantee of future performance or success and may not be representative of your experience. The mention of the above advisory firms is not, and should not be construed as a recommendation, endorsement or sponsorship by Schwab. Third party firms and their employees are not affiliated with or an employee of Schwab. You must decide whether to hire any firm and the appropriateness of their services for you or your firm. Schwab does not supervise third party firms and takes no responsibility to monitor the services they provide to you.
Schwab Advisor ServicesTM serves independent investment advisors and includes the custody, trading and support services of Charles Schwab & Co., Inc. ("Schwab"). Independent investment advisors are not owned, affiliated with or supervised by Schwab._
---
---
Share your thoughts and opinions with the author or other readers.
Sandor Cora said:
August 7, 2012 — 9:18 PM UTC
Unfortunately these essential 6 steps are not taken by most of the new companies claiming to be a family office. Especially wealthy families which do not have a lot of experience with wealth management as they have always had their wealth locked up in in their family business, face a big challenge finding a proper family office once they need to manage their bankable wealth after selling their family business. So far there is only one company in the world assisting these kind of families in finding a proper family office (see: http://www.switzerland-family-office.com ). The majority of new family offices are former bankers which claim to be a family office as they know this service is 'in fashion'. They only start looking around to offer additional services once asked by a client, but in most cases this is not done professional. This is not a good development for the high quality family office business.
Candy Barto said:
September 1, 2016 — 1:39 PM UTC
Helpful ideas – Coincidentally if people a AU Form 16 , my boss filled a fillable form here "http://pdf.ac/a1pFXo"
---
---