Dan Kurt: Advertisements are counterproductive for what we are trying to do
Brooke's Note: In my article: The 11 though 20 things that show the RIA market is really heating up, I noted that websites devoted to RIAs are starting to spring up. RIA Central is one of them that has put substantial organized effort into creating an online community. We were as curious as you might be to see what such a site might look like. It's interesting and this review shows what we saw.
As social networking continues to take center stage in the online world, it has become difficult for niche industries to establish their place in the noise of the most popular networking sites like LinkedIn and Facebook.
But a new website aimed at becoming a de facto Facebook for registered investment advisors has a plan to overcome those difficulties. Called RIA Central, it has been in the works for two years but came out of beta in January and it is starting to gain some momentum, according to Daniel Kurt, RIA Central's director of business development, who spoke with RIABiz on Wednesday.
RIAs are considered a ripe market for social networking because – unlike their wirehouse brethren – their fragmentation means that they operate tiny islands.
Crave connection
Many of them crave connection to a community of peers both for practical and emotional purposes.
Traditionally, this has occurred through publications, industry conferences and chat rooms. A social networking website, the thinking goes, could serve as a sort of ongoing virtual industry conference of content and connections.
The reality of course is that people don't just log-in to a new web site because it's "there." They certainly won't begin sharing meaningful thoughts about themselves – never mind their businesses.
Incidentally, Kurt differentiated RIA Central's content from RIABiz by stating that we are more of a news site and his company seeks to help advisors with information relevant to the nitty gritty of running their practices.
This is largely the case though RIABiz has columnists and other writings. RIABiz does not have a social networking infrastructure.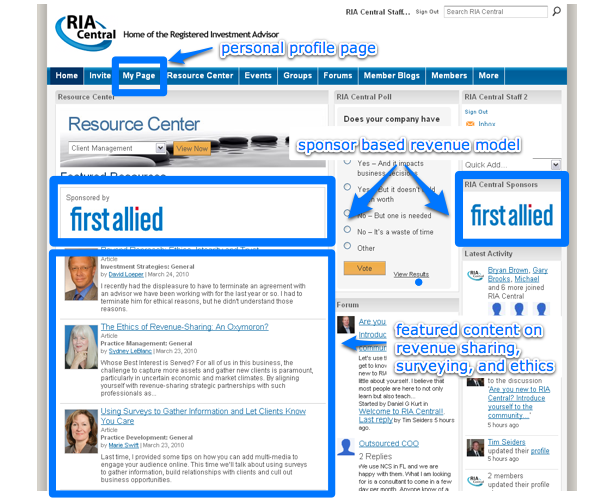 The plan of RIA Central's founders is to make the website rich enough in content that it attracts a big membership. With the right critical mass, it could spur the kinds of spontaneous, self-generated interchanges that are the engine of success of the most successful social networking sites.
Due to the substantial amount of content, navigating the Resource Center in RIA Central takes some practice. My biggest qualm is the sidebar navigation that lists the detailed set of resources (i.e. Compliance, Wealth Management, Retirement Plans, etc.) disappears when the user clicks on a video or a podcast link. This means starting over by clicking on the top Resource Center tab again.
The difficulty with being an "all-in-one" type of site is finding a good balance between a clean, easy to navigate environment and overwhelming users with features, content, social networking tools, events, etc.
Although RIA Central tries to lead its users to information with compartmentalized content modules and indicative naming conventions, there is also a learning curve to finding what you need quickly and knowing what is available on the site.
Facebook familiarity
The good news: By borrowing Facebook profile page conventions, RIA Central gives its users a sense of familiarity with the functionality. RIA Central offers personal profiles complete with photo and bio, a news feed, a chat client, status updates (e.g. "Just listened to the 'Unconventional Wisdom' podcast. Really great stuff."), comment walls, personal blogs, and "friend-ing" capabilities.
Unlike Facebook, you will not see advertisements running the length of the right rail of your RIA Central profile page. Kurt told us that "Advertisements are counterproductive for what we're trying to do," because as he explains, if RIAs want to know specifics about a company they can seek out more information through resource pages and peers. The current revenue model is instead based on payments from sponsors.
A future source of revenue for RIA Central will be a premium membership option. This option will give subscribed RIAs opportunities to attend periodic sessions, internally known as Coaching Programs, led by top coaches in the industry on topics like increasing fees.
Kurt states that some programs will "require specific AUM levels to ensure that meaningful interaction can be facilitated between a small group of true peers."
Competitors
RIA Central is one of four RIA-focused social networking sites we know of, the other three being LinkedFA, RIAMarketplace and AdvisorTweets. Kurt told us that RIA Central's focus on advisor to advisor interaction sets it apart from LinkedFA, which facilitates advisor to client to prospect interactions. AdvisorTweets is quite different in that it mostly aggregates the Twitter content of financial advisors.
A big difference between RIA Central and RIAMarketplace is that RIAMarketplace is a LinkedIn-based website, and in addition to welcoming RIAs it invites any person who can demonstrate a sincere connection or interest in RIAs. This includes people in the financial industry who market to them.
RIA Central has turned away about 100 people thus far who do not fit the company's criteria, Kurt says.
"It's slowing our growth down for sure, but I think the most important thing is to remain pure as a community of peers," Kurt says. His patience about site growth is attributable to the financial support of its parent company, which means RIA Central can afford to grow organically, he adds. There is plenty of room for growth. There are about 28,000 RIAs including both state and federally registered practices and hundreds of brokers are converting their practices to RIAs each year.
In order to ensure that members are the kind "they're looking for", a screening and registration process are required to join. Apparently it's effective; I'm still waiting for approval.
Background
RIA Central was launched in December 2008 under its parent company Fugent, which facilitates web-based meetings, according to the company's website. Currently, RIA Central has about 400 members and is growing at a rate of 30-40 new members per week. Kurt gives credit to word of mouth and some search engine optimization for RIA Central's increasing membership.
Kurt declined to disclose what kind of back-end architecture RIA Central uses but he allowed that their proprietary code was augmented with a variety of off-the-shelf web applications.
Conclusion
RIA Central has been working to push content in various media formats on various topics for various types of RIAs. The site is chock-full of resources and ways to interact with your peers.
---
Mentioned in this article:
RIA Central
Blog/Social Networking Tool
Top Executive: Dan Caldwell
RIABiz.com
RIA Publication, Blog/Social Networking Tool
Top Executive: Brooke Southall
---
---
---
Stephanie Sammons
I think these types of social networking communities are the next wave of social media, and the successful ones will be centered around people and professionals with common interests, issues and goals. My congratulations to all of you who have launched these venues. Facebook and even LinkedIn are not pure platforms anymore as they continue to be diluted by spammers and marketers…and most everything is public. Stay tuned, our company (Wired Advisor-http://www.wiredadvisor.com) will be launching a unique social network as well in the coming months!
Vince Esposito
Thanks for the mention, Pat!
I love what you guys are doing at RIA central…the FA community needs more sites like this. We have a similar philosophy at https://advisorconnect.groupsite.com/join .
To date, we have 130 Advisor members from across the country with books ranging from $25 million to several hundred million. Most advisors are independents, working through broker/dealers. Some are RIAs. Collectively our advisor members manage over $5 billion in assets – mostly in fee based accounts – with a diverse mix of stocks, bonds, EFTs, funds, and alternative investments. Each advisor brings different experiences and unique perspectives to the community and powerful social tools on the site allow advisors to exchange, capture, and share knowledge, resources, and best practices with each other anytime. It's like having all of the networking and educational benefits of being at a conference at your finger tips – whenever you need it – and without ever leaving your office. Come check it out! https://advisorconnect.groupsite.com/join
Bill Ward
Another site that allows advisors to communicate with each other, as well as industry thought leaders, is Andy Gluck's Advisors4Advisors. Advisors4Advisors also offers webinars on key topics, industry related news, and technology reviews by members who use the software/hardware being reviewed in their own practice. We have found the site to be a valuable resource in our practice.
Pat Allen
Thanks for this coverage on RIA Central. It's fascinating to see RIAs and other financial advisors using networking platforms to get together online.
Two other sites that we're aware of are the Financial Advisor Forum (http://fintech.ning.com/profiles/members/), which has 302 members as of this morning, and AdvisorConnect at http://advisorconnect.groupsite.com/join. Both vet their members as RIA Central does.
We also appreciate your mention of AdvisorTweets. While it celebrates social networking in the sense that it aggregates what advisors of all stripes are tweeting about, it is not actually a site where advisors interact.