Suzanne Siracuse: It diversifies us.
In a sign that it means business in the research industry, InvestmentNews has hired an executive to oversee custom research for companies.
The advisory world's largest trade news publication hired Kelli Cruz away from Schwab Advisor Services, where she was a director in the business consulting division. At the San Francisco-based RIA custodian, directors report to vice presidents.
She still has another week of work to complete at Schwab. Cruz begins her new job with New York-based InvestmentNews on April 12. She will work from her home in Mill Valley, Calif.
Cruz was primarily hired to oversee custom research – something for which there is an increasing demand in the industry. Custom research is qualitative and quantitative information collected directly from the "horse's mouth" — the market you want to reach, according to Gartner Custom Research. It is proprietary, conducted solely for the hiring company alone, and it is specific to its product line or service.
The departing Schwab employee has some admirable strengths, according to Stephanie Bogan, CEO of Quantuvis Consulting who has crossed paths with her in the business.
Extremely capable
"Kelli is an extremely capable person," she says. "She doesn't have a research background but she has a strong human capital background."
Suzanne Siracuse, publisher of InvestmentNews, who hired Cruz, became interested in her after Cruz acquired data from the publication for Schwab's online compensation tool. She also observed Cruz at Schwab's M&A workshops. "She's a terrific speaker," Siracuse says.
InvestmentNews's decision to hire Cruz follows on its purchase last year of two industry studies formerly produced by Moss Adams LLP of Seattle. For more on that read: Will the real Moss Adams please stand up?
The Crain Communications news publication relies on its weekly tabloid print version to generate a substantial portion of its revenues.
Publications face challenges
Many print publications are facing challenges to growth because consumers seek news online and advertising budgets devoted to newspapers have been shrinking.
InvestmentNews recently launched a redesign of its online news site. The publication's move deeper into the research business is intended to reduce its dependence on its traditional revenue sources, according to Siracuse
"This is so different from what we started out to do," she says. "It diversifies us."
InvestmentNews is both a news and information source and its move into industry research is an expansion of the informational side of the business, she explains.
Substantial custom research opportunities
But though the opportunities in the custom research business are substantial in the wake of Moss Adams' withdrawal from the market, InvestmentNews may face some substantial competition from more traditional consulting and research practices, Bogan says.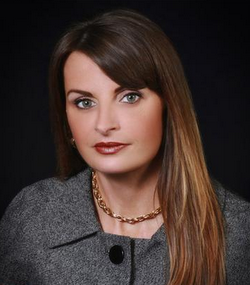 Stephanie Bogan: I'm sure they'll get
business out of it. We just
have a lot more depth and
breadth and we have a lot
more capacity.
"I'm sure they'll get business out of it," she says. "We just have a lot more depth and breadth and we have a lot more capacity." Quantuvis has 24 full-time employees including 12 on the research and consulting side of the business.
But Siracuse believes that InvestmentNews has already proven that it has at least one advantage in the research business over many of its competitors.
Research studies depend upon getting large samples of responses from financial advisors, and InvestmentNews has proven itself adept in making this happen. "We have a loyal readership," she says. "When we ask them to participate in something, they do."
Yet Bogan says her firm has no difficulty soliciting the survey responses it needs.
No trouble getting data
"I have no trouble getting data," she says. "In our first surveys we had more participants than Moss Adams had after nine years."
Another way that InvestmentNews will be able to leverage Cruz's capabilities is by having her help to produce workshops and webinars to deliver information, according to Siracuse.
"It's a complete experience and not just a research book," she says.
Bogan says that InvestmentNews will face some challenges because it continues to utilize the Moss Adams brand name for its consulting business.
Cruz gives product a face
Moss Adams studies are no longer produced by the people like Mark Tibergien and Rebecca Pomering who made the studies famous and people are aware of this branding issue, she adds. Cruz could be very helpful in giving the Moss Adams-branded research offering a face, she adds.
Siracuse is also hopeful that Cruz's Schwab background pays an extra dividend.
"[Schwab] is a client," she says. "We hope they'll become an even larger client."
---
---
Mentioned in this article:
Moss Adams
Consulting Firm
Top Executive: Rebecca Pomering
---
---
---