Heather Underwood goes deep into the made-for-RIA features of BrightScope's website
Author's Note: After reading Brooke's recent article, Blog battle: Vanguard 401(k) principal and president of 401(k) tracker have it out over the Internet which involved a debate over the merits of the BrightScope rating system, it seemed appropriate to give the tracker's technology a closer look. Here is what came of that one-on-one exchange.
401(k) plans have been around since section 401(k) of the Internal Revenue Code was enacted into law in 1980. Almost 30 years later the data for these plans is still an archaic mess. BrightScope, the San Diego startup, burst onto the scene in January 2009 with its sights set on "helping millions retire with dignity," by giving them the information they need to understand their plans, according to Ryan Alfred, BrightScope's president and co-founder. Alfred and his team have done the manual-data-entry dirty-work for 401(k)s, and on Tuesday Alfred gave us a tour of how BrightScope has made sense of all those dusty boxes of data.

The slick single search-box interface does not immediately make it clear how many services BrightScope offers or how much data it has to work with. In fact, the simple look of the site almost misleads a user into thinking it doesn't have much to offer; I was proved wrong when just minutes into the demo my hand was already feeling the burn of rigorous note taking.
Many of BrightScope's basic features can be used by employees looking to find out more about their company plans and plan sponsors looking to compare their plan with others.
Designed with advisors in mind
But the site is largely designed with RIAs, brokers and plan consultants in mind. They're the ones likely to pay for BrightScope's subscription-based services like Advisor Central and Plan Management Dashboard for prospecting and benchmarking. [For more about how much these services cost, read further.]
I am a big fan of multiple file formats and sharing flexibility, so one of the first things I noticed about the BrightScope site was the ample number of ways to share, print, and save documents and information.
The site gained additional brownie points for having simple hover-over explanations of site features, instead of separate help pages and lengthy descriptions of low-level details. BrightScope's attention to consumer demand is apparent.
First Visit to the Site
Anyone can go to the BrightScope site and look up a company's BrightScope rating for free. Typing a company's name into the Google-like search box provides consumers with high level information about the plan like which plans it was compared against (known as its Peer Group), the top three investment holdings for that company, and a breakdown of plan components. The plan components decompose the rating into things like Total Plan Cost, Company Generosity, and Participation Rate to illustrate how a plan measures up to the competition.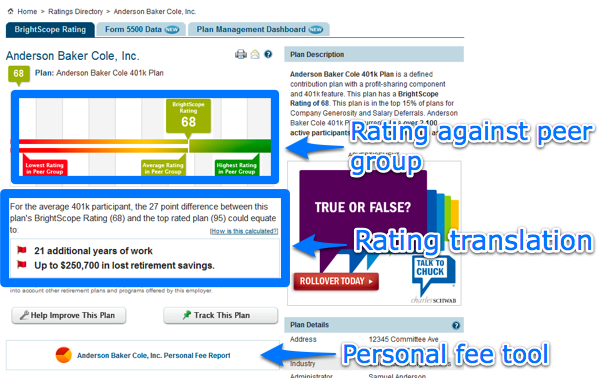 BrightScope Rating page shows consumers high
level information about their plan
Rating Methodology
A common misconception about the BrightScope Rating is that it is obtained via a weighted average of the Plan Components (i.e. Total Plan Cost, Company Generosity, Participation rate, Account Balances, etc.) However, BrightScope uses real retirement income information to run roughly 10,000 simulations for a given plan. The output? 10,000 simulated retirement ages. BrightScope uses the median retirement age to rate the plan; the lower the age, the higher the rating.
As for the accuracy of BrightScope ratings, I am unable to say much without having empirical data to confirm its model.
The basic idea behind peer groups is to show plan sponsors how their plans compare with those of similar sponsors. As Alfred said in his blog response to Steve Utkus of The Vanguard Group, "...there are plans that score a 50 that are above average in their peer groups and plans that are 65 that are below average in their peer groups." By grouping companies based on the number of participants in the plan, the level of assets in the plan, and the industry of the sponsor, BrightScope is able to provide relevant comparisons.
A more detailed description of how BrightScope ratings are calculated and the Peer Group algorithm can be found on BrightScope's FAQ page.
Register
If you register with BrightScope — for free — you can delve deeper into the information BrightScope has to offer. As a registered user, you will be able to upload current documents (Audit Reports, Form 5500, etc.) to help BrightScope give your plan a more accurate rating, leave comments on plan pages, and use the recently added Personal Fee Tool, which allows users to view plan fees and the projected savings with that plan.
The addition of the Personal Fee Tool in mid-January has given consumers and advisors access to information that Alfred told us was previously almost impossible to obtain. Because plan sponsors are not required to disclose fee or revenue-sharing information, most don't. By combining platform-specific and publicly available data BrightScope, is able to derive the fee information that the "record keepers" aren't disclosing.
By tweaking a few sliders to reflect your age, annual income, and investments consumers can view the fees they are paying and their projected savings with that plan. Despite my personal dislike of using sliders for data input (as they are hard to get right with a track pad), the amount of effort to fill out the form is minimal and your fee information immediately accessible.
The Plan Data Vault is a simple document uploader where consumers can view sample documents and upload current PDFs of Audit Reports, Form 5500s, etc. Alfred reported the volume of these uploads to be substantial enough for one BrightScope employee to spend several hours a day going through them. I gained a sense of BrightScope's power as an information provider when I didn't need to verify my association or employment with Google, Inc. to upload an Audit Report for them. Hopefully that BrightScope employee is spending a lot of his or her time verifying the validity of the vault.
As a quick disclaimer, I did not upload any documents for Google Inc. on BrightScope's site.
Subscribe
If you are an RIA looking to get into the 401(k) business or if you already manage 401(k) accounts, BrightScope has designed several subscription options for you.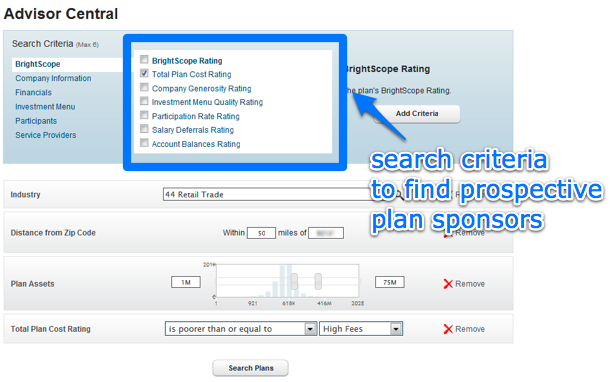 Advisor Central allows RIAs to search
for prospective plan sponsors based on
various criteria.
Advisor Central (soon to be renamed) allows subscribed RIAs to search for sales prospects based on a broad range of criteria such as zip code, plans in certain asset ranges, total plan cost, etc. This service can range from $7,500 a year for 12 reports or more depending on how much prospecting an advisor is doing. The custom reports are tailored to the specific companies RIAs wish to approach and can be customized with the RIA's logos and company information. In addition, all reports bear the BrightScope logo and information disclosure statement, giving third-party credibility to report data. Advisors can now approach potential clients with custom reports, existing knowledge of the company's plan, and BrightScope's seal of approval.
"The 401(k) market historically just hasn't been very transparent," Alfred said. "There hasn't been a way to really go in there and say 'which plans are performing well, which plan's aren't?' And ultimately this makes the market a little bit more efficient, so that an advisor can do a better job of finding plans that need help."
The pay-per-report pricing system is somewhat restrictive, but Alfred explained that this scheme actually gives RIAs a local advantage by preventing hundreds of reports flooding prospective plan sponsors, ultimately protecting plan sponsor data.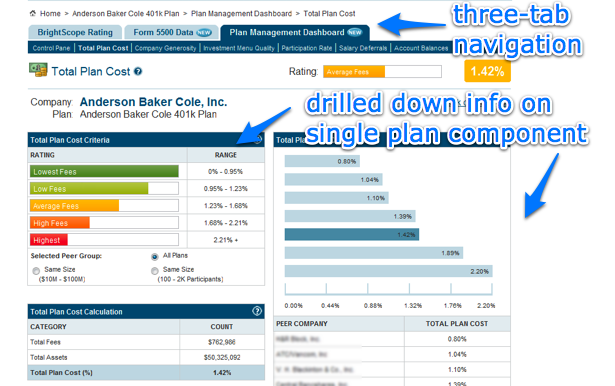 The Plan Management Dashboard drills down
into how similar plans compare.
For RIAs already managing 401(k) plans, BrightScope offers the Plan Management Dashboard. According to Alfred, this tool "allows small advisory firms to seem like large consulting firms." With the dashboard's benchmarking tools, RIAs can create custom Peer Groups, dynamically manipulate data to simulate the effects of plan adjustments on the fly, and create unlimited reports for that plan sponsor.
The dashboard is an annual subscription service priced from below $500 up to $15,000 according to a plan sponsor's size and number of plans, complexity of data integration, and number of custom funds. Since the dashboard pricing is annual per-sponsor instead of per-report, RIAs can generate as many reports as they want. RIAs managing multiple plans can subscribe to multiple dashboards, one for each plan. Alfred mentioned that BrightScope would allow plan sponsors to subscribe to their own dashboard, but told us that it is often cost prohibitive.
Feature Complete
During the demo, Alfred made it clear that BrightScope deals with data, not advice. However, there may be an opportunity for the budding company to extend offerings to match plan sponsors with RIAs based on relevant criteria. "We've been holding back on doing this because we are worried about the conflicts that it would create," Alfred said.
Complaints?
The biggest complaint BrightScope receives is that its data is out of date. The data currently on the site is from 2007, and Alfred admits that the company is pushing the limits of consumercomfort zones when it comes to "current" data.
The problem is about to solve itself. Before this year, annual plan reports were not required to be filed electronically, creating up to a five-year lag between filing and public release by the Department of Labor. This year is different. As of January 2010 all reports must be electronically filed with the EFAST2 electronic filing system, making data immediately available. In July/August of this year, BrightScope's site will begin to reflect 2009 data.
RIAs want more reports for their annual subscription price. This is the second most-received complaint that Alfred gets from BrightScope subscribers. The pricing is more expensive than many RIAs are accustomed to paying for information on sales prospects. BrightScope believes that due to its painstaking efforts to ensure the quantity and quality of its data, RIAs are getting a good deal. "If an advisor uses our prospecting tool and wins one new plan, they should be able to pay for their entire subscription," said Alfred. "Our hope is that they're going to win multiple new plans, and a lot of them have already seen that that's the case."
I would like to hear what RIAs using BrightScope's prospecting tools have to say about their personal cost-benefit experiences.
Conclusion
I asked Alfred if he has dealt with companies questioning the legitimacy of BrightScope data. In retrospect, I should have asked how he deals with it, because the David and Goliath story of emerging startups is always riddled with criticism. He responded by saying that the first six months after BrightScope launched were spent walking consumers through the details of data acquisition, grouping algorithms, and service offerings. The results of these initial efforts can be seen in the growing acceptance of its rating system and BrightScope's expanding customer base.
As more data becomes publicly available and Brightscope continues to break down the barriers of accessing and analyzing 401(k) data, it will rely on its "first mover" advantage to maintain its leadership in this business. Alfred points out that it will be difficult for future companies to replicate Brightscope's growing client base and publicly available tools because of Brightscope's substantial head start, the growing acceptance of its rating system, and its attention to data quality and accuracy.
After my first tech review on Orion Advisor Services, I have been busy learning more about the financial advising industry than I know what to do with. As a technology reviewer, I would love to get your feedback on what aspects of RIA-targeted software, websites, etc. you are most interested in hearing about, and I will try to highlight those aspects in my upcoming articles.
---
---
Mentioned in this article:
---
---
---