Ryan Alfred: I would have expected Mr. Utkus to do a little bit more research before reaching this erroneous conclusion
A chief in The Vanguard Group's retirement division and the head of a leading 401(k) tracking company are having an intense exchange of written words – by blog.
Steve Utkus, principal and head of the Vanguard Center for Retirement Research of Malvern, Pa., provoked the transnational exchange on Monday by calling out BrightScope of San Diego for the way it rates defined contribution plans in this blog posting.
BrightScope tracks 401(k) plans the way Morningstar tracks mutual funds. Utkus, who works for the number two 401(k) provider, complimented this type of tracking in theory but went on to suggest that BrightScope's efforts suffer from a major drawback:
All of this seems like a useful exercise until you dig a bit further. BrightScope's ranking system reveals one problem. The top of the scale is dominated by plans for doctors, money managers, and pilots; the bottom, by plans for retail workers. So at least from this perspective, it seems like the rating is less about your 401(k), and more about your income — whether you're a pilot, a money manager, or a retail clerk.
BrightScope's president and co-founder Ryan Alfred responded to Utkus in this way in his blog entry posted yesterday:
The good news is that if this is Mr. Utkus' only problem with our rating system then we are in a really great spot, as it is just one and it is easily addressed. So how did he decide this was a problem? Well, he bases his entire argument on an assumption he makes that turns out to be factually inaccurate:
[Utkus wrote] "Meanwhile, in the marketplace, a few start-up companies are looking to profit from the trend. One is BrightScope, which provides a rating of many 401(k) plans in the U.S. If your employer plan is rated 90 or above, it's stellar in their estimation. If it's rated 50 or less, it's not."
Alfred responds sharply to this passage on his own blog with this statement:
As the head of retirement research at one of the largest and most respected providers in the 401k space, I would have expected Mr. Utkus to do a little bit more research before reaching this erroneous conclusion. BrightScope has never said that '90 or above is stellar' and '50 or less' is not. What really matters in our rating system is the relative rating to a relevant peer group. Every single BrightScope Rating chart has the BrightScope Rating on the top of the chart and the lowest, average and highest rated peers in the peer group on the bottom of the chart (see below):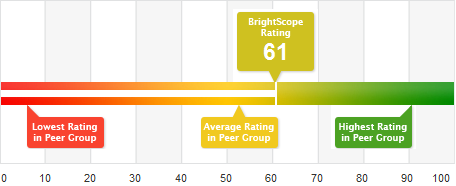 BrightScope chart
Here is how Utkus further explains his concerns in his blog posting:
Rating companies use publicly available information from the government. That information tells us, for example, that in Plan A, the average employee is saving $10,000 a year, but in Plan B, the average employee is only saving $2,000. What it can't do, however, is adjust those figures for the relative incomes of the workers—that information isn't available. Higher-paid workers save more generally, not just because they are higher paid but also because they need to, since Social Security replaces a smaller part of their income. In the end, rating services give a better score to the strong savers in Plan A, as opposed to the cash-constrained in Plan B, even though the reason is that Plan A's employees make a lot more money than Plan B's employees.
Here is the Brightscope response:
Peer plans are selected based on their industry (as a proxy for demographics) and on their size in assets and participants. By comparing to peer groups we have provided the context with which to determine whether a plan is performing well, which is why there are plans that score a 50 that are above average in their peer groups and plans that are 65 that are below average in their peer groups.
Secondly, focusing only on the overall BrightScope Rating is to ignore the second part of our rating system, which are the plan component ratings. While a plan might have a higher score due to high funding – salary deferrals and company contributions – it still might get a bad rating on fees, investment menu quality or participation rate (see example below):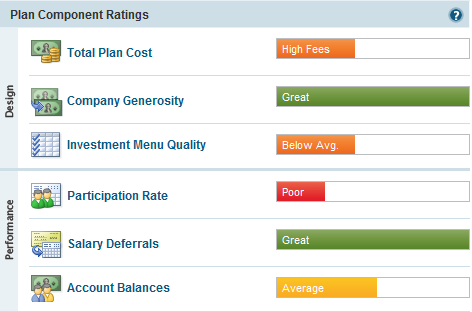 There are many people in the retirement industry still discovering the details of BrightScope's system of tracking 401(k) plans every day. It is relatively new and unique. It essentially stole a march on competitors that track 401(k) plans by petitioning [and winning] access to reams of information about 401(k) plans from the Department of Labor that had previously been blocked from public view.
Dusty boxes
Since then it has spent millions of dollars of venture capitalist's funds to — often manually out of dusty boxes — input the data onto its system. The rather amazing story ended up in Business Week in an article: How good is your 401(k)?
The Vanguard-Brightscope blog exchange was sparked when Alfred was notified by Google.
"I didn't know [Utkus] had a blog," he says. "I got a Google alert on Tuesday."
Alfred first responded to Utkus by sending him a message by LinkedIn but Utkus didn't respond, he says. At that point, he began to receive requests from clients for clarification on BrightScope's service. This required action, Alfred says.
"Instead of responding individually, we decided to do a blog post," he says.
Love to get feedback
Besides the time savings, Alfred believed it would be helpful if all the queries were answered in the same way. Still, he says that he's frustrated that he hasn't yet heard from Utkus.
"I'd love to have a conversation," he says. "I'd love to get his feedback."
Brooke's Note: Nevin and I took a couple of hours out from the T3 conference to drive over to Brightscope's headquarters in La Jolla [across the street from a big Qualcomm building] and meet the Alfred brothers. These are two ex-financial advisors in their 20s working on improving the 401(k) market with a passion. Expect an RIABiz review of their remarkable tracking system and a more in-depth article to follow in coming weeks.
---
---
Mentioned in this article:
---
---
---
JeffryLyon
Robert Kasich: "analysis was nothing more than", "things they know nothing about", "you knew and understood nothing", "you will be professionally irrelevant and won't even know it" – HEY! Please stop the insults and return to the important topics at hand. Are the moderators interested in keeping this a serious, professional site?
Brooke Southall
Jeffry,
Yes, it is hard to know where exactly to draw the moderating line. I err on the side of not purging comments but I purge plenty and we get fewer and fewer ones with nasty tones. Thank you for caring. We do care.
Brooke
Robert Kasich
Gundlach, Utkus' analysis was nothing more than repeating nonsense he has been told. QDIA accounts are meaningless in this context, too, so you too are wrong in principle. What's so funny is that otherwise intelligent and honorable industry experts are making fairly serious, credibility damaging statements about things they know nothing about. Sometime in the not so distant future, you and others that think they know what BrightScope is and does will find that you knew and understood nothing. By then, you will be professionally irrelevant and won't even know it. You just won't be able to secure new business, and will be scratching your head trying to figure out why. The current mutual fund and 401k industry is the 8-track tape. BrightScope created the iPod. The 8-trackers don't even see it coming. Funny or sad? Maybe both.
J. Gundlach
If you really do a proper analysis of each of Brightscope's ratings categories, you'll see that each has minor to major flaws. For example, the investment ratings doesn't take Target Date Funds into consideration when they are a QDIA and account for most of the new money going into DC plans. Utkus analysis is right on the money.