How to execute a social media strategy: Take a college kid to lunch
All the social media seminars in the world may be no substitute for the kid at Starbucks with the blue hair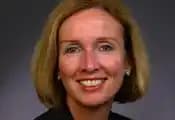 Gerri Leder: Where do you find help with social networking? Check the college intern boards.
---
Mentioned in this article:
---
---
---
Bill Winterberg
February 9, 2010 — 3:34 PM
Ms. Leder is right: the costs of entering social media are nothing, except for an advisor's time, and therein lies the problem.
Without a clear strategy documented in advance, social media's lure can lead to countless hours wasted with no real returns.
Fortunately, an advisor's strategy doesn't need to be a 25 page document. Some simple statements about which sites to use, how much time to spend, and what messages should be communicated can do a lot to maintain effective practices when using social media websites.
Bill @ <a href="http://fppad.com">FPPad.com</a>
Stephanie Sammons
February 9, 2010 — 4:12 PM
Certainly any financial advisor can dive in to social media, but it's very important to not only have a strategic plan for doing it right (first impressions are everything), but also to have professional, coordinated, and optimized profiles that are discoverable, and can help the advisor develop a thought leadership footprint in their specific niche markets. The end goal is to attract qualified leads. Unless you've got a very specific roadmap for doing that you will spend countless hours trying to figure it all out.
http://www.wiredadvisor.com
Dr. David Lazenby
February 10, 2010 — 4:43 PM
Gerri. Excellent starting strategies. I am always pleasantly surprised when I ask one of my three boys (15,16,19)questions on tools/techniques for social media…as a side note: On a college visit with my oldest your message of hiring the college student was used..with a twist. We had a two hour meeting with Dean of Business School and while the Dean was discussing/showing some marketing projects on his laptop he ran into some glitches…to my dismay my son reached over and started "playing" with his app…he then proceeded to "redo" of few of the threads…eventually suggesting another strategy…The Dean offered him an internship on the spot working directly with him on training/supporting him on his personal social media. Needless to say my son choose that school, got an internship before he even started school, reports to the Dean. Now if I could only get him to work on my LinkedIn project. D
Gerri Leder
February 10, 2010 — 8:56 PM
David, that's terrific – thanks for sharing. Yeah, these 19 year olds (like your son)intimidate me – the Dean had the sense to get him to join his own team. That's the idea…