News, Vision & Voice for the Advisory Community
Lara, Shull pulls off five deals to nearly double its assets in a year
February 9, 2010 — 5:36 AM UTC by Brooke Southall
For years, Lara, Shull & May LLC was a successful but under-the-radar wealth management firm in Falls Church, Va.
Then, in 2009, it flew into everyone's sights, picking up five advisors who brought a combined $300 million of assets under advisement. The firm now has about $750 million of assets under management.
2010 looks to be even bigger.
"Our pipeline is very full," says Frank Shull, 42, the company's CEO and co-founder. "There is a tremendous amount of interest and some very large teams that we're talking to that we've talked to for over a year. The biggest team we're talking to is bigger than all the other ones combined."
Unleash
What helped unleash Shull's inner Harold Geneen was his affiliation in 2007 with Focus Financial, which gave Shull the platform to unleash his entrepreneurial tendencies. [Geneen was a pioneer in building a company [ITT] by acquisition.]
"After our partnership with Focus, we decided we could grow to be the top wealth manager in the [Washington] DC area and I decided that was something I wanted to do," he says.
Such growth shows the effectiveness of Focus's business model, according to Rudy Adolf, CEO of New York-based Focus Financial, which merged with Lara, Shull in October of 2007. When partner firms such as Lara Shull grow, so does the revenue they share with Focus.
That's why Focus avails its consolidating skills to partner firms.
Very powerful
"It's very, very powerful," Adolf says. "They doubled in about a year. It's a way to grow the firm in a way you can't do organically."
Lara, Shull pulled in breakaways with impressive resumes. Shull recruited Steve O'Brien, Beth Levine and Paul Corley away from Smith Barney. They came from the Reston, Va., Bethesda, Md., and Tulsa, Okla., offices accordingly and had careers with Smith Barney that spanned 27 years, 15 years and 8 years respectively.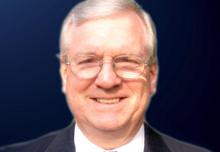 Steve O'Brien chose to break away
from Smith Barney after 27 years
as a broker
Shull also hired Curtis Congdon, who broke away from Ameriprise Financial.
Another addition to Lara, Shull was Douglas McPherson, an insurance agent with 40 years of experience who provides insurance services and investment guidance primarily to construction company owners. His clients hold $650 million of assets.
Lara, Shull also hired Robert Walterman as chief operating officer. Walterman formerly managed and recruited on behalf of Cowen & Company/SG Cowen, Lehman Brothers and Prudential Securities.
Bank tentacles
Though Smith Barney has been Shull's primary target to date, Shull expects that brokers from other wirehouses, including Merrill Lynch, will join his firm in 2010. Brokers are starting to notice the tentacles of their acquiring banks closing around them.
"Bank of America is asking Merrill Lynch clients to open checking accounts and the brokers aren't happy with that," he says.
Right now Shull is already lining up office space to house advisors he plans to bring aboard. "We have six seats to fill and we want them full," he says.
Shull says he felt more comfortable in expansion mode because he knew that he had a big company – Focus Financial Partners — watching his back.
Focus provides a protocol; it also steps in with a transition team to be certain that the process gets executed properly. The big consolidator provides assistance with financing, due diligence and legal/regulatory matters, Adolf says.
This vision
The effort to help with sub-acquisitions is central to the larger plan for growth at Focus, he adds. "We always had this vision," he says. "First we had to get the partner firms before we did the sub-acquisitions." Focus has 18 partner firms.
Of Focus' 13 transactions in 2009, nine of them were sub-acquisitions, three of them were completed by the holding company and one was part of Focus Connections, an arrangement where it provides a range of consulting services and invests in the firm without acquiring it.
Adolf says to expect a similar ratio of acquisitions and sub-acquisitions at his company in 2010.
Longer term, he envisions a time when the holding company makes only one or two mega-acquisitions per year and the rest of the merger growth happens though sub-acquisitions within partner firms.
"It's attractive for Focus because we can deploy our capital in a way that's very synergistic," he says.
Mini-consolidator
Still, Adolf allows that Lara, Shull stands out as a mini-consolidator and that many of his partner firms have no interest in further growth by merger.
Shull, 42, has the caught the growth bug – perhaps because his DNA made him susceptible, he says. His great-grandfather started Shull Electric in the early 1900s. The Washington D.C.-based firm built fuse boxes for big hotels and office buildings.
Shull is also well positioned to take advantage of the breakaway broker movement. They come aboard as employees, and they can keep their business model if they choose – but they get to escape the low payouts and sales culture of the wirehouse.
Shull has its own broker-dealer and uses the brokerage platform of RBC Wealth Management. It also affiliates with the RIA custody units of Charles Schwab & Co. and Fidelity Investments.
---
Mentioned in this article:
---
---
Share your thoughts and opinions with the author or other readers.
---