Frederick Van Den Abbeel has made CNBC his ally in recruiting RIAs to his Florida-based custodian
Brooke's Note: This is the second profile rolled out in the Asset Custody Project.
Three things stand out about a little-known asset custodian called Trade-PMR, Inc..
The first thing is its recent growth. The Gainesville, Fla.-based firm has been around since 1998, but 200 of its 550 RIA custody clients came aboard in 2009. Most of these advisors fit into the emerging [read small and start-up] category, and the company declines to disclose the combined assets in custody.
A second interesting aspect to Trade-PMR is that it attributes the spike in last year's growth to a strategy all but unheard of in the RIA business – television advertising.
Trade-PMR uses a 30-second spot that runs on CNBC and Bloomberg Television five to 10 times a day and about two or three days per week, according to Frederick A. Van Den Abbeel, the company's executive vice president. He declined to give any specifics on cost but says the company is able to work a deal.
"We're darn good negotiators," he says.
Here's the advertisement that is perking up Trade-PMR's business: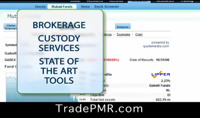 Click here to view the 30-second spot
Part of the deal
The third thing that stands out is the approach the company takes to make its portfolio management system part of the deal, charging just $1,200 per year for the software, eCustody Advisor Workstation. It provides free fee-billing and CRM software. Extra charges include $25 a month for streaming quotes and $150 a month for account aggregation software.
This technology is what makes Trade-PMR competitive with other asset custodians, according to Van Den Abdeel.
"The biggest draw is the technology," he says. "RIA's budgets are more restrained.
This price looks particularly good when compared to bigger custodians in the industry, Van Den Abbeel says.
"Schwab reduced it's price to $8,000" for the outsourced version of its portfolio management system, PortfolioCenter, he adds. "Eight thousand dollars! Are you nuts? It's just an Excel spreadsheet on steroids."
For $8,000 an emerging RIA gets a full outsourced software solution from Schwab, according to Lindsay Tiles, a spokeswoman for the The Charles Schwab Corp.
What they pay for
"Advisors have to evaluate what they need and what they pay for," she says. "We have over 3,000 firms that use PortfolioCenter [including the outsourced and desktop versions] and it has a reputation of high quality and good service."
She adds that emerging advisors can get the desktop version of PortfolioCenter for $3,000.
Morningstar also has a competitive technology package for emerging advisors, says Michael Wilson, director of marketing for the company's Advisor Software Solutions.
"While Morningstar Office has a price tag of $5,400 per advisor, it also includes all of Morningstar's research and analytics, a CRM, investment planning module, client web portal and document vault," he says.
He adds that the PMS software accounts for about $2,000 of the $5,400 price.
Here's the data download on Trade-PMR:
Name of custodian: Trade-PMR, Inc.
Address: 1015 NW 56th Terrace, Gainesville, FL 32605
Phone number: 888.579.8640
Founded: 1998
Parent company: N/A (Clearing through Sterne, Agee & Leach, Inc.).
Total Assets in custody: not provided
Number of RIAs using platform: 550
Head of RIA custody business and executive's starting year with the company: Mr. Robb W. Baldwin, President & CEO / 1998
Head of RIA sales and starting year: Frederick A. Van Den Abbeel / 2008
Name of RIA technology platform: eCustody Advisor Workstation
Date of last major update on tech platform: February 2010
Minimum assets for advisors: none
Size of biggest advisory client by assets: not provided
Custody fees [including fees for RIAs that fall under the minimum]: Zero
Brand names of [now defunct or soon to be] custodians absorbed by custodian: N/A
One advisor who chose to use Trade-PMR largely for its technology and low cost is Mike Patton, president of Integrity Wealth Management, which manages $9 million from Baton Rouge, La.
He had worked as a financial planner for JPMorgan Private Client Services, so he didn't have a book of business when he broke away in 2007. Patton built his practice to $5 million as an RIA using Fidelity Institutional Wealth Services, but when the company began to charge him a custody fee in 2008 for having assets of less than $10 million, he decided to look at other options.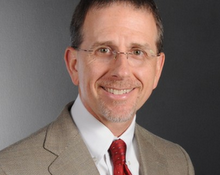 Mike Patton likes the technology, small-company
size and lack of fees on
low custody balances at Trade-PMR
Modern look and feel
He looked at Scottrade Advisor Services and Shareholders Service Group in addition to Trade-PMR but decided he liked the latter company's technology best. He describes Fidelity's technology as functional but says that Trade-PMR's platform has a more modern look and feel. "All in all, I like it better," he says.
Patton adds that he's very impressed by Trade PMR's Dennis Suppe, a former Microsoft employee. "He's a whiz," he says.
Trade-PMR's success in attracting small RIAs at the rate of one per day seems to be part of a trend. Scottrade Advisor Services of St. Louis and Shareholders Service Group of San Diego both grew at virtually the same rate in 2009.
Van Den Abbeel praises both of those companies for being open to start-up RIAs and for placing emphasis on RIAs ahead of other channels for wealth management.
Vast market
He doesn't see the supply of new RIAs slowing because the primary source – independent broker-dealer reps seeking to become RIAs – is vast.
"There are many more independent reps, so there's a lot more growth that can go on," Van Den Abbeel says.
Trade-PMR's founder and CEO, Robb Baldwin, hired Abbeel in June 2008 to handle marketing and sales.
The executive cut his teeth with American Express. What impressed him about that company was how it was able to leverage financial planning to build a big business.
Touch someone
"The more times you touch someone, the more they stick with an advisor," he says.
From American Express, he went to work with Cambridge Investment Research, a top broker-dealer for hybrid RIAs. "I learned a lot about RIAs from my friends at Cambridge," he says. "I saw a wave of growth, and I wanted to be there."
Van Den Abbeel is pressing the accelerator as hard as a small custodian can – expecting to host 200 advisors at a company conference at the Walt Disney World Swan Resort in Orlando, Fla. Feb. 24-26 – the first time the company has held such an event outside Gainesville.
Open to suggestions
Patton says he'll be at the conference to take up some issues with Baldwin of Trade-PMR. "I'm going to share some things that will make our lives easier," he says. "They're very open to suggestions."
---
Related Moves
February 28, 2020 – 11:09 PM
---
---
October 18, 2018 – 7:28 PM
---
---
Mentioned in this article:
---
---
---
Drew
November 21, 2013 — 3:54 PM
I backed into this older article today. Anyone reading this now should know that TradePMR has changed custodians, now using First Clearing. It is ready to introduce a fantastic new platform "Fusion" and continues to invest in advisor friendly upgrades. I think the problems listed above are old and I haven't talked to any advisors who have had prob's with TradePMR.
This is not the only custodian that I use, but I have no complaints about its services and I think every advisor should at least talk to them before ruling TradePMR out.
Bill Winterberg
February 10, 2010 — 9:56 PM
Small firms can become big firms, with big clients and significant assets. To some extent, the big three custodians (Schwab, TD AMERITRADE, and Fidelity) run the risk of ostracizing the small independent shops by requiring certain asset levels of affiliated advisors.
So Scottrade Advisor Services, Shareholders Service Group, and now Trade-PMR stand the most to gain by taking any advisor onboard and allowing business to grow under their relationship.
The same goes for wealth management firms that require $500k or $1M AUM for new clients. They turn off 30-something entrepreneurs who are sitting on the next killer iPhone app. If the firm doesn't take them when they're "little," why would the client want to do business with the firm after they've cashed out a hefty sum?
Bill @ <a href="http://fppad.com">FPPad.com</a>
Cameliah
August 28, 2011 — 4:55 PM
Interestingly, we had the same problem as JT with Trade PMR's back office. Trade PMR was taking unauthorized withdrawals from our clients' checking accounts, which was scary and quite disturbing to our clients. This went on in the same accounts about a dozen times in 4 weeks, in spite of our daily phone calls and emails.
They were good for the short term for the start up phase of our business, but in hindsight, we wish we had started with TD Ameritrade and avoided the headache of moving all our accounts 3 years later, when we had grown significantly.
JT
February 8, 2011 — 5:23 PM
I used TradePMR as my primary custodian when I started my advisory firm a few years ago. Overall, they are decent and the software is very good. The fact that they were willing to work with a start up was a big plus.
But I have had some revenue limiting issues with them. Several clients have had trouble processing check deposits and ACAT transfers. The back office seems overworked and disorganized at times. And compliance tends to be more aloof than I am accustomed to which seems to breed an "advisor is always wrong" midset.
I still use TradePMR because they are a good value for my smaller and less-active client accounts. I would recommend them for a startup advisor or one who focuses on client acounts under $100,000. More established RIAs and those catering to a more well-heeled clientele would probably do better elsewhere.
Will
August 27, 2015 — 11:28 PM
I started out with Trade-PMR but will be moving on from them shortly. I can confirm the back office issues that the other commenters spoke about. It's very disappointing. They have failed me in areas concerning: communication, trade execution, ACH transfers, as well as other smaller items.
Also, their executive management is abusive and brash. Lastly, they seem to have a high rate of turnover by their employees. I had developed relationships with their employees only to have them move on shortly after. High employee turnover is NEVER a good sign for a company.