Dan Goldie (on left): This is why we did all the work. (Gordon Murray is seated on the right.)
An article in the New York Times that put a Dimensional Fund Advisors RIA and his client with brain cancer into the national spotlight has now yielded them a major publishing contract.
Dan Goldie, 47, principal of Menlo Park-based Dan Goldie Financial Services LLC and Gordon Murray, 60, a Wall Street veteran who later worked for DFA, sold global rights to their book, The Investment Answer.
Hachette Book Group, the world's second largest publisher, will issue 150,000 copies of their book in hardcover, Goldie said. It's due to hit major book chains in early- to mid-January. Goldie and Murray have been promised prime front-of-the-store placement at major book chains, including Barnes & Noble, around the world.
Nielsen Ratings
The publishing success is bittersweet because Murray's health has continued to decline, and he is no longer receiving calls from the media or doing other promotions. Goldie says that he still talks to him every day. "I know he's really excited that the book is becoming so popular and will help people become better investors."
The Investment Answer, which the two men self-published in September, hit the big-time after the article, "Dying Banker's Last Financial Instructions" was published in the Times. The story became the esteemed paper's most widely read article for the duration of that Thanksgiving weekend. The article produced 15,000 unique visitors to the book's website the Friday it was published and another 20,000 the next day.
The publicity led to the pair selling out 30,000 paperback copies that they had printed on a self-published basis – and a large but undisclosed number of Kindle and other electronic sales, Goldie says. There were about 30 financial advisors who bought the book in bulk and distributed it to clients, he adds.
Goldie and Murray hired New York-based Laurie Liss, a literary agent for Sterling Lord Literistic Inc., two days after the article was published. Liss was known to Murray's wife because she was once a literary agent herself. The sale to Hachette came on Nov. 30.
"This is why we did all the work," Goldie says. "We feel very fortunate the way it played out."
Seven-figure advance
Goldie declined to say what kind of payment he and his partner received on the deal, though some industry reports said it was a seven-figure advance.
Goldie says he expects to participate in the kinds of promotional activities that publishers like to see. This poses a challenge for him because he runs a solo practice with $400 million of assets under management – and he is getting "quite a few" inquiries from prospective clients as a result of the book's publicity.
The first step he has taken is to add Dirk Gilliard, 42, to his practice. The two men knew each other when they worked under PartnerVest Financial Group, a Santa Barbara, Calif.-based outsourcer, about five years ago. Gaillard has been working with DFA funds from Mill Valley, Calif. as an IAR under PartnerVest, which makes him a good fit. Gilliard is planning to move to Silicon Valley and share office space with Goldie.
The two men have yet to determine any strict division of labor, but Gilliard expects that Goldie will hand off referrals of smaller accounts to him.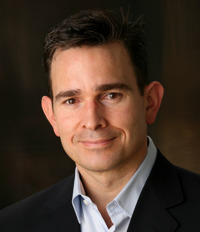 Dirk Gilliard: He's fiercely independent.
"A $250,000 account doesn't make much sense for him (to handle) but it does to me," he says. "...With the book, he's on the map. What's great is that he's generating tremendous exposure for how we work."
Goldie, the last-word in ruggedly individualistic advisors, having famously built his large book by himself and without even leasing office space (he uses an executive suite), says the book's success prompted his change in the way he approaches running his practice.
Healthy changes
"This accelerated the process. This is a healthy thing for me. It's a step I would have had to take (anyway eventually.)"
Yet, true to Goldie's outsourcing approach to business, Gilliard is not his employee but rather an independent contractor. Goldie uses Loring Ward, a San Jose-based TAMP, as his back office and his interface with Schwab Advisor Services.
Gilliard say he first came to know about Goldie years ago when he was the "poster child" for the DFA way of building a business using its passive investments. Goldie was one of the very first advisors to be accepted by Santa Monica, Calif.-based DFA to use its funds in 1991.
DFA provided a video on its website of Goldie that walked advisors through how he ran his business.
"He's fiercely independent," Gilliard says. "...He doesn't need a lot of help."
DFA advisors tend to like the mutual fund company because it sells a wide array of low-cost mutual funds that invest passively. It also helps them to choose an appropriate asset allocation to meet a client's needs. See: Dimensional Fund Advisors still has low RIA acceptance rate and stunning growth.
Goldie became an RIA in 1991 after injuries discouraged him from continuing to play the pro tennis circuit. The NCAA tennis champion while at Stanford University in 1986, his high tide mark came at Wimbledon in 1989, when he knocked off Jimmy Connors on his way to the quarterfinals.
Goldie's life shifted gear again after a brain scan on June 8 revealed that his good friend and client, Murray, had only six months to live. He has glioblastoma, the form of cancer that took Ted Kennedy's life. Murray decided to forgo further treatment.
Goldie immediately pressed Murray to get on with writing a book that the two of them had brainstormed.
Rough draft
Initially reluctant to take on the project, Murray said he was too fatigued. But Goldie got hold of a rough draft his client had written, heavily revised it and put headlines on chapters.
He then presented his work to Murray, who said in an earlier interview that he uttered some unpublishable words and then went along with the idea. "The effort lifted me up."
"I knew I would get him hooked," Goldie said in the earlier interview.
At that stage the two men worked on it every evening and weekend until it was completed. What made it particularly difficult is that they were determined to make is intellectually accessible to virtually anyone – and to keep it short and to the point. It is 90 pages long, but only has 65 pages of text.
Challenge
And writing a book when you have terminal brain cancer is a considerable challenge.
"He was tired and dizzy a lot of the time," Goldie said in the earlier interview.
Brooke's Note: During the eight years I worked for InvestmentNews, I received a steady flow of books about financial advice from hopeful writers and publishers. They were never newsworthy and I never wrote about a single one. But I also didn't have the heart to throw the books out. Instead, I placed them on two shelves of a long utility closet and created a great library of books that all seemed to say the same thing in a slightly differently manner. They're probably still there in the IN office. Dan Goldie and Gordon Murray have a story to tell that goes well beyond their book. They also seem to have read my mind as far as the human attention span for a book about financial planning by keeping theirs to 65 pages. I have now written two articles about that one little book and the swirl of life around it. There seem too be parallels between it and Harvey Penick's Little Red Book on golf or the classic Zen in the Art of Archery. In the latter book, the author teaches that the archer's target is ultimately himself. Goldie and Murray seem to have understood that concept in writing The Investment Answer.
---
---
---
Elmer Rich III
December 4, 2011 — 5:42 PM
Wait! A best selling business advice book from someone dying of brain cancer!? You're kidding.
So a person is dying of brain cancer and his brain is unaffected enough to give business advice?! What are we missing? Are advisors recommending this book to clients?