Bernie Clark: An advisor coming to Schwab with alternative assets to custody needs to be able to provide some transparency.
Elizabeth MacBride writes weekly on regulatory and political issues affecting advisors.
The long-awaited dream of having a central clearinghouse for alternative assets that resembles a stock exchange more than a Mexican financial bazaar may be near at hand after a major push by Charles Schwab & Co. and other custodians and investment firms.
At the center of it the effort is the DTCC, or the Depository Trust & Clearing Corp., a New York-based utility for the financial services industry.
If successful, DTCC's AIP platform could take a world of awkward, expensive, high-liability, low transparency transactions and make it saner, cheaper and less worrisome for investors and the advisors and custodians who deal with them.
It's a subject that Bernie Clark, head of Schwab Advisor Services, which has about 6,600 RIAs with $600 billion of assets in custody, is motivated to address because alternative assets are favored by the big, sophisticated RIAs that are most loyal and profitable to his firm.
Yet Schwab is also wary of the potential liability that they represent and has put restrictions on them. See: After a wait, Schwab has a program for alternative assets. The DTCC represents a potentially elegant solution in this conflicted situation.
'Traction in the market'
Interest in the platform, originally conceived before the financial crisis, is surging, said Ann Bergin, managing director and general manager, DTCC Wealth Management Services.
The DTCC is a major piece of infrastructure behind the U.S. financial system: According to its web site, the DTCC's depository provides custody and asset servicing for 3.6 million securities issues from the United States and 121 other countries and territories, valued at almost $34 trillion. In 2009, DTCC settled more than $1.48 quadrillion in securities transactions.
In an interview at Schwab's IMPACT conference, Clark described the AIP platform as a central clearance system for alternative assets. Distribution companies like Schwab and Pershing (NYSE:BK) and product companies, like hedge funds, fund of funds and nontraded REITs, would become members and complete transactions through the platform.
AIP offers a framework and technology that makes it easier to attach some basics to alternative assets, including an offering statement, pricing source, independent audit and independent pricing.
"An advisor coming to us with alternative assets is going to have to have these things," Clark said. "More often, we're going to have to see through the relationship."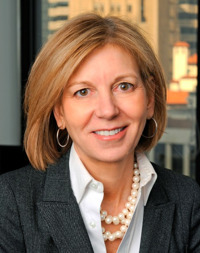 Ann Bergin expects hockey-stick-shaped growth for
the platform.
Nine live on the platform
There are nine companies live on the platform and 40-50 testing it, said Keisha Bell, director, DTCC Wealth Management Services.
Among the other companies testing the platform or coming on in 2011: National Financial Services, Ameriprise (NYSE: AMP) and RBC. On the product side, Grubb & Ellis has joined, and three of the top global fund administrators are considering it, said Bell, though she wouldn't say which ones.
"This year, we got some tremendous traction in the market," Bergin said, adding that based on the history of similar platforms, like one that serves the mutual fund industry, she expects a hockey-stick-like growth pattern.
Next year, she said, DTCC may reach out directly to institutional investors.
Schwab (NYSE:SCHW) has been actively trying to get more product providers on the platform.
"Schwab is live on DTCC's AIP platform and is processing transactions through it. We have a person dedicated to helping issuers and administrators sign up for AIP. Advisors' response to the platform has been positive and we expect the growth to continue," said a spokeswoman for the company.
Schwab has paid the price
Schwab has long considered itself a leader in establishing principles to govern alternative assets – and has suffered through some travails because of stances it's taken.
Clark said he's seen other custodians follow Schwab's lead in issuing guidelines for alternative investments – and he expects that to continue. See: Pershing is working to create a better alternative assets experience
"There's been some fast-following going on here," he said.
DTCC's platform offers some clear benefits to custodians – but they also clearly get a lot larger as more people sign on.
Custodians could win on the platform because it takes some of the heavy lifting of alternative assets off their shoulders. They pay transactional fees to be on the platform (the investment product providers also do) as well as per-record fees for updating and reconciliation.
DTCC wouldn't say how much it has invested in developing the platform, but as more companies join and the cost of the infrastructure is shared, fees will fall, Bergin said.
If the automated and standardized transactions reduce the number of errors, it may also reduce the regulatory and legal liability that has traditionally and painfully come along with alternative assets. See: An RIA that paid the price for falling for the Bayou scam speaks out.
Screens companies, not assets
The platform has a fairly rigorous screening for companies to become members and sell their assets through the platform, but it doesn't vet the assets themselves.
Schwab put its own, further restrictions on the alternative assets it's offering to advisors, said Bergin.
"To get on Schwab's AIP source platform, there is a stringent requirement," she said.
"Our asset acceptance process has more steps than a security simply being on AIP, though many of the requirements to join AIP are similar to our process," confirmed a spokeswoman for Schwab.
Elizabeth's note: DTCC was originally conceived to handle the paperwork crisis of the 1960s and 1970s. In this case, it's stepping in to potentially solve another "paperwork" crisis – how to buy and sell alternative assets that tend to defy standardization. Many transactions involving alternative assets are still handled with the technology of the last decade: e-mail and fax.
---
---
Mentioned in this article:
---
---
---