News, Vision & Voice for the Advisory Community
Some combination of a bold business model, powerful backers and good PR -- lawsuit aside -- made for a good break out of the gate
December 13, 2010 — 2:05 PM UTC by Brooke Southall
Launched last week, Dynasty Financial Partners riveted the industry's attention with a giant advisor win, a head-turning list of backers, youthful founders, a lengthy Bloomberg feature story about it and a lawsuit.
The New York-based startup generated 60 phone calls on the day the Bloomberg story was published from brokers and advisors who wanted to explore bringing assets to the company. Twenty-seven of them had $200 million or more of assets. It added to its already brimming pipeline of about 30 teams and stand-alone RIAs already in conversation with Dynasty, according to the company.
Yet despite all this activity, there is still more than a little mystery about what exactly Dynasty does. One wire service article was headlined: "Wealth firm Dynasty building an upscale LPL."
It is not a broker-dealer.
Not a roll-up
Other people have told me they believe Dynasty is a roll-up. But it will mostly not take ownership in breakaways that it helps lure to independence. "Everyone says that they're not a roll-up but we're really not," says its co-founder, president and CEO, Shirl Penney. See: The seven things I learned from roll-up executives in Princeton, including not to call them that.
Rather, the company is a robust outsourcer. Like other companies in the RIA world, Dynasty aims to provide full-service support for very big, successful teams, and it is using that service as a wedge to pry elite teams out of wirehouses.
It is selling itself as a muscular company that can finance the startup of breakaway teams and can give sophisticated business advice to owners of companies.
Charles "Chip" Roame, managing principal of Tiburon Strategic Advisors, says that in some respects the company resembles M Financial Group. The Portland, Ore.-based company has 125 Member Firms in 36 states and Canada, and more than 600 producers. It has a professional staff of more than 200 team members—actuaries, accountants, and product experts— that support the firms and their mostly ultra-affluent clients.
Other observers say Dynasty's business model overlaps with other wealth management companies including: Fortigent, Envestnet and Sanctuary.
Penney says that in building his company he received the support of executives throughout the industry, including Joe Duran, CEO of United Capital and Elliot Weissbluth, CEO of HighTower — two of the bigger, better-known aggregators [roll-ups]. Duran was not available to comment for this article. Weissbluth says he is impressed by what he's seen from Penney. "I hold Shirl personally in very high regard and think that he's a very capable entrepreneur and financial services professional. See: Why quiet co-breakaway of LPL and Ameriprise advisors in Downeast Maine speaks so loudly to Shirl Penney.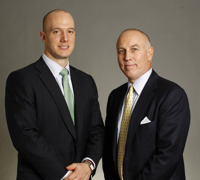 Charles Britton and Mike Brown's team
is the only one that will
be owned by Dynasty.
Lawsuit
Already, Dynasty has attracted its first big win: Charles Britton and Michael Brown, a US Trust team with the combined $5.9 billion of assets under management. The team, and Dynasty, are now fending off the lawsuit being brought by Bank of America, which bought U.S. Trust from Schwab in 2006. See: Bank of America throws a legal wrench at big wealth management start-up.
Brown will not only continue to manage his own book of business but will hold an executive position in the new firm overseeing the wealth management suite of products and services, with a title of partner and director of wealth management. He has also made a big investment in the new company with his personal capital – and indeed the firm is financed entirely with capital from its relatively small band of principals and board members. Brown's ownership arrangement is unique and future breakaways will have their own ADVs and use Dynasty solely as a service provider, according to the company.
Dynasty seems likely to attract other big wirehouse teams based in part on the strength of the names involved in the company. Dynasty's Board includes: Harvey Golub, 79, former chairman and CEO of American Express and Bill Donaldson, former chairman of the SEC and ex-CEO of the NYSE. Todd Thomson, former CFO of Citigroup and head of Smith Barney, is chairman of the board.
Similarly, HighTower Advisors' big backers, including David S. Pottruck, former CEO of Schwab and Philip Purcell, former chairman and CEO of Morgan Stanley, has helped it win credibility and cash from investors.
Roame said that getting Thomson on board is the major coup for the Dynasty group.
Serious player
"Todd Thomson is a player, a serious player, who will attract capital and advisors — far bigger advisors than the run-of-the-mill Schwab RIA — picture repeated $1 billion dudes. He's an institutionally minded guy, far more impressive than some of the other players in said market."
Thomson, 49, was seen as a future Citi chief executive before departing in 2008. Thomson was considered a protégé of Sandy Weill, Citi's former chief executive.
Roame says that Thomson's move from the rarefied air of the executive suite at a money center bank to an entreprenurial startup makes its own statement.
"I find it interesting that Thomson laid low for 1-2 years and arose to do this," he says. I pictured him jumping back into a big corporate job. His personal move is an endorsement of the breakaway broker trend. This plays straight into the trend to independence."
Dynasty's business plan calls for getting $50 billion of assets in about five years, according to Bloomberg and Financial Times reports. The company is particularly looking for advisors with $200 million and up and that serve ultra-affluent clients with sophisticated needs.
SkyBridge Capital
Dynasty's product offering includes everything from insurance to hedge funds. Some of the features of the wealth management platform include access to SkyBridge Capital, one of the popular hedge funds of funds for wirehouse brokers with AUM of $7.2 billion, and vetting of UMAs and SMAs by Callan Associates Inc. of San Francisco.
"What we're creating here is an institutional [quality] platform but with no pay-to-play aspect to it," says Swenson who helped build the SMA platform at Smith Barney.
Dynasty also will provide business advisory services from investment bankers, access to credit and "high-end financial plans" with help from NaviPlan. It has a partnership with Black Diamond Performance Reporting that enables it to provide portfolio accounting services.
David Welling, chief solutions officer of Black Diamond of Jacksonville, Fla., says that winning the account took considerable effort. "Dynasty has chosen its partners very carefully and took us through a rigorous due diligence process over an extended period of time."
"Dynasty positions themselves as a "completion" strategy that allows independent RIA's to chose from a menu of services to help them "complete" their business model," says Jeff Spears, CEO of San Francisco-based Sanctuary.
Breakaway loans
One key aspect of the Dynasty model that Spears pointed out is that the company will help advisors to finance their transition to independence. In an example that Shirl offered, an advisor with $300 million of assets under management receiving such capital might pay a $1-million loan by upping their payment to Dynasty from 15% per month to 30% per month for five years.
"It's very appealing to advisors because it makes [all costs] variable and better positions them to grow their business," Penney says.
The company is also planning to leverage scale to sell its services to advisory teams for less than a wirehouse would charge. A typical fee might be 15% of revenues though it can vary greatly depending on what services an advisor chooses. Dynasty anticipates some advisors will want the whole suite of services but others will choose only one or two.
Penney explains it this way: "We help them get set up and take a revenue interest in the practice that is far less than expensive than it would them to do it on their own. Typically firms pay 30-40% of the top line revenues on services. We charge an amount that in some cases may be half of that amount."

Ed Swenson: What we're creating here
is an institutional [quality] platform but
with no pay-to-play aspect to it.

The founders of the company have been working on it for the past two years.
Thomson was Penney's boss at Smith Barney. Penney, 34, left CitiGroup in August of 2008 right before the market spiraled down when his wife had a difficult pregnancy [it ended well]. He had been director of business development for global wealth advisory services Citigroup's [Smith Barney] where his duties included recruiting brokers.
Fortuitously, Citi paid Penney well for a noncompete agreement, money he was partially able to parlay into financing the startup. Edward Swenson, 33, also part of Smith Barney, became part of Legg Mason when Smith Barney sold its asset management unit to the Baltimore-based broker in 2005. He left Legg Mason to join Penney in December of 2008.
Day job?
Penney and Swenson formed the LLC on March 2, and Thomson has been involved developing strategy for the business over the past 18 months. One industry source who asked not to be identified but who has had conversations with the Dynasty principals says that Thomson's influence will vary based on whether Dynasty is his "day job" or not.
A spokesman for Dynasty explained Thomson's participation this way: "Todd Thomson serves Dynasty as Chairman and performs all the normal activities you would expect of a Board chairman — mentoring the CEO, organizing and leading Board meetings, and voting on key strategic decisions. He will maintain an office at Dynasty's headquarters in New York and will be actively involved in many of the day to day decisions."
Another factor that may have drawn Thomson to Dynasty is the opportunity for him to leverage his connections to very rapidly build a big business that he owns abig stake in.
The company is mum about whether it might eventually go public [though it was not asked specifically].
"We wanted [the company] built to last rather than built to flip," Penney says.
IPO-bound?
Yet Roame says that this startup venture also has many of the markings of an IPO-bound company.
"People will beat a path there because of trust. You build a big book, you a have a chance to transition it, you want impressive people on the other side of the table. Look at Thomson's board. (Then) you look at business model that says independence, private client business, and [aligned financial interests between partners and customers] and you see the economics of an IPO quickly."
The opportunity for Dynasty can not be overstated, according to Weissbluth.
"I think this is a positive development for the industry; these are highly capable executives who are forming a company to meet the needs of independent, sophisticated advisors," says Weissbluth. "We could each be wildly successful and collectively we could not service the [entire] marketplace."
---
Mentioned in this article:
---
---
Share your thoughts and opinions with the author or other readers.
Jim Cannon, Dynamic Wealth Advisors said:
December 14, 2010 — 5:47 PM UTC
Great model! Firms such as Dynasty that are able to build a community of advisors that can access open architecture products and services, leverage their scale with vendors and suppliers for the benefit of their clients, and offer true transparency in their services and pricing are positioned to attract advisors from both wires and larger independent brokerage firms. Advisors are seeking business relationships that can help them achieve efficiency and bring a level of credibility and trust to cultivate and solidify their high net worth client relationships, without the profit center and product conflicts. Dynasty is clearly taking the position that being on the same side of, rather than across, the table from advisors and their clients is the most successful place to sit.
---
---