Matt Abar: It's extremely crowded in the [software-as-a-service] area right now.
In a sign of increasing momentum – not to mention competition — among emerging providers of portfolio management systems, FinFolio is hiring its first national sales director and Black Diamond has more than doubled its sales staff since the start of the year.
Parker, Colo.-based FinFolio hired Douglas Moses three weeks ago to be its senior vice president of sales and business development. That hire marks the twice-delayed full launch of its software – a process that has been watched closely by the industry because of FinFolio CEO Matt Abar's legacy of success with a prior start-up.
Abar said that the strength of offerings from rival firms with web-hosted solutions – Black Diamond is one of those – helped him decide to double-down on his efforts to make cutting-edge technology before coming to market. See: FinFolio looks to offer unprecedented flexibility and power, with an intuitive interface
Saturated market?
"The market is saturated so we had to have a good product right at the beginning," he says.
Jacksonville, Fla.-based Black Diamond Performance Reporting, which manages $52 billion in assets from 150,000 accounts, has continued to grow so fast that it has been bringing aboard about a salesperson a month of late to capitalize on leads.
It hired Tom Flint for its San Francisco office this month, which completes a 75% jump in sales staffing, from four to seven, since August. It added another salesperson, Karen Lisowski to this city in March. See: Black Diamond adds a Fidelity veteran to its sales team: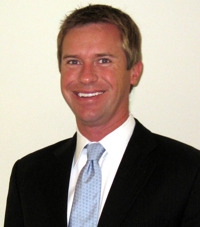 Tom Flint adds to a growing
West Coast presence for Black Diamond

The pedigrees of the new hires at both companies are notable because so many have big company and big custodian experience.
FinFolio's Moses is a former CitiBank, Morgan Stanley executive and Amherst College graduate has already made two sales for FinFolio – one a convert from PortfolioCenter and the other a user of DBCams. Abar observed him as the top salesman at a wrap-account company, Investment Advisory Network, where they were both employed in 1994. Moses will remain based in New York.
Previous stints
Black Diamond's three new salesman have a mixture of custodial and technology sales experience. Flint's previous stints were with Salesforce.com, Schwab — as a business development officer — and at Advent Software, where he was a sales engineer and consultant for nine years.
Andy Burgess, hired in October, was previously a relationship manager for Schwab Advisor Services and worked in sales and consulting for the company's Raleigh, N.C. subsidiary, Schwab Performance Technologies.
Paul Polese, who previously handled sales and relationship management of some of the biggest RIAs for Schwab in the New York metro market, was hired in August. He also worked in sales roles for both Pershing and TD Ameritrade. Earlier in his career he was a portfolio manager for a large RIA in NY.
Both Black Diamond and FinFolio says that they are hustling to grab a window of opportunity that has been created by a perceived slow-footedness they see on the part of the legacy players.
Ironically, the two companies see the market opportunity very differently. Black Diamond, like a number of other companies like Morningstar Back Office Services, Orion Advisor Services, LLC, Tamarac, Adhesion Wealth Advisor Solutions Inc. believes that software as a service delivered over the web is the future.
Abar, who is in many ways the pioneer of web-based portfolio accounting software, is taking the opposite tack. He believes that 50% of RIA still prefer to use software in a local environment.
100 prospects
FinFolio's Abar said that in the wake of Schwab IMPACT the company has 100 prospects for its software — and Moses helped collect 30 of them at the Boston event.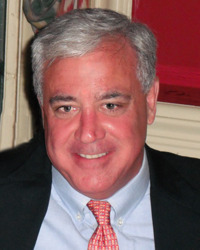 Douglas Moses is FinFolio's first national
sales manager as the company launches
for real.
Many big prospects in the $500 million range last year at this time when he first delayed his launch remain interested, he said.
"Some of these guys have been waiting for 20 years for something to come out that's better" than what they have and available in a local environment, he says.
The two big players with software on the desktop are Advent Software and Schwab PortfolioCenter.
Dave Welling, chief solutions officer of Black Diamond, says advisors are quickly realizing that servers in the back room of theor offices are not as secure as a government-approved mega-server built into a mountain somewhere with backup servers all over the country.
Eric Clarke, CEO of Orion, [whose firm has four salespeople and seeking a fourth on the West Coast] which also sells its software as a service, says there are many advisors who have software in-house but that that is changing. See: Orion is outshining competitors in the eyes of some RIAs
"To Matt's point, there will always be firms that want an internal database, yet overall we see the strongest momentum in the RIA community is heading towards SAS solutions. We have found that advisors tend to get frustrated running the systems internally and when they are looking to enjoy their business again, look toward outsourcing solutions."
Michael Wilson, director of marketing for Morningstar Office, says he has a strong opinion that installed system are losing fans.
Insight
"Because Morningstar has both a desktop-based and web-based portfolio management system, we have insight into what firms are looking for in their portfolio management system and that 50% number you cited seems high. A few years ago, I would have agreed with that statement, but not today.
h2.

Mike Wilson: Our sales people rarely
hear that a prospect's preference is
for an installed system.
Our sales people rarely hear that a prospect's preference is for an installed system. Another factor that points to their comfort level with web-based solutions is the high number of data conversions we process on a monthly basis from the desktop systems, including Advent Axys, PortfolioCenter and Principia CAMs." See: Review: Morningstar Office's web-based platform combines research, advisor tools
Though Abar declined to name which competitors impressed him, RIABiz has written about in the past year about advisory practices that have happily moved their practices to companies like Orion, Black Diamond, Morningstar Office, Adhesion and Tamarac.
Crowded market
He would rather be selling locally-hosted software than web-hosted.
"It's extremely crowded in the [software-as-a-service] area right now," he says.
---
---
---