The Morgia Group breakaway to HighTower Advisors and Fidelity proceeded despite the big snow in Watertown, N.Y.
Elizabeth's note: We've written a lot of breakaway stories, and in almost every one there are facilitators from custodians and aggregators present as part of the tale. They hold advisors' hands, get them food and make sure the licenses transfer over. One thing's for sure: this is not a 9-to-5 job.
Edward Friedman awoke to his alarm at 3:30 a.m. on Friday – only hours after polishing off Thanksgiving dinner.
The managing director and director of advisor development for HighTower Advisors drove 45 minutes to the Newark airport, caught a 6 a.m. flight south to Dulles Airport, to catch a northbound connecting flight to Syracuse, N.Y. He rented a car and drove an hour north to Watertown, where a large dump of snow was expected later in the day.
Up in Watertown, Friedman kicked into action at 1 p.m. That was when trading ceased on the post-holiday schedule — and a team of Morgan Stanley Smith Barney brokers resigned to their manager. Friedman's job is to be certain that advisors successfully depart their old firm and smoothly settle in with clients and assets under the HighTower umbrella — usually in swanky uptown office space in cities like New York and San Francisco. See: HighTower wins big UBS team and clinches 'critical mass'
On this day, Friedman was there to help oversee the breakaway of The Morgia Group, an RIA firm in a remote part of New York with four advisors and about $500 million of assets under management. Before counting this new addition, HighTower had more than 29 advisors advising about $17 billion in assets and bringing breakaways into the fold is a major part of its growth strategy. HighTower adds an existing RIA and two big UBS producers to a burgeoning Silicon Valley office
20 options
The Morgia Group, which considered nearly 20 options including other rollups, independent broker-dealers, alternative wirehouses and having an independent RIA, found HighTower to be a good fit. The aggregator offered many of the benefits of independence but also the level of support they were accustomed to in the wirehouse realm.
The Morgia Group first began its due diligence to break away two years ago when the wirehouse names were being dragged through the mud, and uncomfortable conversations between Morgia principals and clients were the norm, according to Philip (P.J.) Banazek, a partner of The Morgia Group.
"We were dealing with phone calls from clients about Smith Barney [in 2008 when Citigroup was in trouble] about whether their assets were safe and those conversations were disconcerting to us," he says.
The Morgia Group consists of Tony Morgia, 72, the team's founder and, now, a managing director and partner at HighTower. Previously, he spent more than 42 years at Morgan Stanley Smith Barney and the firms that folded in to it. Michael Morgia, 44, and Philip (P.J.) Banazek, 45, also joined from Morgan Stanley Smith Barney as managing directors and partners, and Mark Banazek, based in San Antonio, Texas, joined as a financial advisor.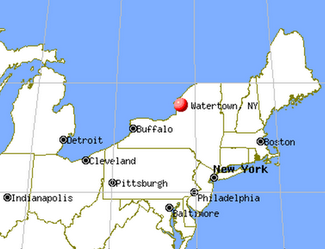 Watertown, NY: You can't get there
from here.
The team is also bringing aboard four administrative staff who were shocked on Friday, Banazek says, to learn that the advisors they support had a new home a half mile away from their old one. Their new office is in Watertown proper, in a one-story office building with very little art on the walls.
The advisors couldn't tell their support staff because of the dictates of the broker protocol, a no-fault legal truce relating to breaking away that both HighTower and their previous employer, Morgan Stanley Smith Barney, are signed on to.
Friedman had first met Mike Morgia and P.J. Banazek about three months earlier in Syracuse and they had made a lasting and favorable impression that had led to this day of joining forces.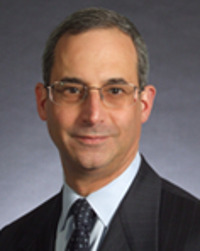 Ed Friedman: These guys fit the
bill.
"From a HighTower perspective, we have a no-idiot policy and the first time I met Mike and P.J. I could tell they were high-quality, down-to-earth individuals that we want to bring on as partners. The quality of the people is as important as the as the quantity of the assets. These guys fit the bill."
The team's assets will now be held at Fidelity Institutional Wealth Services, and the firm will use Black Diamond Performance Reporting of Jacksonville, Fla. as its portfolio accounting provider.
Friedman's preoccupation as the breakaway was in process was making sure the team's licenses transferred — and making sure they pulled the trigger.
Eager anticipation
"I've done this for years — first with Morgan Stanley for years and now with HighTower for two years — but you wait with eager anticipation that they've resigned and they're on their way over."
The advisors couldn't begin to make phone calls before that and it went off without a hitch. Clients responded extremely favorably to the news. One woman client who worked locally came to the office and signed the papers immediately.
The advisors ended up staying until about 10 p.m. on Friday making calls and handling account-transferring paperwork. On Saturday and Sunday, they worked until about 7 pm carrying out the same task. Nearly a foot of snow fell starting on Friday and not ending until well into Saturday, adding to the challenge of getting clients into the new office where Friedman helped in reconstituting the practice.
Friedman says he had his own ancillary duties besides the wiring of the deal. "I was there to keep them fed, hydrated and focused," he said. Friedman himself left Morgan Stanley in 2008. He had been a branch manager in New York City.
Banazek says the new offices are strong in terms of parking in front and back but not as swanky as the historic, architecturally satisfying edifice that his wirehouse branch occupied. The new office may prove temporary but has space to grow in case more talent is brought aboard in the meantime. It didn't discourage any clients from moving their assets to the management of the new firm.
Absolutely phenomenal
"We've been overwhelmed with people coming to visit us," Banazek said. "I can't state it well enough; the reception has been absolutely phenomenal virtually across the board."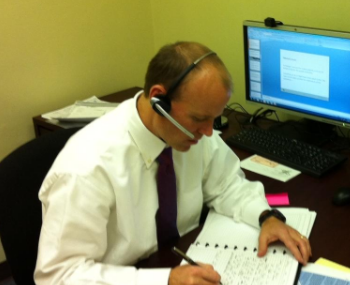 P.J. Banazek in the new office
calling old clients: Less than half
an hour after giving notice, we
had our first client.
Though many of the clients in this remote city are small business people are either small business people or professionals [doctors and lawyers], the firm also handles the management of assets for a number of local community banks. Other people have substantial assets in this corner of New York because they are "good savers", Banazek added.
Tony Morgia began his portfolio management career in 1968 at Spencer Trask, a predecessor firm of Morgan Stanley Smith Barney. Michael Morgia began his career at Morgan Stanley Smith Barney in 1988 and is currently the team's lead equity portfolio manager. Philip (P.J.) Banazek was previously a senior portfolio manager at Morgan Stanley Smith Barney and spent 12 years as a certified public accountant.
Friedman will return to his New Jersey home today with these veteran wirehouse advisors aboard HighTower as new partners — and his company bigger by a half billion in assets. With any luck, there might still be some Thanksgiving leftovers remaining in the fridge.
---
---
---