Dan Goldie [on left]:I knew I would get Gordon Murray [on right] hooked.
Sales of a self-published investment advice book by a dying Dimensional Fund Advisors consultant and an RIA are exploding, and the two men are being overwhelmed by media attention after a New York Times article drew a spotlight to to their philosophy of using a good financial advisor and sticking to a common sense approach to investing.
"The Investment Answer" sold out at Amazon.com in the 10 hours following the publication of "A dying banker's last financial instructions," an article about Gordon Murray, 60, and Dan Goldie, 47, who wrote the book. Since then, the duo has received a big hardback contract. See: Two DFA advisors win big book contract after 'Dying banker' article in NYTimes
The book may be resonating with people in part because of the way the article framed Murray – as an insider-turned-informant on Wall Street. The article calls Murray one of the highest-ranking Wall Street veterans to take back much of what he and his colleagues worked for during their careers. In an RIABiz interview Saturday, Murray says that the obstacles to getting a fair shake from the investment industry have gotten greater.
Illegal and unethical diverge
"When I entered the business, illegal and unethical were the same," he says. "Now there's a huge difference. Wall Street got much more skilled about crossing the line of illegality."
Murray's dedication to helping investors is the real deal, according to Stephen Huxley, chief investment strategist of Asset Dedication, and professor of business analytics at the University of San Francisco. He has known him for five years.
"In that time, I have never seen anything but absolute dedication to living a life of integrity and pursuing the noble goal of helping individual investors…He reminds me a bit of Arthur Levitt (Take on the Street) and John Bogle (Vanguard), also men who once were insiders but became the champions of reform, fighting to protect the small investor from the worst elements of an industry that unfortunately builds much of its business on the investing ignorance of the general public."
Murray, who has brain cancer, has been a client of Menlo Park-based Dan Goldie Financial Services LLC since 2002. The RIA manages more than $400 million of assets and makes heavy use of DFA funds. These passively managed funds are used by advisors to construct portfolios based on research done by Dimensional Fund Advisors of Santa Monica. See: Dimensional Fund Advisors still has low RIA acceptance rate and stunning growth
(Unfortunately, since this article was first published, Murray died). See: After two years of defying the odds, Gordon Murray, co-author of The Investment Answer, dies of cancer
Sold out at Amazon.com
Along with flying off of the Amazon cybershelves, the book also sold out at Overstock.com, and Buy.com. WalMart had the most remaining inventory. The article zoomed to the top of the most e-mailed list at the New York Times and remained there for the weekend. Murray and Goldie had 15,000 unique visitors to their book's website on Friday and 20,000 more by the time they were interviewed by RIABiz on Saturday.
The men have been contacted for interviews by CNN and others. Goldie is also being courted by publishing companies interested in taking over sales of the book that he self-published in September. He says it is not clear to him whether there could be advantages to using this approach. Even before the New York Times article, many of the 15,000 sales of the book had occurred. The book got a boost when the San Jose Mercury News published a similar article.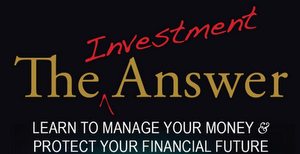 Small book with big answers
Goldie went the self-publishing route because there simply wasn't time to make arrangements with publishers, and he happened to have self-publishing skills and technology.
It would have sold perhaps thousands more copies through Amazon, but a shipment of 2,500 copies bound for it in anticipation of the article got bogged down in transit. Buyers can still place an order but they're advised by the web site [discouragingly] that it's not currently in stock. The book is marked at $16.95, but most retailers are selling it for closer to $11.
Back in September, the two men started out giving away the text in PDF form on a web site, but the book's Charlotte, N.C.-based distributor, Baker & Taylor, the world's largest book distributor, convinced them they'd reach a wider audience if it sold at a price.
"Baker & Taylor said it'll never be in Costco if it's free," Goldie says.
The two men wrote the book after Murray, who was diagnosed with a brain tumor in 2008, got word from a scan done on June 8 that he only had six months to live. He has glioblastoma, the form of cancer that took Ted Kennedy's life. Murray decided to forgo further treatment.
Initially reluctant to take on the project, Murray said he was too fatigued. But Goldie got hold of a rough draft his client had written, heavily revised it and put headlines on chapters. He then presented his work to Murray, who says he uttered some unpublishable words and then went along with the idea. "The effort lifted me up."
"I knew I would get him hooked," Goldie says.
At that stage the two men worked on it every evening and weekend until it was completed. What made it particularly difficult is that they were determined to make is intellectually accessible to virtually anyone – and to keep it short and to the point. It is 90 pages long, but only has 65 pages of text.
Tired and dizzy
"He was tired and dizzy a lot of the time," Goldie says.
To get what they wanted, they got editing help from Eugene Fama Sr., professor of finance at the University of Chicago Booth School of Business and father of the efficient markets hypothesis, Harry Markowitz, father of modern portfolio theory, Ken French, professor of finance at the Tuck School of Business at Dartmouth College Joe Grundfest, a former SEC Commissioner and a founder of Financial Engines and Bill Bradley. Ira Glass, host of of NPR: This American Life, and Robert Waterman, author of "In Search of Excellence," did line-by-line editing.
Waterman insisted they get more anecdotes early in the book and, in schoolmaster fashion, made them convert passive verb tenses to active ones.
The book is a continuation of Murray's post-Wall Street mission. From 2002-2010, he was a consultant for DFA of Santa Monica, Calif. His job was to sell advisors on the careful asset allocation of the passive investments produced by DFA.
The book is not a do-it-yourself manual. It heavily recommends that an investor hire a good financial advisor. The authors told me that they don't believe most people – even if they can come up with a good plan – can handle the psychological challenge of carrying it out. Most people, they point out, sell low, buy high and take on unnecessary risk.
Astounding ignorance
Murray says he's also astounded by the ignorance of basic financial planning, even among the rich, more sophisticated people that he knows. "Most people know their blood pressure or cholesterol level but if you ask about overlapping risk, they don't have a clue."
Goldie is passionate about financial planning because of personal experience. Born in a well-off family, he ended up growing up fairly poor because of adverse circumstances.
"My mother and father divorced when I was a child, and I went from living in an upper middle class family to living paycheck to paycheck in a single-parent home. That had a profound effect on me, causing me to become a saver and investor when I was older to create financial security for myself."
That experience affected how he runs his practice: his revenues do not get frittered away in overhead. "I've never had an employee," he says. One of the very first advisors to be accepted by DFA to use its funds in 1991, he works from a shared executive suite in Menlo Park. He uses Loring Ward, a San Jose-based TAMP, as his back office and his interface with Schwab Advisor Services.
He became an RIA in 1991 after injuries forced him out of the pro tennis circuit. The NCAA tennis champion while at Stanford University in 1986, his high tide mark came at Wimbledon in 1989, when he knocked off Jimmy Connors on his way to the quarter finals.
Losing to Ivan Lendl
In his losing match to Ivan Lendl, he believes he was playing well enough to win but was injured. In the next two years, he developed, separately, stress fractures in his shins that led to his relatively quick retirement from the sport.
Goldie says that he accepts what happened, because he did his best to play the hand of cards he was dealt. It's a line I would hear an hour later from Murray to describe how he has accepted his disease.
"I'm a brain-tumored guy, and you play the hand you're dealt; you count your blessings and make the most of things," he says. "I was the model of health and had a balanced life. I don't drink or smoke. I did yoga and played tennis three or four times a week."
He finds that people – even his kids, he says wryly — are much more eager to hear what he has to say. "When you have a terminal disease, you have a platform to help people's lives."
Though they were hopeful of the book's success, it has created circumstances they hadn't pondered before Friday. For instance, Murray and Goldie have never considered what to do with the book's profits. They didn't necessarily expect to earn any, and it was never an objective. The authors say they still expect the profits to be relatively modest and that they'll decide how to apportion them later.
The success of the article and the book is secondary for Murray, in any case. "The journey is what has been so rewarding," he says.
Defying the odds
Murray is reaching the point at which doctors told him that he might not still be alive. He says that the one effect the cancer has had on his mind, according to his friends, is with short-term memory. In our interview, he had a sense of humor and seemed energetic, sharp and calm. Once, he raised a subject that we had just covered minutes before.
Murray says he feels ahead of the game. "I've had two years to have wonderful closure. Who could ask for more? I'm the luckiest person in the world."
---
Related Moves
November 12, 2020 – 4:43 AM
---
---
---
---
http://www.conveyormfg.com/postinfo.html
Pay a visit to Begin after which Configurations.
http://advpro.ru/user/carpinteyroehu/
In case you look into the a variety of capabilities of this gadget, you will notice that not only tend to be the interfaces far better than the apple iphone, but you'll find much more options designed in the iPad for its users. The truth is, there isn't a comparison that may be produced among the apple iphone as well as iPad.