It's always darkest before it goes pitch black
Brooke's Note: This article is republished from Black Friday of last year.
I found out why today is called Black Friday and it involves CVS, Target, Macy's and Best Buy. It also involves Whole Foods and Apple.
This B.F. moniker, which seems strangely and ironically apt, is suddenly everywhere. It's like we know what we're doing to ourselves with this consumptive binge after the one that involves food. I feel like I need to relate my observations as a consumer.
First an anecdote: It's a hot day and two young boys are heading to a local fair to sell a case of Coca-Cola. They have to walk a couple of miles into town and they get thirsty. All the money they have is a nickel, which is the price they of a Coke.
So one boy buys a soda and hands the other boy the nickel. The other boy gets thirsty, takes the nickel and hands it to his buddy and buys a Coke himself.
The process works so well that it continues all the way to the fair until when they have arrived there are no Cokes left and the two boys are standing there with a nickel.
The economics professor who told this story my freshman Econ 101 class in 1981 had a postscript to his story. The U.S. government would record this lack of restraint on behalf of these boys as $1.20 worth of economic activity when in point of fact no economic value at all had been created.
This story has always disturbed me but it also hooked me on economics and I ended up majoring in the subject.
I sat next to a woman in Peet's coffee shop in Mill Valley, Calif. this morning as she picked through her junk mail. CVS, Target and Best Buy were all featuring a 7-inch photo frame that rotates digital pictures for $29.99.
The advantage that CVS was offering was that you could buy it at 4 a.m. on Black Friday. Best Buy wouldn't open its doors until 5 a.m. [In my town of Sausalito they sit side by side so you know where I'm going.] Macy's was offering a 10" version for $49.99. That would be like having your own little Times Square on your mantelpiece. Dude.
Nobody in the coffee crowd was interested in buying a rotating photo frame – surprise, surprise. But there was considerable conviction about buying Apple's new computer – the Touch. The problem: it'll be out at the soonest in January.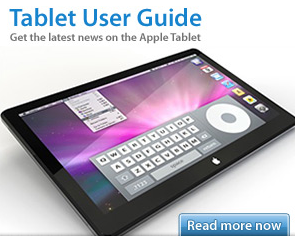 What Apple's new MacTouch might look
like
I left there and headed to Whole Foods to buy dessert for the family that invited me to Thanksgiving dinner. I had a moment of sticker shock when I realized that I needed two pies and that the bill would be about $40.
But then I found out Black Friday had already begun on Thursday. Out of what seemed like nowhere a Whole Foods manager appeared, read my mind and told me he'd sell me two pies for the price of one. I immediately complied and felt pleased that I had saved $20 by dithering and procrastination.
But I also wondered what such capitulation says about the economy?
I've heard on the news that Black Friday may determine whether we pull out of the economic doldrums or not.
With these kinds of deals and user-friendly hours, I suspect there will be plenty of money in the cash register and goods flying out the door.
That's good.
But part of me just sees 24 empty Coke bottles and a couple of bloated bellies. Then again these well-sugared boys could stimulate the economy again for … dental care.
---
---
Stephen Winks
November 27, 2009 — 8:02 PM
Brooke,
Your economics professor should apply for the Chairmanship of the FED or Treasury Secretary. Now even the Russians, Chinese, Scottish and Canadians skeptically now point out you can't spend your way to prosperity by taking water out of one end of the pool and putting it back in the other end. We are just left with massive debt to no avail.
SCW