Marie Swift: There has never been a time in recent history when so many prospects are looking for a new advisor.
Editor's Note: The Advisors MoneyShow has a gargantuan amount of content and much of it is good. Randal Langdon, Marie Swift and Michael Zmistowski fanned out to capture as much of it as they could for RIABiz readers. Their three blog postings present a compelling cross-section of the event's relevant material. Many thanks to them for their dutiful reporting.
RIABiz's industry correspondents reported about 400 attendees at the conference at the Peabody in Orlando, Fla., last week. There were 69 presenters at the conference, Marie Swift of Impact Communcations says – an ambitious agenda. The next MoneyShow is April 27-29, 2011 at Caesar's Palace in Las Vegas.
Live in Orlando, and … Online
Michael Zmistowski, president of Financial Planning Advisors LLC
As an avid supporter of continuing education and regular attendee to the Advisors MoneyShow (previously known as the Financial Advisors' Symposium), I have advocated my colleagues attend the "advisor" version and the "public" version (huge conferences in Las Vegas, Orlando, London, etc.) because these MoneyShows offer valuable learning outside the box. And, it gets better every year. Each one provides benefits to all types of financial planners and advisors.
Three reasons to attend
First, the general sessions are great. This year, the Advisors MoneyShow brought speakers such as Ned Davis, Newt Gingrich, Sam Stovall and Charles Maxwell to share their insights with attendees. Frankly, I believe we had this unique access to these big name speakers in a small conference setting – just under 400 advisors attended the Advisors MoneyShow Nov. 10-12 in Orlando last week – because Charles Githler, the producer, knows them and provided a compelling statement about the contribution they could make. Maxwell, a Wall Street energy analyst and top ranked oil analyst, for example, provides high level insight into his expert's niche: equity and income investing. His depth of knowledge makes for breath-taking ah-ha moments.
Second, breakout sessions are rich with information and seem geared to engage a more experienced advisor than is usual at most other industry conferences. In the Your Silver Bullet technology session, I learned more about integration of software in financial planning and investment advising in 50 minutes than I had ever understood before. For instance, I learned about those specific companies that "play well together" (a simple definition of integration), consultants who help independent firms like mine create the desired practice efficiency and gleaned dozens of business tips related to choosing future software based on my needs, objectives and clients. Every session I attended was done an educational manner, not a "salesy" manner.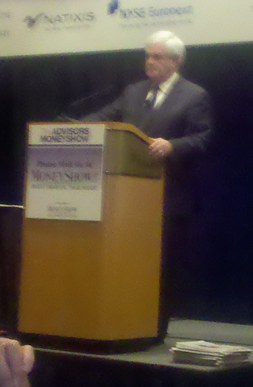 Newt Gingrich's speech was among the
eclectic content and exhibitors at The
Advisors MoneyShow [photo by cell phone]

Third, the exhibitors represent broader categories than is common to the typical industry conference. As I strolled the aisles, I saw the typical busy buzzes at the technology, mutual fund, broker/dealer and custodian booths. Of course the Morningstar and insurance company booths were active, too. Add to those the atypical-exhibiting NYSE companies like Proctor & Gamble, General Electric, Shell Oil and Aqua; plus gold, gold mining, Africa mutual fund and a capital-raising-for-condos-in-Belize exhibits and you have quite a unique and stimulating vendor hall.
Even though The Advisors MoneyShow Orlando 2010 has ended, much of the valuable content and resources are still available online at the eAdvisorsMoneyShow. The content will be taken down Jan. 17, 2011. For example, I just logged on to test the virtual exhibit hall features and was delighted to download white papers, fact sheets and other important information from Lindner Capital Management, Morningstar, TD Ameritrade, the Options Industry Council and other exhibitors. When I clicked on "In Booth Presentations," I was surprised to see all 55 minutes of Newt Gingrich's presentation – Jobs, Economic Growth and Prosperity: Getting America Moving in the Right Direction – free of charge and immediately available online. In the "Educational Hall" there are 38 presentations and 51 virtual exhibit booths. Check it out for yourself by clicking here: https://www.moneyshow.com/tradeshow/florida/advisor_moneyshow/main.asp
The Great Debate: MPT or Technical Analysis?
Randal Langdon, Lindner Capital Advisors
The stunningly swift collapse of stock prices in the fall of 2008 prompted many advisors and others to question some basic tenets of investing, including Modern Portfolio Theory. Some pundits claim that MPT has outlived its validity and utility; others say that advisors who used technical analysis managed to sidestep the catastrophe. In this session, "The Great Debate: MPT or Technical Analysis," two proponents of each side argued the case for why advisors would be better off doing it their way.
Jim Farrish, founder of Money Strategies Inc. (an independent advisory firm in Melbourne, Fla.) who is also the founder and editor of www.SectorExchange.com, www.ETFexchange.com, the Let's Talk Money Report, and the monthly newsletter Money Psychology, has developed, published, and taught investment workshops for individual and corporate clients for nearly 25 years.
Mr. Farrish served as moderator of the debate between Michael Kahn, who has been working with charts and technical analysis since 1986 and currently writes the weekly "Getting Technical" column for Barron's Online (www.barrons.com), and me. Mr. Kahn argued the technical analysis case. As a 28-year veteran of the financial services industry and president of Lindner Capital Advisors (www.lcaus.com), a third-party money management firm that has done extensive research on the subject, I advocated case for MPT.
The two investment methods or theories are distinctly different. MPT advocates a passive strategy. In MPT, investor success is achieved through low expenses, the recognition that value is favored over growth, small cap is favored over large cap, and risk is managed through diversification. Technical analysis believes future stock or market movements can be anticipated based on past patterns. Technical trading tends to be shorter term in focus, advocates market timing and security selection. Most investors or advisors tend to follow either the passive or active strategy BUT, in application, most advisors favor one method but do not ignore other methods because advisors know that both strategies are always being utilized by part of the investing public, whether individuals and/or institutions.
One key agreement in the debate was that INVESTMENT DISCIPLINE is critical to successful market application of either theory or method. Another key point of agreement was that advisors must educate investors as to how the two theories or methods work in positive or negative markets. This contributes to investors' trust in the theory or method – even during tough markets.
Both speakers agreed that neither method is currently helpful for fixed income (bond) investing. The present interest rate and fixed income markets are being controlled and highly influenced by the FED. This non-market related influence on bonds renders that market most impacted by political and economic recovery strategies.
In reality, the debate will never end. One important point: MPT and its theorists have been awarded the Nobel Prize while technical analysis tends to garner its support from market practitioners.
Marketing ideas that actually work
Marie Swift, Impact Communications
Too many advisors shy away from "marketing" because the confuse marketing with sales. Good marketing is, however, a series of soft touches and memorable impressions. So when you hear "marketing," you might think "education" or "client advocacy." That should get you on the right track.
That's the message that I delivered as part of a panel on Nov. 18. The other panelists were noted advisors Dean Zayed, co-founder and president of RIA Brookstone Capital Management; Michael Zmistowski, president of Financial Planning Advisors LLC., a fee-based RIA, where his specialty is retirement income planning; and Greg Sullivan, is president of Harris SBSBTM (www.sbsbinc.com), a service of Harris Private Bank that provides financial planning and wealth advisory services.
Our panel discussion started with "what's in a name?" – a business company name. Heads were nodding as each of us gave the rationale for the creation and development of our own brand identities. Greg Sullivan emphasized that providing quality service was an essential marketing ingredient for his firm. Dean Zayed underscored the need for quality marketing materials and having a clear, compelling message. I reminded the audience that – while some of the most successful practitioners they know may actually say they don't do any marketing – everything they do to attract and retain the right clients is marketing. That includes the branded webcams that one advisor I know sends out to her clients so they can have better virtual meetings, the client appreciation events that another smart advisor I know uses to build rapport, and the Town Hall Meetings that yet another used to generate huge visibility in his community, all hinged on "purpose-driven prospecting" principles.
When you combine good relationship marketing activities with continuous credibility marketing efforts, things can really blossom. Relationship marketing hinges on creating memorable events and ongoing personal "touches." Credibility marketing hinges on being seen as a professional resource through media mentions, bylined articles, television and radio appearances, books and white papers with you as the author or a key subjectmatter expert. Using a calendar of events and purpose-driven agenda for your marketing efforts gives you lots of opportunities to talk to people – including members of the media – who may be interested in helping you spread the word and/or provide good content to their readers/viewers/friends.
Dean Zayed shared how one of the most successful "marketing campaigns" they do every year is their "holiday pie program." They have fresh baked pies with a handwritten note delivered to their clients and important community friends a couple days before Thanksgiving. Greg Sullivan said they do something similar by delivering a fresh evergreen Christmas Wreath the first week of December (members of his firm also make a note in CRM to send an alternate gift to those who do not celebrate Christmas).
I shared how an advisor I know uses Financial Literacy month every April to host a public Town Hall Meeting that draws together teachers, students, city council members, the mayor, police anti-fraud task members, bankers, accountants, attorneys and other business leaders in a purpose-driven fashion. The benefits to this advisor, personally and professionally, are huge. The reputational capital alone has created numerous new opportunities and a basis for continued momentum.
Given the economic fallout of the past couple of years, there has never been a time in recent history when so many prospects are looking for a new advisor. In today's hyper competitive landscape, you need to find unique ways to differentiate yourself from the competition. The old methods do not allow you to demonstrate your relevant value to your clients, and are not very effective any more. The Marketing that Works for Advisors Today panelists did a great job sharing strategies for attracting the kind of new clients and valuable assets that can propel advisor firms to the next level of success.
Why non-traditional asset classes should be part of your client portfolios
Randal Langdon, Lindner Capital Advisors
One of the most talked about subjects by investment advisors for the past two years has been the use of alternative investments as a way to reduce risk and enhance long-term investment portfolio results.
The latest financial crisis will surely go down in the history books as one of the worst ever. In an unprecedented occurrence, nearly every form of investment such as stocks, corporate and municipal bonds, commodities, and real estate all plunged in tandem. And most of the declines have been of historic proportions. In the break out session called "Why Non-Traditional Asset Classes Should Be Part of Your Client Portfolios," we learned about non-traditional asset classes and how you can diversify to lessen the correlation amongst assets in your client portfolios, so that you can – it's hoped — protect them in the next downturn.
Bob Lindner, CEO of Lindner Capital Advisors (LCA) (www.lcaus.com), my firm, discussed how in the post-2008 market, LCA embarked on a massive internal research and statistical analysis project reviewing implementation of various alternative asset classes. As part of these investigations, LCA sought to replicate and extend the work of the highly regarded Harvard professor, Dr. John Lintner (no relation to Bob Lindner of LCA). As a result of its rigorous research, LCA concluded that MANAGED FUTURES could in fact add non-correlation to the traditional stock/bond portfolios while positively impacting portfolio performance. LCA, an SEC Registered Investment Advisory firm that serves as a third-party money manager to broker/dealers reps and independent advisors, has been managing balanced investment balanced portfolios and integrating Managed Futures for the last 18 months. In 2009, the firm introduced the Contemporary Portfolio SeriesTM, which integrates a managed futures component in an appropriately diversified portfolio in order to reduce the overall portfolio risk during times of market volatility. LCA is their third-party money manager.
AQR Capital Management (AQR) (www.acrfunds.com) is also a very research- and academically based investment advisor. They currently manage hedge funds, commodity funds and managed futures funds, which are available as portfolio tools. According to Brian Hurst, a principal with AQR and head of the Global Trading Strategies group, AQR has shown how alternative investments included in portfolios can help to lower volatility and enhance returns. He also pointed out that many advisors, while believing in the benefits of alternative investments, tend to underweight the category.
John T. Hyland, chief investment officer for United States Commodity Funds LLC (USCF) (www.unitedstatescommodityfunds.com) was slated to serve as the third panelist but, at the last minute, had to send a proxy. USCF is the manager of exchange-traded securities that are designed to track the movements in the prices of different commodity futures; the company is a commodity pool operator with approximately $7.4 billion in assets under management as of December 31, 2009. USCF was an early pioneer in physical and index commodity ETFs. In fact, they have developed and utilize a third-generation commodity index. The majority of their ETFs are in the energy sector, with one third-generation index ETF. They believe that the utilization of commodity ETFs can be a method to effectively introduce alternative investments into portfolios.
The three panelists agreed that a 20-40% asset allocation is appropriate for portfolios BUT that advisors need to educate investors to eventually reach that target allocation. All three panelists agreed that controlling fees and expenses related to alternative investments is essential to successful implementations. LCA, AQR, and USCF have all developed low cost implementation methods.
More information about the panelists mentioned and contributors of these eavesdropping pieces for RIABiz.
Dean Zayed (www.prism-financial.com) is is also a principal of Perkins & Zayed, P.C., a boutique law firm with a concentration in estate planning, asset protection and wealth preservation; a principal of Prizm Financial Advisors, Inc., a financial planning firm that provides Comprehensive Financial SolutionsTM to its clients; and a registered representative of Center Street Securities, a broker dealer.
Greg Sullivan co-founded Harris SBSB in 1991. He specializes in providing investment management, tax advisory and financial planning services to clients. He is past president of the International Association for Financial Planning (now called the Financial Planning Association) and served on its Board of Directors from 1989 to 1997. Mr. Sullivan is also a founding member of the Alpha Group, a nationally recognized group of leading financial planners.
Marie Swift is president and CEO of Impact Communications, Inc., a national marketing and PR firm serving high-end financial advisors and a dozen of the nation's top financial institutions that serve independent advisors. My team and I have been "working in the trenches" with independent advisors and allied institutions for nearly 20 years. A frequent contributor to industry publications such as Financial Planning, Bank Investment Consultant, Research, AdvisorOne.com and MorningStarAdvisor.com, I travel to two-four cities every month, attending conferences, speaking with advisors and gleaning best practices which I then synthesize and give back to the financial planning community throughspeeches, webinars, podcasts, blog posts (www.marieswift.com), Twitter feeds, media interviews and published articles.
Michael Zmistowski, president of Financial Planning Advisors LLC, a fee-based RIA firm, where his specialty is retirement income planning. He has written for and has been quoted extensively by the Journal of Financial Planning, AICPA Journal, Entrepreneur magazine, Washington Post, Dow Jones Investment Advisor, The Wall Street Journal, local newspapers, television news, and USA Today. Mr. Zmistowski is actively involved in the Financial Planning Association's Membership Advisory Group, Chairman of National Financial Planning Week 2008 and Advisory Director of FPA of Florida. He serves on the Board of Directors of the International Association of Registered Financial Consultants (RFC). A Securities Principal with the National Association of Securities Dealers, Mr. Zmistowski has been in private practice for 26 years. He can be reached at MZfp@aol.com.
Randal Langdon joined Lindner Capital Advisors in 2009 as president and was named to the Board of Directors. A 26-year veteran of the financial services industry, Mr. Langdon has had a distinguished career. Most recently, he was the senior vice president of investments with Raymond James Financial. Prior to Raymond James, he spent 23 years moving up through the ranks at Merrill Lynch, ultimately attaining the position of Senior Managing Director and First Vice President. He holds an MBA in Finance from Lamar University in Beaumont, Texas. Reach him at www.lcaus.com.
_
---
Mentioned in this article:
---
---
---
Stephen Winks
November 24, 2010 — 4:26 PM
Practitioners prefer technical analysis because it requires effort on their part to execute and it literally makes them the value added in the client relationship. With global expert support from firms like Dorsey Wright with hundreds of thousands of charts and strategies kept up to date in real time for over two decades, the insight derrived through technical analysis is profound as evidenced by proven and extraordinary results. MPT is very helpful in a general sense, technical analysis, managed by a pro, gets results.
SCW