David Selig: I felt like I had more meaningful conversations with industry luminaries and other well-connected people than at any event in recent memory.
Brooke's Note: This article is intended as rather light criticism of a successful conference and some of its esteemed speakers. But one bad thing did happen at the MarketCounsel Member Summit. Its host, Brian Hamburger, missed the session about onboarding wirehouse reps where I served as moderator of John Furey and Scott Brown. He had intended to turn the tables on me and write a critique of my performance for RIABiz. Hamburger says it would have righted the balance because I'm always "the guy throwing spitballs at the back of the room." What he doesn't know is that I'm kept in check by something even more sobering than published reviews — my email inbox. People let me know every day when I veer even slightly off course — and I sometimes feel stung but always appreciate it.
After nearly three days on the outskirts of Las Vegas, where the novelty of ashtray aromas was wearing off, I was tired and thinking mostly about getting home to my dogs – and then the final, unscheduled and highly animated session of the MarketCounsel Member Summit broke out in the airport shuttle line.
This charged event had already featured the loud voices of RIAs who let various speakers know what they felt about their leadership in combating the forces in Washington that are allowing FINRA to take over. Now I heard about the event itself. Many of the advisors had decided to attend it to connect an army of lawyers and other specialists who would freely dispense answers related to regulation and compliance. They were able to get what they wanted on that score and expressed high satisfaction.
Secondly, they had hoped to gain deeper insights in to their industry and form a connection with some of the higher profile speakers on the agenda. On this count, they felt like the event could have been better.
PowerPoint pervades
The basic complaint: The speakers had spent far too much time talking about their companies and and relied too heavily on dozens of PowerPoint slides to present their thoughts. Why, they openly asked, do CEOs and presidents need to lean on a blizzard of slides? There were three rows of RIAs in the shuttle. As we got caught up in a traffic jam that threatened to make us all late for our flights, they chimed in agreement on these points.
Each one felt that Scott Welch of Rockville, Md.-based Fortigent missed a big opportunity to make an impression — because he was so clearly a charismatic speaker with great knowledge. His topic "money-in-motion" drew a big crowd and he covered his own company with greater emphasis, the advisors told me. Added after article publication: "The direct feedback we received from everyone who attended Scott's session was very positive, and more than a dozen attendees later requested a copy of his presentation," said Sharon McEvoy, director of marketing for Fortigent. "We take that as a sign that RIAs viewed the content as well-delivered, educational in nature, and highly relevant to the growth of their practices."
The speech of Mike Durbin, president of Fidelity's RIA unit was seen as too Fidelity-centric after being billed as an industry overview. One RIA said she excused Crager's speech, though it featured his firm, Envestnet, because she wasn't that familiar with his company and found it interesting. The others felt it fell into the PowerPoint, inward-facing trap.
Crager responded to the criticism of the other advisors by saying that one issue was that his speech had to be approved by compliance. Durbin acknowledged he was walking the line during the course of his speech. "I'm sensitive I'm turning this into a Fidelity advertisement and it's not something I want to do."
One advisor says he may assemble some thoughts [that we could publish at RIABiz] that can be used by conference organizers to improve the quality of presentations by company heads in the future – starting with covering what's advertised and keeping to five minutes the time allocated to talking about their own firms. The big point, one advisor said: "Tell me something I don't know."
Comment added post-publication: Brian Hamburger, CEO of MarketCounsel, says he likes the RIA feedback and that his company does take steps to assure the quality of the speeches.
"Leading up to the event, we brief all presenters and ask them to disclose their perspective without selling. I think they generally stayed within those guidelines. As for working from prepared remarks, even the President of the U.S. uses prepared remarks. It is important for them to align their remarks with their frims and ensure that they pass muster under their compliance departments. If you are looking for a full circle, perhaps that's indicative of what's to come once FINRA gets their way with RIAs."
Bigwig-itis?
Were these advisors simply unimpressed about what bigwigs have to say to them from on high? Their universally high praise for United Capital CEO Joe Duran's speech given on Wednesday afternoon suggested otherwise. Indeed, the Newport Beach-based executive overseeing a fast-growing aggregator was fairly bursting with enthusiasm about the opportunity presented by delivering a true wealth management proposition amid a world of investment managers pretending to be wealth managers. Duran also drew in advisors with an account of his recent two-hour meeting with the founder of Zappos, the online shoe retailer – and analysis about how the lessons can be co-opted by RIAs.
Durbin and Crager earned the gratitude of conference organizers for their considerable efforts to make it to the Red Rock Casino venue. Durbin had faced a family issue that delayed his arrival by a day [and could have given him the excuse to bail out] and Crager was coming off a corporate rite of passage – the company's IPO party at Spiaggia Restaurant in Chicago the night before. It was an event held for about 30 people involved most closely with the deal, including investment bankers.
The happiest folks at the gathering were Morgan Stanley bankers who not only cashed in on Envestnet but also were fresh off the day's IPO launch of LPL Investment Holdings, Crager says. The Italian restaurant was chosen because he and other Envestnet executives were reduced to eating a can of Pringles for dinner when their road show hurriedly passed through Milan, Italy, last Spring. This was a chance to bring their palates even for that culinary travesty.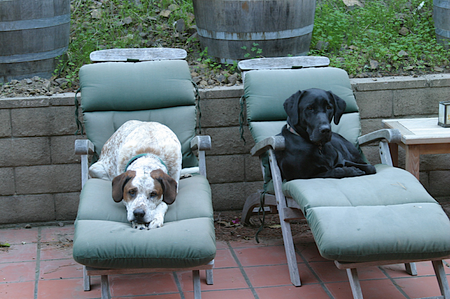 My dogs, Oscar, left, and Shadow,
right, had to wait back in
Sausalito while I made the best
of a MarketCounsel jam-packed with people
I could learn the RIA business
from. I had almost forgotten advisors
themselves when they surrounded me on
the way to the airport.
LPL unboxed
It's noteworthy that the largest booth in the exhibit hall was set up by LPL – the conference coincided with its IPO. Big custodians including Pershing, TD Ameritrade, Schwab and Fidelity were present but so were small ones like Trust Company of America that had two executives there including the newly hired Bob Oros. Trade-PMR sent Frederick Van Den Abeel and Shareholder Services Group sent Dan Skiles. Ceros, the former RIA custody unit of Rydex, also sent Joe Yoon, director, business development.
Among the aggregators, Elliot Weissbluth CEO of HighTower made an appearance [very brief] and Duran and his colleague, Matt Brinker, were there for United Capital.
David Selig of Advice Dynamics Partners and Paul Lally of Gladstone Associates were there, along with David DeVoe of Schwab giving RIA M&A experts a presence at the conference. Selig's comments about the conference captured what I heard from many of the executives and providers who attended.
"I felt like I had more meaningful conversations with industry luminaries and other well-connected people than at any event in recent memory including Spenser Segal of Actifi, Joe Duran and Brian Hamburger. The epitome of it was when I got to have a conversation with David Canter of Fidelity [who oversees practice management], David DeVoe [of Schwab who oversees M&A]] and John Furey [of Advisor Growth Strategies] at the same time. Where else could that happen?"
---
Mentioned in this article:
---
---
---