Bill Crager: Not having technology integrated is like leaving the windows open in New York in winter.
In two speeches that looked to the future, Bill Crager and Mike Durbin made clear at the MarketCounsel Member Summit why their efforts at developing scale are only now poised to hit important tipping points in the battle for wirehouse assets.
The presidents of Envestnet, the biggest advisor outsourcer, and Fidelity Institutional Wealth Services, the number two RIA custodian, both made subtle but significant points at the Las Vegas conference on Friday about how their competitive orientation has shifted from winning the business of wirehouse malcontents to winning the business of those who think they're happy until they take a closer look at independence.
"We feel we've leveled the playing field. The goal going forward is to tip it – tip it in favor of the independent," Crager said.
The two men would go on to discuss more than technology but it's clear that if custodians and major outsourcers are going to win the most successful wirehouse teams they will have to triumph with technology.
Wasted heat
"What is the savior?" Crager asked. "Technology is the savior but not if it's not integrated. Not having it integrated is like leaving the windows open in New York in winter."
Though integration is a work in progress, Durbin says that he sees Fidelity's position in this regard as favorable.
"This [bid for integration] is the clear arms race in technology and we love where we are," he says.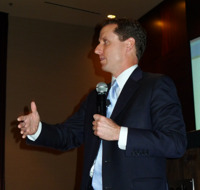 Mike Durbin: This [bid for integration]
is the clear arms race in
technology and we love where we
are.
See: Pershing believes its case for NetX360 as the Apple equivalent for advisors is solid
Though it's sometimes difficult to make an apples-to-apples comparison between wirehouse technology offerings and those offered by vendors to independents, Joel Bruckenstein, the Florida-based publisher of Virtual Office News, says its possible that vendors and custodians in the independent space could beat wirehouse technology platforms.
"Now that the custodians are putting more dollars behind the integration, and now that some independent third parties with financial strength like Morningstar, Envestnet — and others— are more interested in providing better technology to RIA's, the outlook is bright," he said. "Web-based technologies also make it easier to deliver technology platforms to geographically dispersed RIA firms."
At wirehouses, integration has come at a price for advisors. "They can obviously offer tight integration because they do not offer choice, but I'm not sure that, in and of itself, makes them 'better,'" Bruckenstein added.
Outside technology, custodians are beginning to leverage their scale on behalf of independent advisors. Durbin noted forthrightly that the firm hasn't always done this.
'Something we're not doing right'
"We haven't really made deep inroads into the top 200 [wirehouse brokers] so there's still something we're not doing right," he said. [Durbin added in post-speech comments that he's quite familiar with who these advisors are. Many of them make, for example, Barron's "Top" lists.
David Hou, partner of Luminous Capital, which manages about $3.7 billion of assets from Los Angeles is one of those Top 200 advisors that made the leap to independence and uses Fidelity as its primary custodian. Asked whether the RIA custodian can start ticking off more wins from former fellow elite wirehouse producers, he answered from his Los Angeles home this way:
"I think Fidelity is doing a much better job, but it isn't only one issue that makes any advisor go forward with leaving and starting up an RIA. It is a multitude of factors. Anyone banking on tech being a swing vote is putting too much stock in that one factor."
Durbin added that his company is using its scale not only to develop WealthCentral, the company's technology, but also to service advisors with relationship managers who know them by name. Previously the company relied largely on call centers.
Loss leaders
The latest Fidelity push is in helping advisors run their practices with consulting services. None of these new and improved services generate revenues, but Fidelity is so big it can afford some loss leaders to retain and win big advisors, he said.
---
---
Mentioned in this article:
---
---
---
http://factsandstats.com/index2.html
Its possible you have been occupied with new as well as modified process or prognosis codes, on the other hand keep in mind the coding suggestions that are related with CPT, HCPCS, or any other sources. Instance: The 2012 Proper Coding Initiative (CCI) coding recommendations include things like very important aspects about confirming publish-operative distress administration which the anesthesia firms will require understanding. Go on reading through this qualified medical billing and coding report for particulars on which CPT codes implement. y.